Lens Test: Pentax DA* 16-50mm f/2.8 SDM AF
Superior construction, ultra-smooth and quiet autofocus, excellent sharpness -- what else could Pentax shooters want?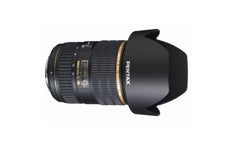 This pro-caliber, standard-range, bright digital zoom ($1030, street) is the second Pentax to use sonic-wave autofocusing for very smooth and quiet AF. It works with newer Pentax bodies that accept the KAF2 mount. On older bodies such as the K100, it defers to the noisier, body-housed AF motor. A 24-76mm equivalent, it has three aspheric and two optically pure, low-dispersion glass elements. Special lens coatings resist dust and smudges, and suppress ghosting off the sensor.
HANDS ON
Its gold accents signal that this is a Pentax DA * lens, with superior construction and extra-tight weather and dust resistance. Like most fast lenses, it's large, casting a shadow at all focal lengths when used with built-in flash. Its manual-focus ring is more than twice the size of its zoom collar, great for manual-focus fans. Both rings are rubber-clad and attractively ribbed, and their turning actions are extremely smooth.
IN THE LAB
Excellent SQF numbers promise satisfyingly sharp, contrasty images. Likewise, well-controlled distortion bodes well for photographers tackling subjects that have parallel or perpendicular lines — especially along the image edges and at or near infinity. Our DxO Analyzer 2.0 tests found Visible barrel distortion at 16mm (0.60%), average performance for the class. Distortion improved at 35mm and 50mm, though, with Imperceptible (0.10%) pincushioning at 35mm and Slight pincushioning at 50mm (0.12%).
In the corners, vignetting was noticeable at 16mm but gone by f/6.3. At the longer focal lengths, it was scarcely visible at f/2.8 and gone by f/3.5 — slightly above-average. The close-focusing distance is a tight and uniform 10.6 inches, with maximum magnification ratios coming in at 1:9.5 (16mm), 1:4.96 (35mm), 1:4.22 (50mm) — average for the category.
CONCLUSIONS
Pentax shooters who have pre-K10D bodies should consider the Sigma 18-50mm f/2.8. While not as well built, it costs less than half and is optically superior in distortion control, magnifying ability, and vignetting. However, owners of the K10D and K20D — and Pentax legacy DSLR shooters who plan to upgrade to newer bodies — may want to invest in this new zoom for its silky new SDM-driven autofocusing and its clearly superior, last-forever build.
Specifications
16-50mm (16.34-47.66mm tested), f/2.8 (f/2.93-2.90 tested), 15 elements in 12 groups. Focusing turns 70 degrees clockwise. Zoom ring turns 90 degrees counterclockwise. Focal lengths marked at 16-, 20-, 28-, 35-, and 50mm.
• Diagonal view angle: 83-31 degrees.
• Weight: 1.33 lb.
• Filter size: 77mm.
• Mounts: Pentax KAF2.
• Included: Lenshood, soft lens case.
• Street price: $1030.