Lens Test: Panasonic Leica D Summilux 25mm f/1.4 AF
A new lens for Panasonic and Olympus DSLRs, this normal is everything you'd expect from Leica glass.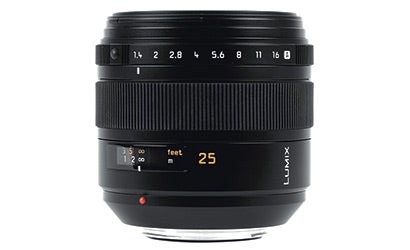 We may earn revenue from the products available on this page and participate in affiliate programs. Learn more ›
Made in Japan by Panasonic to Leica's specifications, this $800 (street) optic is only the second lens Panasonic has introduced for its well-reviewed DSLR, the Lumix DMC-L1. A 50mm equivalent in the Four Thirds system, the lens fills a gap in the Olympus/Panasonic lens catalogs, and it's fitting that Panasonic should start with that most basic component, the high-speed "normal" prime.
HANDS ON:
Like the comparable Sigma 30mm f/1.4 ($429, street), this Panasonic is somewhat longer and heavier than you might expect. Why? Four Thirds lenses require extra-large glass elements (relative to full-frame 35mm lenses) for the greater light gathering required to transmit rays perpendicularly to the sensor plane. Otherwise, unacceptable edge falloff results.
The Panasonic 25mm has a polycarbonate body that feels like metal. Its smooth-operating manual-focus ring (finely ribbed and rubber-clad) is continuously turning, with no stops at near- and far-focus.
AF action is both quick and quiet on the Lumix DMC-L1. In the Leica tradition, the locking aperture ring is at the far end of the lens barrel. We were pleasantly surprised to find no shadow cast by this large lens (even with the petal-type lenshood in place) when used with the L1's built-in flash.
IN THE LAB:
As you'd expect from Leica, SQF data showed sharpness and contrast in the Excellent range. In DxO Analyzer 2.0 distortion tests, we found Imperceptible barrel distortion (0.09%), a superior performance for so bright a lens. This was significantly better, for example, than Sigma's 30mm f/1.4 (0.78% barrel). But corner vignetting appeared from f/1.4 to f/4.5, and the lens' weak magnifying ability was a disappointment — 1:10.4 maximum magnification ratio at its close-focusing distance of 14.25 inches. (While these results mirror the Sigma's, most high-speed normal and moderately wide lenses for 35mm get to 1:6 or closer.)
CONCLUSIONS:
With this level of sharpness, speed, and distortion control, this lens will be scooped up by Olympus as well as Panasonic shooters. With its Leica-like pricing, however, those who can live with the compromised distortion may opt to save $371 with the Sigma 30mm.
SPECIFICATIONS
25mm (25mm tested), f/1.4 (f/1.45 tested), 10 elements in 9 groups. Focusing turns 180 degrees counterclockwise.
• Diagonal view angle: 47 degrees.
• Weight: 1.16 lb. n Filter size: 62mm.
• Mounts: Four Thirds standard.
• Included: Lenshood, softcase.
• Street price: $800.