Lens Test: Olympus Zuiko Digital ED 18-180mm f/3.5-6.3 AF
Head of the glass.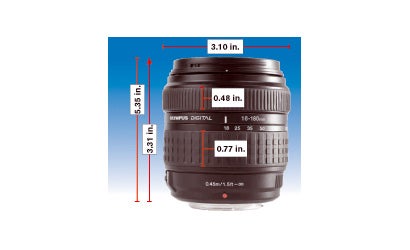 We may earn revenue from the products available on this page and participate in affiliate programs. Learn more ›
Download Full Test Results
This is Olympus's first superzoom for its Four-Thirds DSLRs. A 36-360mm equivalent, this 10X zoom is one of the few sub-$500 lenses with two elements of extra-low-dispersion glass. Also: The flexboard circuitry within the lens is user-addressable. Simply connect the camera/lens to a computer via USB, and, using the supplied software, check online for and install firmware updates. This should make it quick, easy, and free to keep it fully compatible electronically with future Olympus DSLR bodies.
HANDS ON: At more than 3 inches in diameter, the lens is slightly wider than most f/3.5-6.3 digital-only superzooms (Sigma's measures 2.75 inches across). This portly girth is a little surprising when you consider that Sigma, Tamron, and Tokina boast longer zoom ranges (closer to 11X), and that they cover larger sensors. Otherwise, the Olympus is average for the class in size and weight. Like virtually all Zuikos, it appears to be very well-constructed, though it lacks focusing scales. The zoom and manual-focusing actions are extremely well-damped. AF action is fast and quiet, if slightly whiny.
IN THE LAB: SQF charts generated from our computerized optical bench show results in the Excellent range for all focal lengths, superior for the class. (Most superzooms fall in the Good range at their longest focal lengths, but most also go out to 200mm.) DxO Analyzer 2.0 tests found barrel distortion in the Visible range a t 18mm (0.51%), and Slight pincushioning at 100mm (0.20%) and 180mm (0.18%), also a well-above-average performance-both Sigma and Tamron digital superzooms showed barreling in the Noticeable range at 18mm (1.19% and 1.66% respectively). Its light falloff performance was exemplary, with no visible vignetting at the longer focal lengths, and vignetting gone by f/4 at 18mm. In all, a very strong showing. At close-focusing distances between 15.6 and 13.8 inches (going from 180mm to 18mm), the maximum magnification ratios ranged from 1:16.3 at 18mm to a satisfactory 1:3.6 at 180mm.
CONCLUSIONS: Olympus has staked its reputation on superior optics that handle extremely well. This very sharp and optically excellent 18-180mm carries the tradition forward in grand style.
SPECIFICATIONS: 18-180mm (18.66-181.78 tested), f/3.5-6.3 (f/3.56-5.29 tested), 15 elements in 13 groups. Focusing turns 300 degrees clockwise. Zoom ring turns 80 degrees clockwise. Focal lengths marked at 18-, 25-, 35-, 50-, 100-, and 180mm. Diagonal view angle: 62-7 degrees. Weight: 0.96 lb. Filter size: 62mm. Mounts: Olympus AF Digital. Included: Lens-hood. Street price: $440.
What's Hot: Optically, among the top zooms in its class.
What's Not: Big and bulky.