Lens Test: Olympus Zuiko Digital 50-200mm f/2.8-3.5 ED AF
Long Ranger -- This pro tool gives the equivalent of 400mm reach and superior performance for Four Thirds DSLR shooters.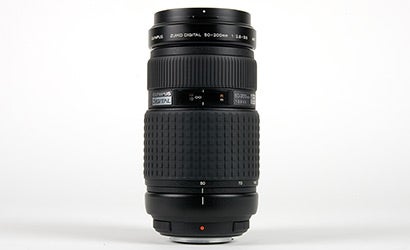 We may earn revenue from the products available on this page and participate in affiliate programs. Learn more ›
Don't include this $1200 (street) tool in the large class of 55-200mm f/4.5-5.6 lenses from other lensmakers. Though it has a similar range, the Olympus Zuiko 50-200mm f/2.8-3.5 is much more a pro's lens than those slower kit zooms. On an Olympus or Panasonic Four Thirds DSLR, it converts to a 100-400mm equivalent, making it one of the brightest and most compact lenses to reach 400mm.
HANDS ON: Heavy (not surprising for a lens this long and fast), the Zuiko sports a generously broad, knurled, and rubber-clad zoom ring with a relatively long turning radius and slightly stiff action. The ribbed and rubberized manual-focusing ring is well damped and has no stops at the beginning or end of the focusing range. The lens also has a removable tripod collar. The AF action on our test camera (the Olympus E-510) was quiet and accurate, though slow by today's standards. Almost 9 inches long when racked out to 200mm, the lens surprised us by casting no shadow when used with the camera's built-in flash.
IN THE LAB: SQF tests found Excellent sharpness and contrast at four tested focal lengths — laudable, as nearly all similarly long tele zooms (such as the Sigma 50-150mm f/2.8) dip into the Very Good range at the longest focal lengths. DxO Analyzer 2.0 tests found Slight barrel distortion at 50mm (0.12%), and Slight pincushion distortion at 100mm, 150mm, and 200mm (0.12%, 0.15%, 0.14%, respectively) — peerless performance. Light falloff left the corners by f/5 at all focal lengths except 50mm, where we found none at all. At the uniform close-focusing distance of about 45 inches, maximum magnification ratios ranged from 1:16.28 at 50mm to a macro-worthy 1:4.07 at 200mm.
CONCLUSIONS: Its high-quality materials and superior optics (including three ED elements for controlling chromatic aberration) recommend this lens to serious shooters. Its ample reach and high speed place it among the most attractive lenses for sports and wildlife enthusiasts who use Olympus and Panasonic DSLRs. Outdoor shooters will prize its superior O-ring protection against dust and moisture.
50-200mm (51.57-200.11mm tested), f/2.8-3.5 (f/2.78-n.a.*), 16 elements in 15 groups. Focusing turns 210 degrees clockwise. Zoom ring turns 120 degrees clockwise. Focal lengths marked at 50-, 70-, 100-, 150-, and 200mm.
• Diagonal view angle: 24-6 degrees.
• Weight: 2.41 lb.
• Filter size: 67mm.
• Mounts: Olympus Four Thirds system.
• Included: Lenshood, tripod adapter, case.
• Street price: $1200.
*End of range not tested due to instrument limitation.