Lens Test: Olympus Zuiko Digital 40-150mm f/3.5-4.5
Moderate tele glass that provides very high performance at a very low price.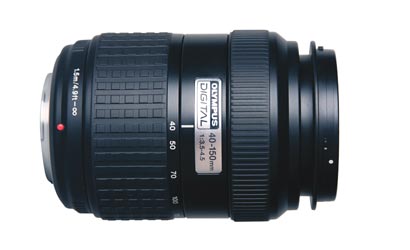 We may earn revenue from the products available on this page and participate in affiliate programs. Learn more ›
Olympus shooters looking for a moderate telezoom at a moderate price — and with stand-out optical performance — need look no further. This easy-to-handle 3.8X zoom, a 40-150mm (80-300mm equivalent), costs $240 (street) on its own and can also be purchased as a kit lens with the Olympus Evolt E-500 DSLR. That's hard to beat.
HANDS ON
Lightweight and compact for a lens that zooms to the equivalent of 300mm, it's attractively finished in a black satin surface with rubberized zoom and manual-focusing rings. It seems very well made by kit lens standards, with a metal lensmount and unusually smooth zoom and MF actions. However, the autofocus action on our test camera (the Olympus E-1) was somewhat loud and sluggish.
IN THE LAB
On our optical bench, the lens turned in better-than-average SQF performance, showing sharpness and contrast in the Excellent range at the three tested focal lengths. (Lenses in its zoom and price categories usually drop to Very Good at the long end.) In DxO Analyzer 2.0 testing, we found Imperceptible barrel distortion at 40mm (0.08%), and Slight pincushion distortion at 100mm and 150mm (0.16% and 0.15% respectively) — a surprisingly good showing for a kit lens, especially at 40mm. Light falloff was gone from the corners by f/5 at 40mm and 100mm, and by f/5.6 at 150mm — about average. The lens' magnifying power leaves something to be desired, with maximum magnification ratios at the constant close-focusing distance of approximately 55 inches ranging from 1:28.5 at 40mm to 1:7.6 at 150mm. By comparison, the longer Nikon digital-only kit zoom (55-200mm, $170, street) gets to a tight 1:3.4 at its outer focal length.
CONCLUSIONS
High image quality at an attractively low price. This is a nice addition to the Four Thirds system.
Specifications
40-150mm (40.28-147.54mm tested), f/3.5-4.5 (f/3.48-4.28 tested), 13 elements in 10 groups. Focusing turns 470 degrees counterclockwise. Zoom ring turns 70 degrees clockwise. Focal lengths marked at 40-, 50-, 70-, 100-, and 150mm.
• Diagonal view angle: 30-8 degrees.
• Weight: 0.95 lb.
• Filter size: 58mm.
• Mounts: Olympus Four Thirds system.
• Included: Lenshood.
• Street price: $240.
Image Quality
Click photo for larger image.