Lens Test: Olympus Zuiko Digital 14-42mm f/3.5-5.6 ED AF
A fitting companion to the Olympus E-510, this compact zoom is a wow.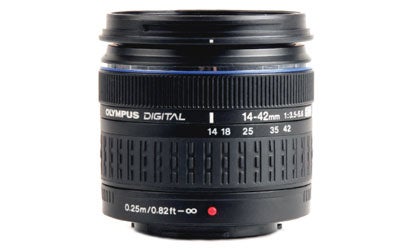 We may earn revenue from the products available on this page and participate in affiliate programs. Learn more ›
Olympus's wide-angle kit lens for the E-510 and E-410, available separately for $250 (street), this is the smallest and lightest digital Zuiko. It and its tele counterpart, the 40-150mm f/4-5.6 Zuiko, are the first interchangeable lenses from Olympus with plastic mounts. With about the same speed and zoom range as the earlier Olympus digital wide-angle kit zoom, the 14-45mm f/3.5-5.6, this new lens (a 24-84mm equivalent) is more than 30 percent lighter and smaller than its already-compact predecessor.
Hands On:
Attractively finished with ribbed and rubberized rings, the amply sized manual-focus and zoom collars have extremely welldamped turning actions, especially by kit lens standards. Autofocus is quiet and speedy; manual focusing is very fine by today's standards, with a turning radius almost twice as long as the comparable 18-55mm Nikkor (90 versus 50 degrees.) The manual-focus ring does not stop at the extremes of its focusing range — our least-favorite design. Like most kits zooms, it lacks a subject distance scale. Focal lengths, however, are well marked.
In The Lab:
As expected, SQF data were in Excellent ranges of the three tested focal lengths. According to DxO Analyzer 2.0 tests, barrel distortion was in the Visible range at 14mm (0.48%) and Imperceptible at 25mm and 42mm (0.09% and 0.01%, respectively) — noticeably better than the 14-45mm Zuiko, which showed Visible (at 14mm and 25mm) and Slight barrel distortion (45mm). Light falloff was gone from the corners by f/5 at 14mm, while 25mm and 42mm produced no measurable vignetting, also a remarkable showing. Maximum magnification ratios ranged from 1:11.4 (14mm) to 1:4.07 (42mm) at the uniform close-focusing distance of about 8.6 inches — not as powerful as some, but very close.
Conclusion:
A fitting optical companion for the Olympus E-510 and E-410, this lens seems to do the impossible: The more the engineers remove, the better it gets!
Specifications
14-42mm (13.83-42.06mm tested), f/3.5-5.6 (f/3.39-5.85 tested), 10 elements in 8 groups. Focusing turns 90 degrees clockwise. Zoom ring turns 40 degrees clockwise. Focal lengths marked at 14-, 18-, 25-, 35-, and 42mm.
• Diagonal view angle: 75-29 degrees.
• Weight: 7.2 oz.
• Filter size: 58mm.
• Mounts: Olympus Four Thirds.
• Included: Lenshood.
• Street price: $250.
Subjective Quality Factor