Lens Test: Olympus Zuiko Digital 12-60mm f/2.8-4 SWD AF
This 24-120mm equivalent zoom challenges Leica for super sharpness with almost no distortion.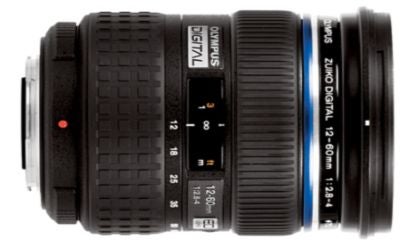 We may earn revenue from the products available on this page and participate in affiliate programs. Learn more ›
Introduced with the Olympus E-3, this 24-120mm equivalent is the first Zuiko lens available in the U.S. that incorporates the company's Supersonic Wave Drive (SWD) autofocus motor. Similar in concept to the USM and SWM motors from Canon and Nikon respectively, this system has not one but two motors, which Olympus claims produces the world's fastest autofocusing when used on the E-3. How? The two motors are mounted in opposition to each other, a design that the company claims will produce quicker AF startups and stops, as well as increased accuracy. (For more on AF speeds, see the camera test.)
HANDS ON
This is a hefty piece of glass. By way of comparison, its closest competitor is probably the Leica 14-50mm f/2.8-3.5 Four Thirds zoom for Panasonic's Lumix DMC-L1. The two have almost the identical length contracted, but the Oly extends a considerable 1.5 inches further when zoomed out. It's also nearly 5 ounces heavier, although it lacks the Leica's built-in stabilizer motor and is optically dimmer (slower lenses usually weigh less).
Handsomely finished with amply scaled and rubber clad focusing (ribbed) and zoom (knurled) rings, the lens offers exemplary turning actions, and has well-marked zoom and distance scales, as well as accurate, fast, and silent autofocus when used on the E-3. It's cosmetically a close match to that camera with a similar (though not identical) stippled surface. As you might expect, at 12mm it casts a shadow when used with the E-3's built-in flash.
IN THE LAB
As with virtually all Olympus Four Thirds lenses, its SQF numbers at all tested focal lengths showed sharpness and contrast in the Excellent range, even nudging ahead of the Leica 14-50mm. In DxO Analyzer 2.0 distortion tests, we found Visible barrel distortion at 12mm (0.52%); Imperceptible pincushioning at 35mm (0.08%); and Imperceptible barrel distortion at 60mm (0.08%) — a very strong showing. Light falloff left the corners by f/4 at 12mm, and at 35mm and 60mm, we found no vignetting even at maximum aperture. That's significantly better than the Leica, and unusual because the Olympus is a wider zoom.
And, the lens focuses to a very tight 8.5 inches (approximately) at all focal lengths, with maximum magnification ratios ranging from 1:8.77 at 12mm (!) to a powerful 1:3.08 at 60mm.
CONCLUSIONS
Overall, this is among the sharpest and least distorting wide-angle zooms in recent memory. Following the Olympus strategy of pairing lenses of complementary ranges (for instance, the 12-60mm with the 50-200mm, and the 14-42mm with the 40-150mm), the 12-60mm SWD is unofficially mated to the new 50-200mm SWD — a match made in heaven, we're guessing. Finally, the visual effect of that 1:8.77 magnification at 12mm — uniquely strong magnification at such a wide angle — has to be experienced to be appreciated.
Specifications
12-60mm (12.28-59.38mm tested), f/2.8-4 (f/2.46-4.06 tested), 14 elements in 10 groups. Focusing turns 130 degrees counterclockwise. Zoom ring turns 80 degrees clockwise. Focal lengths marked at 12-, 18-, 25-, 35-, 50-, and 60mm.
• Diagonal view angle: 84-20 degrees.
• Weight: 1.33 lb.
• Filter size: 72mm.
• Mounts: Four Thirds system.
• Included: Lenshood, lens case.
• Street price: $950.