Lens Test: Nikon 70-300mm f/4.5-5.6G VR ED AF-S
Impressive quality and a nice price for an image-stabilized lens for Nikon shooters.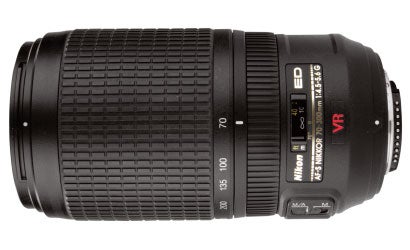 We may earn revenue from the products available on this page and participate in affiliate programs. Learn more ›
Hands on
Nicely and conservatively finished in semimatte black, this lens is a good match with medium to heavy Nikon bodies (such as the D80), but it's very nose-heavy on lightweights like the D40. Focusing and zoom rings turn very smoothly but need more damping; the focusing ring is conveniently close to the lensmount. Focus and VR switches may be hard to operate with gloves on. No tripod collar.
In the Lab
SQF data were Excellent at both 70mm and 200mm, Good at 300mm. While Visible pincushion (0.35%) showed up at 200mm, distortion was Slight at the other tested focal lengths: 0.14% barrel distortion at 70mm; 0.26% pincushion at 300mm. Light falloff was gone by f/5.6 at 70mm, by f/8 at both 200mm and 300mm. Close focusing distance of 57 inches gives you 1:3.8 magnification at 300mm, 1:5.7 at 200mm, 1:16.3 at 70mm. With VR at 200mm: All testers could gain up to 2 stops. Highest gain: 4.5 stops; lowest: 1 stop. At 300mm: All testers could gain up to 4 stops. Highest gain: 4.5 stops; lowest: 3 stops.
Conclusion
Very impressive optical performance for a moderately priced VR lens. Particularly effective VR at 300mm (450mm equivalent on Nikon DSLRs) would make this a fine lens for nature and sports shooting.
Specifications
• 70-300mm (70.95-306.40mm tested), f/4.5-5.6 (f/4.43-n.a. tested*), 17 elements in 12 groups. Focusing turns 110 degrees clockwise. Zoom ring turns 90 degrees counterclockwise. Focal lengths marked at 70-, 100-, 135-, 200-, and 300mm.
•Diagonal view angle: 34-8 degrees.
•Weight: 1.67 lb.
• Filter size: 67mm.
• Mounts: Nikon AF.
• Included: Lens-hood, softcase.
• Street price: $530.
*Full range not available due to instrument limitation.
What's Hot
• Sharp and very steady.
• Reasonable price for quality.
What's Not
• Slow, variable-aperture lens.
• No tripod collar.
Subjective Quality Factor