Lens Test: Nikon 60mm f/2.8G ED AF-S Micro-Nikkor
The latest version of Nikon's legendary close-focusing 1:1 macro incorporates aspheric and ED glass elements with Nikon's Nano crystal coating.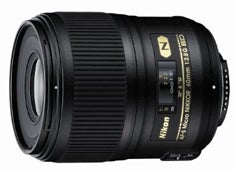 We may earn revenue from the products available on this page and participate in affiliate programs. Learn more ›
The latest version of Nikon's legendary close-focusing 1:1 "normal" macro (the first was the 55mm f/3.5 of 1961), this full-frame lens ($490, street) incorporates aspheric and ED glass elements, with Nikon's Nano crystal coating, indicated by the gold "N" logo, for suppressing internal flare and reflections. Internally focusing, with a non-rotating front element, it's suited to Nikon's lensmounted, wireless macro flash system.
HANDS ON
In the familiar stippled, matteblack Nikkor finish, with a large, rubber-clad and smooth-turning, manual-focus collar, the lens is average in size and weight for the class — slightly heavier than the Canon digital-only 60mm f/2.8, and slightly lighter than Nikon's previous 60mm f/2.8. The Silent Wave Motor (SWM) provides a fast and blessedly quiet autofocus action.
IN THE LAB
SQF performance was, as expected, well within the Excellent range, showing improvements over the previous 60mm f/2.8 Nikkor at the extreme apertures. (Midrange apertures, however, dipped a bit in sharpness and contrast.) DxO Analyzer 3.0.1 tests of distortion control found Imperceptible barrel distortion (0.05 percent) at both infinity and within the macro range — it's hard to beat that! At infinity, light falloff left the corners by f/4, but within the macro range (1:3 and closer), edges and corners showed no visible vignetting.
Maximum magnification at the close-focusing distance of 7.25 inches was a larger-than-lifesize 1:0.97. Optical performance is nearly identical to that of Canon's digitalonly 60mm f/2.8 1:1 lens.
CONCLUSIONS
A version of this lens has been in Nikon's catalog continuously for almost half a century. Why? Because it's near-perfect for close-ups. That 7.25-inch working distance allows you to reach out from the camera to adjust typical macro subjects, whether small-scale products such as jewelry or copied objects such as maps or documents. Adding to this workhorse's utility: On a DX Nikon body, it delivers about the same angle of view as a 90mm lens — great for portraits, too.
SPECIFICATIONS
60mm (61.45mm tested), f/2.8 (f/2.99 tested), 12 elements in 9 groups. Focusing turns 140 degrees clockwise.
• Diagonal view angle: 39 degrees.
• Weight: 0.93 lb.
• Filter size: 62mm.
• Mounts: Nikon AF.
• Included: Lenshood, case.
• Street price: $490.