Lens Test: Nikon 55-200mm f/4-5.6G DX VR AF-S
Vibration Reduction makes this low-cost lens a veritable steal.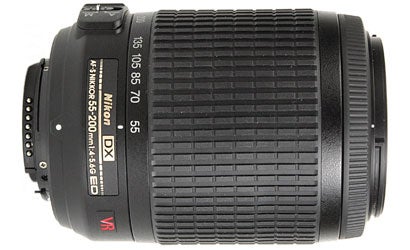 We may earn revenue from the products available on this page and participate in affiliate programs. Learn more ›
Here's a deal:
An upgrade of Nikon's original digital-only tele kit zoom, this new 55-200mm f/4-5.6 ($250, street) adds Vibration Reduction and a number of optical improvements for only $70 more. A 3.6X 82-300mm equivalent zoom, it's not expected to be bundled in Nikon DSLR kits any time soon.
Hands on:
The barrel, when contracted, is nearly an inch longer than the earlier 55-200mm non-VR DX lens, but is still extremely light as a result of all-plastic construction, including the lensmount. The large zoom ring's slightly uneven and underdamped turning action is what you'd expect from a lens at this price. The narrow manual-focusing ring is even-turning but also underdamped, with a very short turning radius for fast, if coarse, manual focusing. AF action on our test camera, the D40x, was adequately fast and quiet, thanks to Nikon's Silent Wave Motor in the lens.
In the lab:
SQF tests found Excellent sharpness and contrast at all focal lengths — an improvement over the earlier, non-VR version of this lens. DxO Analyzer 2.0 tests found Imperceptible barrel distortion at 55mm (0.08%), and Slight pincushion distortion at 105mm and 200mm (0.24% and 0.19%, respectively). All three are also improvements over the earlier lens. Light falloff was gone from the corners by f/5 at 55mm, f/7.1 at 105mm, and f/8 at 200mm.
At the uniform close-focusing distance of approximately 43.5 inches, tests of close-up ability found maximum magnification ratios ranging from 1:14.25 at 55mm to 1:3.8 at 200mm, about an average magnifying power, and not up to the 1:3.4 turned in by the non-VR 55-200mm. DxO Analyzer Blur tests of the lens' first-generation VR system (at 200mm) showed an improvement for three users of about 3 stops of extra handheld sharpness at slower shutter speeds; 4 stops are possible with Nikon's VR II system.
Conclusions:
Even though it's the earlier version of VR, to get any VR at this price is a steal.
Specifications
55-200mm (55.76-208.33mm tested), f/4-5.6 (f/3.85-6.19 tested), 15 elements in 11 groups. Focusing ring turns 60 degrees counterclockwise. Zoom ring turns 70 degrees counterclockwise. Focal lengths marked at 55-, 70-, 85-, 105-, 135-, and 200mm.
• Diagonal view angle: 28-8 degrees.
• Weight: 0.78 lb.
• Filter size: 52mm.
• Mounts: Nikon AF.
• Included: Lenshood, softcase.
• Street price: $250.
Subjective Quality Factor