Lens Test: Nikon 18-135mm f/3.5-5.6G DX AF-S
The kit lens for the Nikon D80 wins the award for general excellence.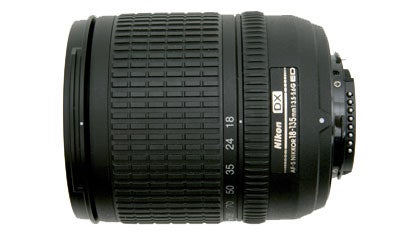 We may earn revenue from the products available on this page and participate in affiliate programs. Learn more ›
Nikon wanted a sexier kit zoom for its D80 than the ones it bundled with the D50 and D70. And now we have it: the new 18-135mm f/3.5-5.6 digital-only, internal-focusing AF Nikkor (a 28-200mm equivalent), with a goosed-up zoom range, ED glass element, two aspheric elements, and Nikon's Silent Wave Motor ($400, street).
HANDS ON: Slightly large by kit lens standards, the apparently well-built, polycarb-barrelled 18-135mm offers a plastic lensmount; a very broad, ribbed, and rubberized zoom ring; and, unusual for a $400 Nikkor, no subject-distance scale for the manual focus collar. Both zoom and manual focusing actions are well-damped, and the AF action on the D80 is moderately fast and very quiet.
IN THE LAB: SQF performance was in the Excellent range for all three tested focal lengths, indicating superior sharpness and contrast. In DxO Analyzer 2.0 tests, it showed very good distortion control for a kit zoom.
We found Visible barrel distortion at 18mm (0.66%); Visible pincushion distortion at 70mm (0.34%); and Slight pincushion distortion at 135mm (0.29%). In contrast, the only directly comparable lens that we've tested, the Sigma 18-125mm f/3.5-5.6 digital-only DC zoom, showed significantly more barrel and pincushion distortion.
The Nikon's light falloff left the edges by f/5.6 at 18mm; by f/6.3 at 70mm; and by f/8 at 135mm — all about average for the class. At the uniform close-focus distance of about 16.5 inches, maximum magnification ratios ranged from 1:16.2 at 18mm to a satisfying 1:3.7 at 135mm.
Finally, this lens is one of the very few we've ever tested that offers a greater focal length range than its published spec. The long end of our test lens reached almost to 144mm, significantly further than the claimed 135mm. Nikon could easily have marketed it as an 18-145mm.
What's Hot Sharp with well-controlled distortion. Durable construction. What's Not No subject distance scale. Slightly bulky.
CONCLUSION: Its sharp, relatively distortion-free images; ease of handling; quiet, swift, and sure operation; and all-around excellence should satisfy D80 owners and other Nikon shooters, at least until they're ready to step up to Nikon's truly all-star utility digital-only zoom, the 18-200mm VR.
Specifications
18-135mm (18.44-143.4mm tested), f/3.5-5.6 (f/2.64-5.64 tested), 15 elements in 13 groups. Focusing turns 130 degrees clockwise. Zoom ring turns 60 degrees counterclockwise. Focal lengths marked at 18-, 24-, 35-, 50-, 70-, 105-, and 135mm.
Diagonal view angle: 76-12 degrees.
Weight: 0.97 lb.
Filter size: 67mm.
Mount: Nikon AF.
Included: Lenshood, softcase.
Street price: $400.