Lens Test: Leica D Vario-Elmar 14-50mm f/3.8-5.6 AF
This image-stabilized 28-100mm equivalent comes only with the Panasonic Lumix DMC-L10.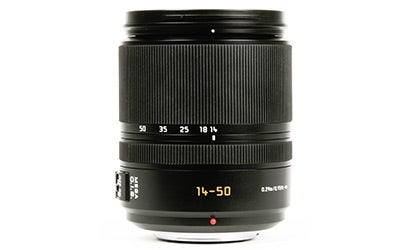 We may earn revenue from the products available on this page and participate in affiliate programs. Learn more ›
The image-stabilized kit lens for Panasonic's Lumix DMC-L10, this Leica-branded Four Thirds system zoom is marginally slower and smaller than Panasonic's similar 14-50mm f/2.8-3.5 Leica (now $900, street) that shipped with the L1. The new lens, a 28-100mm equivalent, is available only with the L10.
HANDS ON
As you'd expect of a slower lens, the new 14-50mm f/3.8-5.6 is slightly lighter (by about 2 ounces) and more compact than the f/2.8-3.5. Its matte-black surface doesn't quite match the L10's stipple finish. The amply sized, finely ribbed zoom and focusing rings have well-damped turning actions, especially the manual-focusing ring. AF action was rapid and quiet. At 20mm and wider, the lens casts a shadow in pictures made with the camera's built-in flash.
IN THE LAB
SQF data was Excellent at the three tested focal lengths, indicating the superior sharpness and contrast for which Leica is known. DxO Analyzer 2.0 distortion results were virtually identical to the more expensive f/2.8-3.5 lens: Visible barrel distortion at 14mm (0.40%), Imperceptible barrel distortion at 25mm (0.03%), and Imperceptible pincushion distortion at 50mm (0.01%). Light falloff was also identical: Gone by f/5.6 at the extreme focal lengths, and by f/4.6 at 25mm. This is outstanding performance for a zoom that reaches as wide as 14mm. At the uniform close-focus distance of 11.25 inches, maximum magnification ratios ranged from 1:12.6 at 14mm to 1:4.75 at 50mm — significantly better than the 1:5.4 of earlier lens. Using DxO blur factor analysis, we found an average of 1.5 additional handheld shutter speeds for four shooters using MEGA O.I.S. Not surprising, as stabilization is usually more effective in longer lenses.
CONCLUSIONS
L10 shooters save 2 ounces and hundreds of dollars, but lose about 1 stop of light compared with the f/2.8-3.5. An even trade? Perhaps. And while Sigma has comparable macro and nonmacro 18-50mm lenses in the Four Thirds system mount ($419 and $109, respectively), neither provides IS or the irresistible (for some) cachet of Leica.
Specifications
14-50mm (14.48-47.50mm tested), f/3.8-5.6 (f/3.74-5.63 tested), 15 elements in 11 groups. Focusing turns 130 degrees counterclockwise. Zoom ring turns 60 degrees counterclockwise. Focal lengths marked at 14-, 18-, 25-, 35-, and 50mm.
• Diagonal view angle: 75-24 degrees
• Weight: 15.8 oz
• Filter size: 67mm
• Mounts: Four Thirds system
• Included: Lenshood, softcase
• Street price: N/A