Lens Test: Leica 14-50mm f/2.8-3.5
We may earn revenue from the products available on this page and participate in affiliate programs. Learn more › Leica-Powered...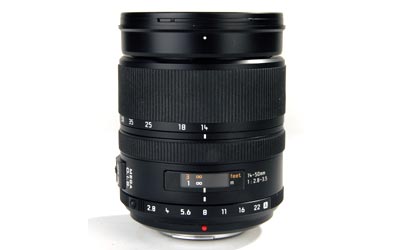 We may earn revenue from the products available on this page and participate in affiliate programs. Learn more ›
Leica-Powered
Currently available only with the Panasonic DMC-L1 DSLR, this unusually sharp, distortion-free, and image-stabilized 14-50mm f/2.8-3.5 AF gives a whole new meaning to the phrase "kit zoom." A 28-100mm equivalent, it's Leica-branded but is actually a hybrid of Leica, Panasonic, and Olympus Four Thirds technologies. Designed by Leica in Solms, Germany, the Four Thirds mount lens is manufactured at Panasonic's factory in Yamagata, Japan, in a process quality-controlled by Leica. Its optical image stabilization system (MEGA OIS) comes from Panasonic and is similar to the system used in its EVF cameras, like the recent DMC-FZ7.
HANDS ON: The lens is light and compact for an f/2.8-3.5 with built-in stabilization. Cosmetically mated to the Panasonic Lumix DMC-L1, it has a matte-black plastic barrel with rubber-clad focus and zoom rings. Its aperture ring has an unusually long turning radius and is click-stopped in 1/3 steps. Unlike other IS/VR systems, this lens has a single switch (on/off); IS modes have to be changed via camera menus. While the zoom action is slightly stiff and uneven, manual focusing is unusually well-damped, and autofocus is swift and near-silent.
What's Hot • Superb image quality. • Relatively compact. What's Not • Available only with the Lumix DMC-L1. • Modest gain from MEGA OIS system.
IN THE LAB: No surprise for a Leica, its SQF performance was in the Excellent range at all focal lengths and apertures and has unusually good distortion control. Results of our DxO Analyzer 2.0 tests showed Visible barrel distortion at 14mm (0.38%) and Imperceptible pincushion distortion at 25mm and 50mm (0.02% and 0.04%, respectively) — the best of any digital-only zoom we've tested that reached as wide as 14mm. Light falloff was gone from the image edges by f/5 at all the tested focal lengths, also above average. At all focal lengths, it focused to about 11 inches from the imaging plane. At 14mm, the maximum magnification ratio was 1:12.7; at 25mm, 1:8.1; and at 50mm, 1:5.4.
In DxO Blur Factor tests of the lens' MEGA OIS, we got an average 2-stop improvement in low light, less than expected.
CONCLUSIONS: This Leica will probably be priced high ($1,300-plus) when it's available for other Four Thirds DSLRs in 2007. With its superior sharpness and distortion control, though, demanding users will gladly pay. And for Olympus DSLR owners who want image stabilization, it'll be the only game in town.
Specifications: 14-50mm (14.55-48.71mm tested), f/2.8-3.5 (f/2.88-3.63 tested), 16 elements in 12 groups. Focusing turns 110 degrees counterclockwise. Zoom ring turns 80 degrees counterclockwise. Focal lengths marked at 14-, 18-, 25-, 35-, and 50mm.
• Diagonal view angle: 75-24 degrees.
• Weight: 1.09 lb.
• Filter size: 72mm.
• Mount: Four Thirds system.
• Included: Lenshood.
• Street price: N/A.