Lens Test: Canon EF-S 18-55mm f/3.5-5.6 IS
An image-stabilized Canon lens for just $175? No, you're not dreaming. This compact zoom really is all that.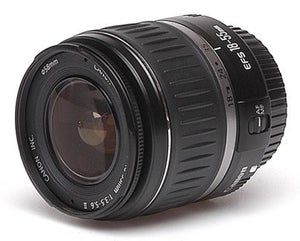 We may earn revenue from the products available on this page and participate in affiliate programs. Learn more ›
At $175 (street), this digital-only wide-to-normal standard zoom offers Canon EOS Digital Rebel shooters image stabilization for only about $35 — and 1.3 ounces — more than Canon's non-IS kit zoom. A 28-90mm equivalent, it isn't designated as a macro, but with a maximum magnification ratio of 1:2.5 (tested), it could be.
HANDS ON
Extremely compact and light for an IS lens, it has a plastic mount and barrel with a small focus and a much larger zoom ring. Turning actions are well-damped by kit lens standards. Zoom settings are marked in large, easily legible numerals, and the MF/AF and IS switches have contrasting ribbing, so each can be identified by touch. On our Digital Rebel XTi test body, AF action was fast, accurate, and surprisingly quiet. At slightly over 3 inches, racked out, the lens casts no shadow when used with the XTi's flash.
IN THE LAB
SQF performance was in the Excellent range at all focal lengths, indicating high degrees of sharpness and contrast. In DxO Analyzer 2.0 tests, we found Visible barrel distortion at 18mm (0.55%) — above-average control for a sub-$200 kit lens and far better than the non-IS version of the lens. At the mid-range zoom settings, distortion at infinity was controlled to a degree even some pro zooms can't match: Imperceptible barreling at 35mm (0.02%) and Imperceptible pincushion distortion at 55mm (0.06%).
Light falloff left the corners by f/8 at 18mm, by f/5.6 at 35mm, and by f/3.5 at 55mm — about what you'd expect. Maximum magnification ratios at the uniform close-focusing distance of approximately 9 inches ranged from 1:7.13 at 18mm to a powerful 1:2.53 at 55mm. This beats the non-IS version, which focused to 11 inches with a maximum magnification of 1:4.4 (tested).
Using DxO's blur analysis software, our tests of the Image Stabilizer found that three different shooters could take critically sharp images at shutter speeds between 2.5 and 3 stops slower than without IS. This should open new avenues for Rebel shooters in low-light situations.
CONCLUSIONS
This zoom exemplifies how far lens design has come in recent years. On virtually every front, this useful, light, and compact lens shows moderate to dramatic improvements over Canon's earlier non-IS 18-55mm kit zoom. It's a surprisingly good lens at an even more surprising price.
Specifications
18-55mm (18.61-55.34mm tested), f/3.5-5.6 (f/3.49-5.90 tested), 11 elements in 9 groups. Focusing turns 60 degrees counterclockwise. Zoom ring turns 60 degrees clockwise. Focal lengths marked at 18-, 24-, 35-, and 55mm.
• Diagonal view angle: 74-27 degrees.
• Weight: 8 oz.
• Filter size: 58mm.
• Mount: Canon EF-S.
• Street price: $175.