Lens Test: Canon EF 70-300mm f/4-5.6 IS USM AF
A long and strong Canon original.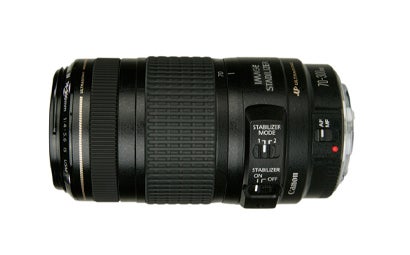 We may earn revenue from the products available on this page and participate in affiliate programs. Learn more ›
This long, Tele stabilized zoom replaces Canon's popular 75-300mm f/4-5.6 full-frame IS lens, the industry's first IS/VR lens, introduced in 1995. The new model delivers better image stabilization (to three stops instead of two) and a wider zoom range. It also features a zoom lock (at 70mm), special lens coatings to suppress ghosting and flare off digital sensors, and a panning mode for the IS system.
HANDS ON: This is one big lens, although it's about average in size and weight for its class. The barrel's surface is a stippled matte black, with an ample, ribbed, rubberized focusing ring and a pleasingly wide, easy-turning zoom collar, also ribbed and rubber-clad. The focusing ring (no subject distance scales) turns with a scratchy sound and is somewhat underdamped, but not loose. The zoom ring is also underdamped, tending to return to the 70mm setting whenever the lens tips up.
IN THE LAB: SQF data at 70mm and 200mm were in the Excellent range, indicating superior sharpness and contrast performance at the wider end of the zoom range. The lens dipped into the Very Good range at 300mm, which is normal for tele zooms of this class. DxO Analyzer 2.0 tests revealed Visible barrel distortion at 70mm (0.62%) and Visible pincushioning at 200mm and 300mm (0.63% and 0.72%, respectively). That's a strong showing, especially at the wide end.
Light falloff in test target corners was eliminated by stopping down to f/8 at 70mm and f/11 at 200 and 300mm, a slightly below-average performance. Close-focusing distances range between 55 and 57 inches, depending on focal length. Maximum magnification ratios went from 1:16.3 at 70mm to 1:4.1 at 300mm in our tests, suggesting average magnifying power — not quite up to the standard set by the lens it replaces. DxO Analyzer "Blur Factor" tests of the image stabilization were performed by three separate users, shooting at shutter speeds from 1/50 to 1/400 sec at 300mm. These showed gains ranging from slightly less than two to slightly more than three stops of handholdable shutter speeds.
CONCLUSION: Sure, this sharp-shooting 70-300mm (a 112-480mm equivalent on a Canon EOS Digital Rebel) is neither light nor compact. But your tripod probably isn't light or compact, either — and you can often leave it at home when you're shooting image stabilized.
70-300mm (71.81-294.03 tested), f/4-5.6 (f/4.06-6.05 tested), 15 elements in 10 groups. Focusing turns 90 degrees counterclockwise. Zoom ring turns 80 degrees clockwise. Focal lengths marked at 70-, 100-, 135-, 200-, and 300mm.
Diagonal view angle: 34-8 degrees.
Weight: 1.43 lb.
Filter size: 58mm.
Mounts: Canon AF.
Street price: $565.