Lens Test: Canon EF 50mm f/1.2L USM AF
Super-speedy. Ultra-sharp. This pro normal is anything but ordinary.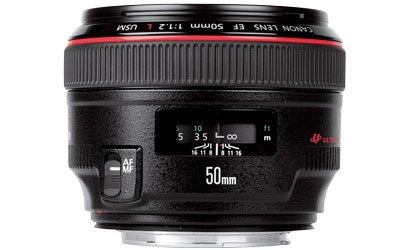 We may earn revenue from the products available on this page and participate in affiliate programs. Learn more ›
This speedy full-frame 50mm f/1.2L ($1,400, street) fills a vacancy left by the demise of Canon's 50mm f/1.0L four years ago. The company's only L-series normal lens, it's the fastest normal AF lens on the planet.
Hands On
Large and hefty, at nearly twice the size of comparable Nikon and Pentax f/1.2 manual-focus lenses, this lens exemplifies how the L-series opts for sharpness over compact convenience. The AF speed is somewhat slow, unsurprisingly, given the amount of glass the motor must move. The lens' unusual design shifts the entire optical assembly within a stationary outer housing to focus. To prevent moisture and dust from coming between the assembly and housing, Canon strongly recommends a protective UV filter.
In The Lab
SQF data showed Excellent sharpness and contrast across the board, which is not a given with such a high-speed lens. (Canon's 50mm f/1.4 USM, for example, turned in Very Good SQF numbers, dropping to Slightly Below Average at f/2 and f/1.4.) In DxO Analyzer 2.0 tests, the new lens showed Slight barrel distortion (0.23%), and light falloff was gone by f/2.8 — a strong showing. The maximum magnification ratio at the close-focus distance of 16.87 inches was an adequate 1:6.
Conclusion
Canon-using pros — especially available-light, wedding, and portrait shooters — have been clamoring for a high-speed, supersharp normal. Now they've got it.
Specifications
50mm (51.77mm tested), f/1.2 (f/1.25 tested), 8 elements in 6 groups. Focusing turns 150 degrees counterclockwise.
• Diagonal view angle: 46 degrees.
• Weight: 1.34 lb.
• Filter size: 72mm.
• Mounts: Canon AF.
• Included: Lenshood, softcase.
• Street price: $1,400.
Subjective Quality Factor
Canon's new f/1.2 standard lens
Amstelveen, The Netherlands, 24 August, 2006: Canon today releases its new L-series standard prime lens: the EF 50mm f/1.2L USM. Sharing the widest aperture of any lens in Canon's current EF range, the new model offers extremely fine control over depth of field and consummate low available light performance. It is expected to be popular amongst wedding and portrait photographers, as well as professional photojournalists. Endowed with Canon's latest AF technologies, the lens embodies the brand's reputation for superior response high-speed auto focus, while a circular aperture produces beautifully even background blur.
The EF 50mm f/1.2L USM features
* Latest Ultrasonic Motor (USM) for fast and near silent auto focus
* Full-time manual focus override
* Super Spectra coatings and optimised lens element shaping to suppress flare and ghosting
* Environmental seals providing dust and moisture resistance
* Circular aperture diaphragm for beautifully even background bokeh and 'removal' of distracting backgrounds
* Distance information passed back to the new E-TTL II flash algorithm of all current model digital EOS cameras
* Minimum focus distance 45cm
* Lens hood and pouch included in the box.
Low light shooting
At f/1.2, the lens shares the maximum aperture of any lens in Canon's current range. As such, it is ideal for shooting indoors using available light – a typical requirement of photojournalists and wedding photographers not wishing to disturb or influence a scene with flash.
Fast auto focus
Canon's latest Ring-type Ultrasonic Motor USM (USM), high speed CPU and improved AF algorithms combine to ensure rapid, highly responsive auto focus. Canon's Ring-type USM holds the lens with precision and accuracy, the instant it arrives at the correct focus and without overshoot, and features full-time manual focus override.
Portrait photography
The combination of an almost circular aperture diaphragm for attractive bokeh (evenly graduated blurring of out-of-focus areas) and the extremely narrow depth of field at its widest aperture combine to make this an ideal portraiture and studio lens. The f/1.2 aperture can be used to bring tension to a shot by keeping the focus sharp on the subject's eyes while blurring other facial features.
L-series construction
The L-series is Canon's elite professional lens range, designed and built to meet the needs of the most demanding professional photographers. To match the weather resistance afforded by EOS-1 series camera bodies, seals and gaskets and a lens mount O-ring prevent the ingress of dust and moisture to keep pros shooting in inclement conditions.
Aspheric element
To combat the softening caused by spherical aberration in conventional wide aperture lenses, a large aspherical lens element with precise variable curvature is incorporated into the 8 lens, 6 group construction. The aspheric element ensures high sharpness and contrast throughout the focus and aperture range.
Super Spectra coatings
In addition to optimised lens shapings to reduce reflections and the use of anti-reflective material inside the lens barrel, the EF 50mm f/1.2L USM employs Canon's patented Super Spectra lens element coatings. These suppress flare and ghosting – more prone to occur with digital cameras due to reflection off the image sensor. By increasing light absorption, coatings reduce reflections off lens element surfaces to deliver crisp, undistorted images with natural colour balance.
E-TTL II flash integration
The EF 50mm f/1.2L USM transmits distance information to the E-TTL II flash system of all current model digital EOS cameras, improving flash exposure metering when used in conjunction with Canon's range of EX Speedlite flash units.
Accessories and the environment
The EF 50mm f/1.2L USM comes with a cylindrical lens hood and lens pouch.
In keeping with Canon's Kyosei philosophy of living in harmony with the environment, the lens features only lead-free glass.