Lens Test: Canon 70-200mm f/4L EF IS USM AF
Canon's latest image-stabilized zoom is a superb but pricey way to leave that tripod behind.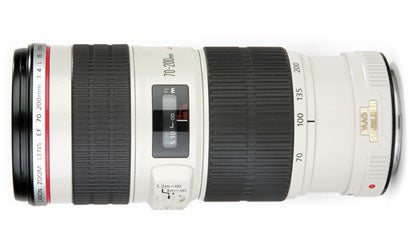 We may earn revenue from the products available on this page and participate in affiliate programs. Learn more ›
Hands on
Fairly lightweight for its size and construction, this lens balances well on midweight Canon DSLRs such as the EOS 30D, but is nose-heavy and ungainly on lightweights like the EOS Digital Rebel XTi. It has a very high level of fit and finish, with environmental sealing improved over the older non-IS version. Ribbed, rubberized focusing and zooming rings are well-damped and silky-smooth; focusing ring is a long reach. Focusing-mode and image-stabilization switches are well marked and positioned, but the flush-mount switches will be tricky for shooters wearing gloves. The very convenient removable tripod collar is a separate accessory ($115, street).
In the Lab
SQF results were Excellent at all three tested focal lengths — a big improvement over the pretty good non-IS version. Good distortion control, too, with Slight barrel distortion (0.18%) seen at 70mm, Slight pincushion (0.20%) at both 135mm and at 200mm (0.29%). Light falloff was gone by f/4.5 at 70mm, by f/6.3 at 135mm, and by f/5.6 at 200mm. This is no macro lens, although at 200mm it achieves a respectable 1:4.35 magnification (45.5 inches). At 135mm, it gets to 1:6.33; at 70mm, 1:11.4. With IS at 200mm: All testers could gain up to 3.5 stops. Lowest gain: 1.5 stops. Highest gain: 3.5 stops.
Conclusion
Optically excellent, superbly constructed, with 3 stops' gain handheld, it's well worth the price.
Specifications
• 70-200mm (71.60-192.73mm tested), f/4 (f/3.54 tested), 20 elements in 15 groups. Focusing turns 150 degrees counterclockwise. Zoom ring turns 70 degrees clockwise. Focal lengths marked at 70-, 100-, 135-, and 200mm.
• Diagonal view angle: 34-12 degrees.
• Weight: 1.71 lb.
• Filter size: 67mm.
• Mounts: Canon AF.
• Included: Lenshood, softcase.
• Street price: $1,060.
What's Hot
• Excellent optical performance and IS.
• Built tough and weather-resistant.
What's Not
• Tripod collar is extra.
• On the pricey side.
Subjective Quality Factor