Lens Test: Canon 55-250mm f/4-5.6 EF-S IS
We may earn revenue from the products available on this page and participate in affiliate programs. Learn more › An...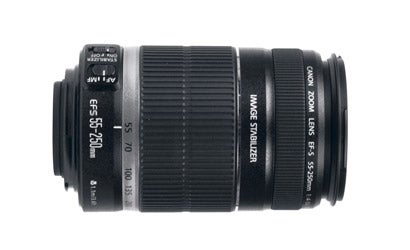 We may earn revenue from the products available on this page and participate in affiliate programs. Learn more ›
An 88-400mm equivalent, this is Canon's longest EF-S (digital only) zoom, and roughly the low-cost digital alternative to its 100-400mm f/4.5-5.6L full-frame "white" image-stabilized zoom that's so hot with pros. At $280, street, this 55-250mm is by far Canon's most favorably priced IS tele zoom, with the only glass close to it a 70-300mm IS lens that streets for roughly $550.
Not actually paired in a kit with Canon's 18-55mm f/3.5-5.6 IS starter lens (yet), this is the system's de facto kit telezoom. It's squarely targeted at intermediate DSLR shooters who feel hemmed in by the 18-55mm and crave something longer. While most comparable digital tele-zooms that start at 55mm go to only 200mm (i.e., the Nikon, Sigma, and Tamron), Canon reaches out to 250mm.
This lens replaces the 55-200mm full-framer, a late film-era optic, and boasts a new optical design incorporating a UD element for controlling color fringing and a simpler, less costly IS system. The IS mechanism (the same as in the 18-55mm IS lens) is claimed to produce up to 4 additional stops of handheld sharpness in the 55-250mm. This is the first IS system for Canon that autodetects panning and limits its shake control to the vertical axis.
HANDS ON
A bit heavier and longer than the non-IS 55-200mm that it replaces, this lens is still compact enough to throw no shadow at any focal length when used with the Rebel XTi's built-in flash — surprising for a zoom that extends to the equivalent of 400mm.
Both zoom and focusing rings are rubberized, ribbed, generously sized, and smooth-turning. The AF action is fast and accurate with minimal searching and, by non-USM standards, relatively quiet (again on the Rebel XTi).
IN THE LAB
SQF data came in within the Excellent range at three tested focal lengths. The lens charted slightly better than Nikon's 55-200mm VR zoom; at 55mm and 135mm, better than the comparable Tamron; and light-years beyond the earlier 55-200mm at all tested focal lengths.
DxO Analyzer 3.0.1 tests demonstrated very well-controlled distortion, with only Slight barrel at 55mm (0.14%), and Slight pincushion at 135mm and 250mm (0.14% and 0.15%, respectively). Almost into the Imperceptible range, these results compare very favorably with those of the 55-200mm, which produced Noticeable pincushion distortion at 135mm and 200mm (1.35% and 1.60%, respectively).
Light falloff, about average, was gone from the corners by f/5 at 55mm, by f/5.6 at 135mm, and by f/6.3 at 250mm.
Maximum magnification ratios at the uniform close-focusing distance of about 40.5 inches ranged from 1:12.6 at 55mm to a strong 1:2.85 at 250mm.
Using DxO's blur factor analysis, four different shooters tested two sample lenses and found a somewhat underwhelming 2 to 2.5 extra stops of handheld sharpness with IS engaged.
CONCLUSIONS
A natural for globe-trotting vacationers and soccer parents, this is the obvious second lens for Canon EOS 40D and Rebel XSi owners. Clearly it and the 18-55mm IS make an attractive team that promises sharp pictures in dicey light across an amply wide 13.9X zoom range. And you can't beat that price.
Specifications
55-250mm f/4-5.6 (55.65-256.41mm tested), f/4-5.6 (f/4.09-6.37 tested), 12 elements in 10 groups. Focusing turns 100 degrees counterclockwise. Zoom ring turns 70 degrees clockwise. Focal lengths marked at 55-, 70-, 100-, 135-, 200-, and 250mm.
• Diagonal view angle: 27-6 degrees.
• Weight: 14 oz.
• Filter size: 58mm.
• Mounts: Canon EF-S.
• Street price: $280.