Lens Test: Canon 28-135mm f/3.5-5.6 IS USM AF
This full-frame image-stabilized zoom does double duty as the kit lens for the Canon EOS 40D.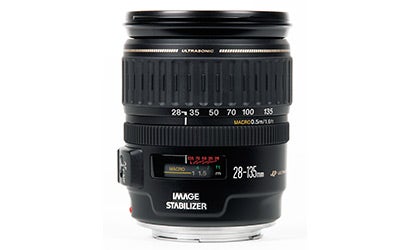 We may earn revenue from the products available on this page and participate in affiliate programs. Learn more ›
A full-frame Image Stabilizer, the Canon 28-135mm f/3.5-5.6 IS ($410, street) is sold both separately and as part of high-end Canon EOS 30D and 40D kits (adding only $200). We tested it years ago as a full-framer, but we wanted to see how it performs on the 40D's APS-sized sensor.
HANDS ON
As noted in our original test (June 1998), the lens is bulky for its class, handsomely finished in matte black, with finger-friendly zoom and focusing rings. Turning action is adequate. And we still find the AF motor eerily silent.
IN THE LAB
In DxO Analyzer 2.0 distortion tests (new since we first tested it), we found Visible barrel distortion (0.34%) at 28mm, as well as Imperceptible pincushion distortion at 70mm (0.07%) and 135mm (0.10%). This is noticeably better than Canon's 24-105mm f/4L IS lens, but slightly below average at the wide end by today's standards.
Light falloff was gone by f/4 at 28mm and nonexistent at 70mm and 135mm — dramatically better, of course, than in full-frame tests. Maximum magnification ratios went from 1:11.4 at 28mm (17.75 inches) to 1:3.8 at 135mm (15.25 inches).
In our new DxO blur factor tests, the IS gave our three testers 1.5 to 2.5 stops of extra handholdable sharpness, not a top performance by today's standards. This first-generation mechanism is also exclusively dual-axis, so it can't be used while panning.
Sharpness? As in its full-frame tests, the lens produced SQF numbers in the Excellent range at the three tested focal lengths. Surprisingly, the new numbers obtained from the image circle's central "sweet spot" were slightly less impressive. The reason may be that the lens isn't digitally optimized to transmit light perpendicularly to the 40D sensor's microlenses or to suppress internal reflections off the sensor's surface — which can compromise sharpness and contrast in a digital system.
CONCLUSIONS
Though starting to show its age, this zoom is a solid choice, especially at this price.
Specifications
28-135mm (29.63-137.90mm, tested), f/3.5-5.6 (f/3.70-n.a., tested*), 16 elements in 12 groups. Focusing turns 150 degrees counterclockwise. Zoom ring turns 80 degrees clockwise. Focal lengths marked at 28-, 35-, 50-, 70-, 100-, and 135mm.
• Diagonal view angle: 75-18 degrees.
• Weight: 1.22 lb.
• Filter size: 72mm.
• Mounts: Canon AF.
• Street price: $410.
*Not available due to instrument limitation.