Leica MP: Cutting-Edge Classic
The MP sure looks like a mid '50s Leica, but inside you'll find amazing improvements that may make it the best M-series Leica ever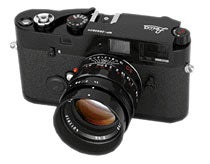 We may earn revenue from the products available on this page and participate in affiliate programs. Learn more ›
There's nothing quite like a magnificent, manual, mechanical camera to stir the passions of seasoned photographers. Perhaps that's why we've recently seen glorious creations such as the limited-edition Nikon S3 2000 (a clone of the '50s rangefinder 35), the late, lamented Olympus OM-3, and that elegant, contemporary classic, the Nikon FM3a. Now, Leica has gotten into the retro-classic act with an update of the legendary Leica MP, a spartan rangefinder 35 aimed at pros and produced in very limited quantities in 1956 and '57.
The original MP-identifiable by its external, manually set frame counter, lack of self-timer, and bottom-mounted Leicavit trigger winder-came in two versions, each connected with a renowned photojournalist. The satin-chrome-finished model was associated with the late Alfred Eisenstaedt, and the black-lacquer-finished version with still-active octogenarian, David Douglas Duncan. The new MP (which also comes in satin-chrome or black-lacquer) bears a striking resemblance to these collectible originals, but its features, which include through-lens metering with LED finder readouts, are very similar to those of the Leica M6. Nevertheless, today's MP is far from a gussied-up M6 with a few styling licks-it's been internally re-engineered, and incorporates a host of significant optical, mechanical, and electronic refinements that fully justify its illustrious monicker.
The most obvious distinguishing features of the new MP hearken back to the original MP, and are sure to resonate with Leica fans-a classically contoured, all-metal wind lever (in place of the plastic-tipped lever found on most late-model M-series Leicas) and a traditional rewind knob instead of the angled rewind crank used on all Leica Ms since the M4. A closer look also reveals that the MP's hot-shoe is nondedicated and has a single, central contact. The official specs coyly allude to the lack of TTL flash by stating that autoflash is provided "by a sensor in the flash unit or manual guide number calculations." Finally, the shutter-speed dial turns clockwise to set higher speeds-another traditional M-series touch that was abandoned on late-model M6s and the M7 (introduced last year).
Pick up the Leica MP, and the first thing you'll notice-along with its exquisite finish, the substantial heft of its compact, all-metal body, and ergonomically rounded contours-is the new textured PVC cladding. It's at least as grippable as the leather-textured vulcanite found on previous Leicas, though some may find it less elegant. The official Leica party line is that the new lighter-textured covering "emphasizes the clean, classic lines of the MP." Although we were skeptical at first, we now agree-the new covering suits the camera very well and sets it apart from other M-series models.
Functionally, shooting with the MP is the same as shooting with an M6. In the Leica M tradition, you remove the bottom plate to load the camera; the system works well, but takes some getting used to. Bring the camera to eye level and you see the glorious M system of projected, parallax-compensating finder frames covering lenses with focal lengths from 28- to 135mm. The frames appear in pairs-35- and 135mm, 50- and 75mm, and 28- and 90mm-and are auto-indexing (the right one automatically comes into view with its mate as you mount a lens). You can also preview the field of view of different focal lengths manually by pushing a small lever at the left of the lens. Below the finder frames are the metering LEDs. Touch the shutter release and they light up brightly in red. The readout system is very simple-a central "correct exposure" dot flanked by deltas guides you in turning the aperture ring. It is also very sensitive. The lenses are clickstopped in half stops; when the deltas turn off, you can meter accurately to within about 1⁄4-stop. The left-hand delta flashes when the light level falls below the metering range. There's also a low-battery-warning display.
While the Leica M range/viewfinder and frameline system has generally been praised as the best ever in terms of brightness, contrast, and precision, the one in the MP surpasses that of any previous Leica M. The rangefinder patch and secondary focusing image are extraordinarily bright and contrasty, as are the finder framelines, which are crisply defined and visible in the dimmest light.
How did they gild the lily? According to Leica's techies, the MP viewfinder has an extra lens in front of the finder frames, and the rangefinder prism is lacquered black on all nonoptical sides. Both of these features noticeably enhance the contrast of the secondary focusing image. The curve and form of the mirror behind the frameline-illumination window has also been tweaked to make the framelines brighter. To minimize stray light, the aperture strip behind the illumination window is thinner. Finally, and most important, the top body casting has been reconfigured to provide better clearance for the range/viewfinder mechanism, thereby eliminating the physical pressure on these components that can lead to misalignment.
As expected, the MP's short-travel, single-stroke, ratcheted film-wind lever and the shutter-release operate with a buttery smoothness. But even here, there are hidden improvements, including new gears in the film-transport mechanism designed for smoother operation and more even winding pressure, and an improved friction mechanism said to enhance durability and give consistently smooth winding to the last frame. Even the well-proven shutter mechanism has been metallurgically upgraded, with a new bronze-alloy frame claimed to improve stability, a new friction brake spring made of better material, and a more elastic control-spring designed to give more uniform shutter-curtain travel. While no mechanically timed shutter is as accurate as an electronically timed one, our test readouts show that the MP's shutter performs very well for a shutter of its type, and the film winding is, if anything, even smoother than that of previous models.
While not much is electronic in this mechanical machine, the metering electronics that do exist have been updated with smaller components that provide a more linear response at all apertures. There's also new information-processing circuitry that allows the system to operate accurately over a wider range of voltages (this circuitry kicks in when the batteries weaken).
Though the MP is a traditionalist's dream and an instant classic, it is also a superb instrument for taking pictures. The handling, balance, responsiveness, and control layout are superb, and unsurpassed among 35mm cameras in current production. It's uncannily quiet and smooth. The lenses include some of the finest (and most expensive!) optics available for any system, and, thanks to the MP's mechanical precison and excellent metering system, its on-film performance is second to none.
Of course, rangefinder cameras have their foibles. They're inherently less flexible than SLRs in accepting a wide range of ultrawide, supertele, and zoom lenses, nor do they focus as close. Even among rangefinder 35s, the MP is hardly state-of-the-art. It lacks, for instance, the autoexposure and built-in motor of the Konica Hexar RF and the autofocusing of the Contax G2.
However, no rangefinder camera extant compares with the MP in terms of presence, panache, and princely price. Add the latest improved Leicavit-M trigger, and you can really imagine that you're Alfred Eisenstaedt as you stalk the streets in search of life's most poignant moments. But even those disinclined to flights of fancy can appreciate the MP's other matchless qualities-it's flat-out gorgeous, has all the M-series sterling virtues and it's the best we've ever used. Does that make it the best M-series Leica ever? Yes!
LAB TEST RESULTS:
Viewfinder data: Viewfinder magnification is exactly the same as for the Leica M6: 0.72X, which is average for a multi-frame range/viewfinder camera. Finder image is 74 percent of picture area, below average for a 35mm camera, but average for a rangefinder. Excellent parallax correction with minimal error detected (only 0.2mm shift toward the top of the screen).
Shutter speed accuracy: Considered good for a horizontal-travel, mechanical focal-plane shutter but below average compared to an electronically controlled shutter.
Exposure accuracy: A slightly better result than the
Leica M6. Extremely accurate within less than 1⁄10-stop over/underexposure from EV17 to EV6, very accurate within 1⁄4-stop underexposure from EV5 to EV1.
Meter patterns: Selective-area metering is similar to the Leica M6. The MP's area of maximum meter sensitivity is wider than a typical spotmeter, but narrower than centerweighted systems.
SPECIFICATIONS:
Camera: Leica MP 35mm rangefinder camera with Leica M-type bayonet mount. Approx. street price: $2,600, body only.Lens used for test: 50mm f/1.4 Summilux-M. Approx. street price: $2,000. Apertures, f/1.4-16 in half stops, focusing to 2 feet, 4 inches (0.7m), 46mm filter thread.
Focusing and viewing: Combined, coincident-type, optical range/viewfinder with projected, autoparallax-compensating framelines for 28-, 35-, 50-, 90-, and 135mm focal lengths; manual frameline selector.
Shutter: Mechanically timed, horizontal-travel, cloth focal-plane with manually selected speeds of 1-1/1000 sec plus B, 1/50 sec X-sync flash speed.
Exposure control: Silicon photodiode in base of body reads off 12mm spot in center of first shutter curtain, providing TTL reading of about 13 percent of the frame area. Shutter speed and film speed (ISO) settings are electronically coupled to LED arrows and correct-exposure circle displayed in finder; metering range EV-2 to 20 at ISO 100.
Flash: Single-contact hot-shoe. Flash exposure controlled by computer in flash unit or by manual guide-number calculation.
Loading and winding: Manual bottom loading with removable baseplate, hinged back section. Ratcheted, single-stroke film-wind lever has 105-degree stroke from stand-off position; body accepts manual trigger-wind Leicavit M (street: $890), motorized Leica Winder-M, Motor-M, some earlier Leica motors.
Other features: Low-battery and beyond-meter-range warnings in finder. Meter powered by two PX-76 or SR44 button cells, or one DL1/3N lithium cell. Three MP models are available, with 0.58X, 0.72X, and 0.85X viewfinder magnifications respectively; model tested: MP 0.72.
WHAT'S HOT AND WHAT'S NOT?
HOT
• Upgraded range/viewfinder has brighter, clearer framelines and focusing image
• Superb ergonomics, construction, and finish
• Ultrasmooth focusing, winding, and shutter release; very quiet operation
• Shutter speeds operate without battery power
• Finder frameline system lets you preview effects of different focal lengths
• Compact body accepts extensive line of very-high-quality lenses
NOT
• No autoflash sensor in body
• Finder-image magnification lower than most pro-level SLRs
• Lenses do not focus as close as those for SLRs; no zoom lenses available
• Bottom-loading system less convenient than hinged back
• Lenses wider than 28mm or longer than 135mm require special viewfinders or a reflex housing
How does the Leica MP stack up against competitors?
Konica Hexar RF
(Street price: under $2,000 for kit with 50mm f/1.8 Hexanon lens, HX-18W dedicated flash, neckstrap, presentation case) Roughly the same size and weight as the Leica MP with Leicavit winder, the Hexar RF has such modern conveniences as built-in 2.5 fps motor drive, autoloading, DX, autorewind, aperture-priority autoexposure, an electronically controlled vertical focal-plane shutter, and dedicated (non-TTL) flash. A fine, competent, contemporary take on the classic interchangeable-lens rangefinder 35 with multiframe finder, it lacks the Leica's style and feel. Its range/viewfinder is quite good, but not in the same class as the MP's. You can mount M-series Leica lenses on the RF but they will not couple precisely to the rangefinder.
Voigtlander Bessa R2
(Street price: $650, body only; accepts Voigtländer lenses from 12- to 90mm, in 39mm screw-thread with M-adapter ring, or M-series Leica lenses that couple to optical range/viewfinder) Somewhat more compact and considerably lighter in weight than the Leica MP, the Bessa R2 is based on a modified Cosina SLR chassis and has a mechanical, vertical-travel, focalplane shutter, manually selectable finder framelines for 35-, 50-, 75-, and 90mm lenses, nonratcheted wind lever (a trigger winder is also available), and TTL metering with diode readouts, similar to the MP. The R2's range/viewfinder is quite good, but not in the MP's class. Competent, reliable, and modestly priced, it lacks the Leica MP's refinement and style, but its Japanese-made lenses are outstanding.