Image Stabilization Special: Stop the Shake
What's the difference between lens-based and sensor-shift image stabilization? Our tests reveal all.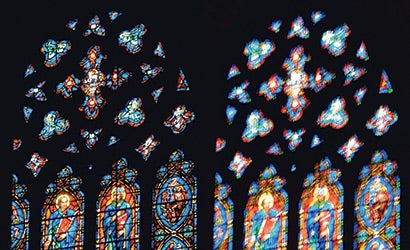 We may earn revenue from the products available on this page and participate in affiliate programs. Learn more ›
It's a fact of life: Everyone's hands move when taking pictures. No problem, if you have enough light for a fast shutter speed, your focal length is wide, or you're using a tripod. But for all those times when the light is dim, you're shooting with a telephoto lens, or you can't use a tripod, hallelujah for optical image stabilization.
DSLR shooters have a choice of two different technologies — lens-based and sensor-shift — to counter the photographer's motion. Some systems can even differentiate between ordinary shake and deliberate, lateral panning to capture a moving subject. (Forget electronic image stabilization, found on some compact digital cameras; it often adds image noise or reduces resolution, and it's good mainly for shooting video.)
While each type of optical stabilization has unique advantages, both claim to add 2 to 4 stops to your ability to shoot handheld without your motion blurring the image. So if you would normally set a 200mm lens to 1/200 sec in bright light, the most effective image stabilization will let you set your camera to 1/25 sec (3 stops slower) or even 1/13 sec (4 stops slower) in low light to capture a decent exposure with the same sharpness. Or you could use a smaller aperture in moderate or bright light to increase depth of field — a boon to nature and macro shooters.
The big question: Which works better, lens- or sensor-based? Much is at stake, for photographers as well as manufacturers.
Canon, Nikon, and Sigma are dedicated to lens-based stabilization. All three have recently released new image-stabilized lenses — also called vibration-reduction (VR) or optical-stabilized (OS). Tamron's version is expected soon.
Proponents of lens-based IS claim that designing the IS system to fit the characteristics of each lens means better performance. IS lenses also let you see the effects of stabilization through the viewfinder, which helps some shooters hold the camera steadier. But stabilized lenses tend to be significantly more expensive than their nonstabilized counterparts; they're slightly bulkier and heavier, too.
Sensor-shift camera makers — including Olympus, Pentax, Samsung, and Sony — are rolling out new DSLRs in which the CCD or CMOS sensor is rapidly moved by motors or magnetic pulses to counteract vibration. The system works no matter which lens you use, so any optic from ultra-wide to super-tele that's compatible with the camera mount should benefit from the image stabilization.
These companies counter the lens-based systems' efficiency claims by pointing to the fact that their lenses communicate with the camera's IS system to maximize efficiency. And sensor-shift technology generally adds less than $100 to the street price of the camera body, while increasing the size only slightly.
However, since the image that appears in the viewfinder bypasses the sensor via a mirror, it's not possible to see the IS effect through the viewfinder. (The new Olympus E-510, the only camera with a live preview mode and sensor-shift IS, can show the stabilization effect on its LCD while in live preview.)
We test IS performance in the Pop Photo Lab using DxO test targets and analysis software. We usually test lens-based systems at a variety of focal lengths, including the extreme tele. For the chart here, we tested sensor-shift cameras using a 200mm lens, because of the popularity of that focal length.
Based on our tests, we've found improvement from both IS systems to be slightly less for wider-angle and slightly greater for longer teles. Results also vary depending on the weight of the lens and the strength and technique of the photographer.
So far, lens-based IS has the lead, with one Nikon VR lens logging a 3- to 4-stop improvement (a few big tele zooms barely reached 2 stops). In contrast, the best result from a sensor-shift DSLR is 2 to 3 stops, with the average closer to 2 stops.
So if you're looking to get the most stability in low light, to preview the IS effect through your optical viewfinder, or to add stabilization to a DSLR that doesn't have built-in sensor-shift IS, an image-stabilized lens is your best (and only) choice.
But photographers on a budget will find it hard to overlook the expense added to each IS lens that you purchase. And those looking for their first DSLR might be happier with the smaller, one-time, IS premium and universal compatibility that sensor-shift systems deliver.
Now, we can't wait to find out whether image stability will be additive, when Sigma or Tamron deliver an IS lens with a mount that fits sensor-shift DSLRs from Olympus, Pentax, or Sony.