How to Pimp Your Flash
Three great ways to spark up your flash photography.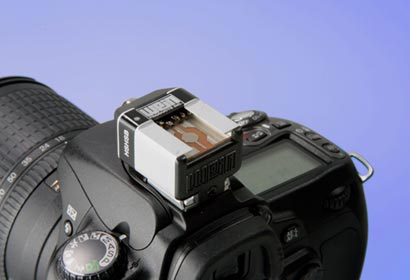 Whether the flash for your SLR or DSLR is a built-in popgun or a fully tricked-out flagship, with the right add-ons, you can have more power, creative options, and fun. Here are two new shoe-mount flash accessories, and one old standby…
1 Quantum Turbo Slim Compact Battery
For lightning-like recycle times and hundreds — even thousands — of pops per charge, dump the AAs and power your hot-shoe flash with a high-capacity battery pack such as Sunpak's TR2000 ($250, street) or Lumedyne's HV MicroCycler ($315, street). Cable-connected to high-voltage ports on sophisticated shoe-mount flashes, they're carried from a belt clip or shoulder strap, and are, alas, clumsy. Hence the bulk under the wedding photographer's jacket.
Happily, Quantum Instruments recently reduced the klutz factor with a high-capacity power pack slim enough to slip into a pocket. The 15-ounce Turbo SC stands a bit over 5 inches tall, and, at about 1 inch deep, is less than half the depth of Quantum's smallest Turbo (the Compact), while offering equal capacity (225 full-power pops for shoe mounts). The NiMH-powered SC also has rapid recycle (1.4 sec) and charging times (1.5 hours), and a $450 (street) price tag. Seem expensive? That's the price of elegance.
2 LumiQuest Soft Screen Diffuser
Cameras with pop-up flashes are usually frozen out of the flash accessory action. With the LumiQuest Soft Screen diffuser, though, they can join in. It easily slips over most pop-up flashes to soften (and reduce) their output… somewhat. It's small, so don't expect the caressingly soft light of a 3-foot beauty dish. Instead, look for less facial sheen, softer shadow edges behind subjects, and better close-up lighting. Also, it can be adapted to accept 3×3-inch color-correcting gels to bring flash output into (or out of) line with background color temps. That alone is worth the $13 (street).
3 Wein Hot Shoe to Hot Shoe Safe Sync
The DSLR shooter who tries using an old, outdated hot-shoe flash may be pleasantly surprised to find that the flash still works and, thanks to histograms and LCD previews, it's very easy to get great flash exposures — for a while. The unpleasant surprise comes a month into the shooting, when that flash, indeed any flash, refuses to work on the camera. The problem? A burned-out sync circuit.
What caused it? Flash trigger voltage that was many times more powerful than the DSLR's circuitry could handle over time. Trigger voltage is stored in a flash's capacitor, and after being put through a step-up transformer, it ignites the xenon gas used in virtually all flash tubes. In many older hot-shoe and studio strobes, that voltage can, unfortunately, ricochet back through the flash foot (or PC terminal) into the camera. The most popular flash unit of all time, the Vivitar 283, for example, used a 20-volt flash trigger — more than three times the amount some DSLRs were designed to accept.
Does that mean DSLR shooters can't experiment with older studio strobes or hot-shoe flashes? No. Get a Wein Hot Shoe to Hot Shoe Safe Sync ($50, street) to slide between flash and camera, and protect a sync circuit by stepping down trigger voltage to under 6 volts. Best thing? Its built-in PC terminal not only protects the camera's circuitry from studio strobe backfires, it also provides a PC terminal for the many DSLRs today that don't.