Holiday Gifts for the Wildlife and Nature Photographer
Alaska native John Hyde recommends the best photo gear to get you closer to nature.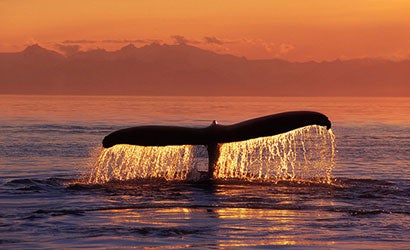 John Hyde lives where lots of wild things are — namely Alaska — and they have become the subject of many of the photographs he takes on expeditions into the wilderness. Wolves, bears, eagles, and whales cavort or strike stately poses in the images he captures. Hyde usually takes both a Canon EOS-1Ds Mark II and an EOS-1D Mark III when he goes out for a shoot. As he explains, it's good to have more than one camera body with a lens attached to reduce the necessity of changing lenses in the field. While he shoots with a broad range of lenses, including wide-angle optics that work well for scenic shots, he often uses long telephoto lenses to get close (optically, that is) to the animals and birds he photographs. Among his favorites are the Canon EF 300mm f/2.8 L IS USM, EF 70-200mm f/2.8 L IS USM, and EF 600mm f/4 L IS USM.
Click on the cameras and lenses for more information about them from Popular Photography. To see more of John Hyde's wildlife photography, click on the photo at right or visit his website, Wild Things Photography.
Here are some of the other items Hyde takes along for photographing nature and wildlife:
Really Right Stuff Tripod Head
Hyde equips his Gitzo carbon-fiber tripod with a multi-part head made by Really Right Stuff. He starts with a BH-55 Pro ball head, then adds a PCL-1 Panning Clamp and a MPR-CL Nodal Slide. The panning clamp lets him level the camera quickly and pan smoothly. The nodal slide allows him to pull it back so that the optical center of the lens is over the axis of rotation, eliminating parallax errors that can make objects look different in side-by-side shots. The setup works well for both shooting a series of images for a panorama and panning to track moving subjects. Hyde also attaches an L plate to the camera so that he can quickly switch it from horizontal to vertical orientation. He likes Really Right Stuff's gear because, he says simply, "their ball heads are the best I've used."
Really Right Stuff BH-55 Pro Ball Head: $415
Really Right Stuff MPR-CL Nodal Slide: $110
Really Right Stuff PCL-1 Panning Clamp: $235
Really Right Stuff MC-L Plate (universal L plate): $105; (Really Right Stuff also makes custom L plates for specific models.)
www.reallyrightstuff.com
Visual Echoes Better Beamer Flash Extender
To shoot with a flash unit when capturing a distant subject with a telephoto lens, Hyde uses this flash accessory. It employs a Fresnel lens to extend the range of the flash, narrowing the beam somewhat so that specific subjects can be highlighted in a scene. Hyde told us that the animals he photographs never notice when he uses a flash. The Better Beamer folds up when not in use, and takes up very little space in a camera bag.
About $40
www.birdsasart.com/accs.html#BEAMER
Gepe Card Safe Extreme
Hyde carries several memory cards in this waterproof case when he goes out on a shoot. It protects them even if it's dropped in water, and it floats, too. The case can hold as many as eight cards at a time — four SD or MMC and four CompactFlash. It can also accommodate Memory Stick media. The interior is lined with static-free cloth and the exterior is a tough, crushproof plastic with clear viewing windows that let you see the contents without opening the case. The Card Safe Extreme comes in onyx, red, blue, and neon-yellow, so that you can buy the shade that will stand out against the environment where you're shooting if it's dropped.
About $20
www.gepe.com
LowePro Photo Trekker AWII Backpack
Backpacks are the only style of camera bag that John Hyde uses on the photographic expeditions that often take him through rough terrain. "I need the safety of having one hand available to grab onto something, and a lot of time there's a tripod in the other hand, he explains. "I can't have a shoulder bag because it could bounce around and catch on something, and I'd get pulled off the path." LowePro's Photo Trekker AWII has an adjustable harness and waistbelt, water-resistant zippers, and a built-in cover that can be pulled over the pack to protect it from rain and snow.
About $250
www.lowepro.com
LowePro DryZone Backpack
Land animals are not the only type of fauna Hyde photographs. To capture images of whales and other creatures of the sea, he sometimes shoots from a boat. When a trip includes time spent in wet conditions, he packs his gear in one of LowePro's DryZone backpacks. Although they're soft-sided bags, they're completely waterproof (and dustproof) and designed to float if dropped in water. LowePro makes DryZone models in three different sizes, the large 100, medium 200, and small Rover.
About $200, $250, $270 for the three models, respectively.
www.lowepro.com
Nanofilm Clarity Fog Eliminator Cloths
When Hyde is shooting in cold weather, he avoids using liquids of any kind, so to keep his lenses and filters from misting over in fog-prone conditions, he wipes them with a dry antifog cloth. Nanofilm's individually wrapped antifog cloths are impregnated with a dry compound that stops condensation from forming on optical glass. Each cloth can be reused multiple times, and wiping a surface with a Fog Eliminator keeps it clear for hours.
About $6 for a pack of three.
www.nanofilmproducts.com
Read on to find out what Hyde would like to add to his kit for nature and wildlife photography.
We asked John Hyde what he would like to add to his gear for nature and wildlife photography. Here's what's on his wish list:
Canon EF 500mm f/4 L IS USM
Hyde already has a 600mm lens in his kit to get close to very distant subjects, but he thinks this 500mm lens would be a lot lighter to carry uphill in the snow, without making him sacrifice too much in focal-length range.
About $5,500
Read more information about this lens from Pop Photo.
www.canonusa.com
VisibleDust Arctic Butterfly SD800 Sensor Loupe Combo
Things get dirty when you're following animals around in the Alaskan wilderness. Hyde has been through plenty of sensor cleaning products, but he has yet to find one that he's really happy with. He'd like to try this kit from VisibleDust. It includes a loupe that provides a magnified, illuminated view of a camera's sensor, and three brushes for cleaning off the dust that the loupe reveals. The brushes are different sizes for use with more than one sensor size, and a brush for cleaning viewfinder mirrors and focusing screens is also included. VisibleDust also sells the loupe and brushes separately, as well as smaller, less expensive kits.
About $225
www.visibledust.com
Solio Classic Universal Hybrid Charger
Hyde carries several camera batteries when he sets out on a hike. That's essential for lengthy trips away from power outlets, especially since cold temperatures can cause batteries to drain more quickly. He wouldn't mind having a couple more batteries on hand, and he'd also like to try a solar charger. This Solio model can gather energy from the sun or be used as a wall adapter, and it's compact and lightweight to carry. Solio also makes the Hybrid 1000, which doesn't work as a wall adapter, for about $20 less. Solio's products work with cameras that charge batteries internally and attach to the charger with a USB mini-B connector. To charge an SLR battery that requires an external charger, you'll need Solio's 12V Universal Adapter (about $12) and a car charger from the SLR manufacturer.
About $100
www.solio.com
Canon 90mm f/2.8 TS-E
Hyde would like to add this tilt-shift lens to his collection. Tilt-shift lenses allow the photographer to swivel the optics from side to side and up and down by turning small knobs on the sides of the barrel. This shifts the angle of the lens in relation to the sensor (or film) plane, which alters both the perspective and the focus of the image. Tilt-shift lenses can be used to adjust perspective in order to maintain straight lines in a scene or to selectively control areas of focus for creative reasons. This is Canon's longest tilt-shift lens, making it a better choice for nature and wildlife photography than the more typical wide-angle tilt-shift options. Not all SLR manufacturers make tilt-shift lenses for their cameras. If you're looking for a tilt-shift option for a camera whose manufacturer doesn't offer one, consider Hartblei's Super-Rotator, which is available with a variety of mounts and costs between about $600 and $950, depending on focal-length. A lower-cost alternative to a high-end tilt-shift lens is the Lensbaby 3G, ($270) which is also available with numerous mounts.
About $1100
www.usa.canon.com
www.hartblei.com
www.lensbabies.com
CompactFlash and SDHC Cards
All of the photographers who contributed to this guide said they'd like to have more memory cards — the faster and higher-capacity the better. Hyde emphasized that having a camera with dual memory slots is essential for him, to make sure he never misses a shot because one of his memory cards filled up at the peak of action. "Having that second card can save the day," he says. Hyde also made an interesting point for photographers who shoot RAW images in very high-key situations, for example around snow, water, or sand: RAW files that include a lot of white and very light areas can take up large amounts of memory, sometimes more than the camera's remaining-frame counter estimates. He recalled an occasion photographing a humpback whale that was breaching, with just one memory card in his camera: "Last time I looked I had 30 or 40 frames left on the CompactFlash. All of a sudden the camera jammed up. Those huge splashes of white took lots of memory." Hyde isn't particular about his brand of memory card, as long as it offers lots of capacity and speed.
Kingston Technology
Sandisk
Lexar
Pelican 1630 Transport Case
When taking photo gear into especially rough conditions, such as on a boat, Hyde would like to have the option of packing it in this hard case. It's built to be crushproof, dust proof, and watertight, and even has an automatic pressure equalization valve. The case incorporates heavy-duty wheels and a sturdy retractable extension handle to make getting it onto a boat, plane, or land vehicle easier.
About $275
www.pelican.com