Hensel Studio Lights
They're a hit around the world, but not in the U.S. Here's what we have been missing.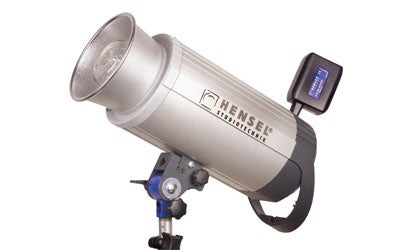 shopping for studio lights? Chances are you've checked out all of the usual suspects, but not the company that ships more monolights than anyone else: Hensel Studiotechnik (www.hensel.de).
Doesn't ring a bell? Well, this 45-year-old German strobe maker is huge just about everywhere in the world but the U.S. Hensel designed the first portable power unit, yet its Integra monolights and Porty and Vela power packs are virtually unknown among American photographers.
To see if it's the products or just limp marketing to blame, I put Hensel's Integra Pro monolights to the test in the Pop Photo studio. These units, average in size and weight (less than 7 pounds), are sold in Integra Pro Plus kits for between $635 and $1,195 (street) and include a transmitter and receiver for wireless remote firing. Willing to forego the wireless function? Shave off about $300.
After working with 500- and 1000-watt-second (Ws) units for ten days, I grew to respect their wealth of unusual features. Revolutionary? No. Useful? Absolutely. Here are the highlights:
PLUG 'N' PLAY
Because they're self-contained and also relatively light, monolights are popular with traveling photographers. With Integra Pros, the trekking can be international, since a built-in sensor automatically reads and converts whatever current (between 110 and 240 volts) is coming out of the wall or portable power pack, and steps it up or down. Just pack the right adapter plugs, and you're ready to shoot in Europe (220 volts), Japan (110 volts), China (220 volts), and the U.S. (110 volts).
Weight and See
At first, it might not seem like much, but its lightstand bracket is lockable anywhere along a 9-inch track, which means you can adjust this rig so that the weight of the monolight counterbalances the light box, umbrella, beauty dish, or other accessories you attach. This makes aiming even the heavy beauty dish a cinch. (The dish, by the way, has an unusual, removable center baffle that can be replaced with a grid spot.)
Fly by wireless
Hensel is one of the few lighting companies to offer dedicated wireless firing. (The Pro Plus kits have the transmitter and receivers in the box.) Like all third-party wireless systems, this four-channel remote system fires multiple flashes wirelessly from the camera position.
Unlike the popular PocketWizard and Quantum Radio Slave remotes, Hensel's lets you adjust the flash output wirelessly-in 1/10-stops across a six-stop range. Even better, for multiflash setups, you can control the power of up to four units independently from the camera position.
Also, the Hensel receiver operates sans batteries, taking its power from the Integra. For basketball or hockey shooters, this means no more climbing into the rafters to change batteries.
Details, Details
While hardly as gee-whiz, other features include: illuminated control panels; flash tubes you can change yourself ($85 each); a glass dome that protects the bulbs; simple, spring-activated calipers that hold accessories in place; and a power-down system for the extremely bright 300-watt modeling lights, which automatically dims them (so they'll last longer and produce less heat) if they're idle longer than you'd like. Judging by these lights, Hensel deserves to be a bigger name on this side of the Atlantic.