The HDTV Picture Show
The ins and outs of screening photos and high-def home videos on your HDTV.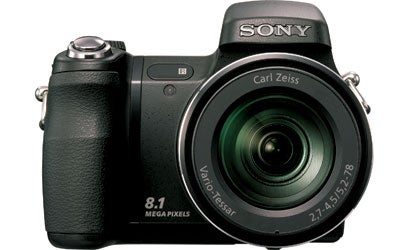 We may earn revenue from the products available on this page and participate in affiliate programs. Learn more ›
Chances are you bought your HDTV with one purpose in mind: to watch movies, sports, or the many network and cable TV series like Lost and The Sopranos that look stunningly good in a widescreen, high-definition format.
But an HDTV can function as more than just an instrument for passive entertainment. With its high-def display, that new set can also be used as an all-purpose screen for viewing slideshows of photos taken with a digital camera. And if you haven't yet experienced how good home videos shot with an HD camcorder can look, you're in for an eye-opening experience.
With HDTV sales booming, it's not surprising that manufacturers are offering digital cameras and camcorders with features aimed at easily viewing snapshots and videos on high-def screens. At the same time, TV companies are making sets more multimedia- friendly, outfitting them with connectors and capabilities that enable easy high-rez digital photo and home-video viewing. Unfortunately, it's not always clear which features and jacks on a TV serve this purpose. We'll take a look at what these connectors are and what they do so that, if you plan to use your HDTV for viewing slideshows and home movies, you'll have a better idea of what to look for.
PLUGGING IN
Until recently, almost all camcorders and digital cameras provided only a basic "A/V output" to connect directly to a TV. Usually, the cam included a cable with a mini connector on one end and a cluster of jacks — stereo audio and composite- and S-video — on the other. The 480-line interlaced video signal this connection delivers is appropriate for standard-def camcorders, which record video at that resolution. But digital cameras capture images at a much higher pixel density, and when they get scaled down for TV viewing, quality is dramatically compromised.
When high-def camcorders finally started to arrive, A/V output jacks also got bumped up to high-def status, with the first few cams from Sony and Canon featuring an analog HD component-video output. Using an included cable, you plugged a multipin connector into the camcorder, while both component-video and stereo-audio connections hooked up to the HDTV's inputs.
But a few recent high-def camcorders (see HDTV-Friendly Camcorders) help streamline the HDTV connection by including HDMI, a digital interface that transmits high-def video and multichannel audio over a single cable.
HDMI jacks are standard-issue on newer HDTVs, and some companies are even putting them on the sets' front or side convenience-input panels. To watch HD home videos, just plug the cam into the TV's HDMI convenience port and hit play. No muss, no fuss — and no stretching around to reach the set's dusty rear-panel inputs.
Digital still cameras are also getting on the HDTV connection train. Both Sony and Samsung have announced models with HD video outputs, and they should be sitting on store shelves by the time you read this. Several new Sony point-and-shoot models have a component-video output similar to the one on the company's high-def camcorders. And Samsung's Digimax L85 is the first digital still camera with an HDMI jack (see HDTV-Friendly Cameras). Although digital stills viewed on an HDTV can look wonderfully crisp, enthusiasts should note that the highest-rez HDTV screens max out at 1,920 x 1,080 pixels — a step down from the pricey computer monitors used by photo pros, which generally offer 2,500 x 1,600-pixel resolution.
PHOTOS IN A FLASH
Yet another, more convenient method for screening high-rez digital photos on your TV is via removable memory cards. A number of HDTVs provide slots that accept Secure Digital (SD)/Multimedia Card (MMC) or Memory Stick cards, as well as formats such as Compact Flash and xD Picture Card via a PC card adapter. Simply pop the card out of your camera, walk over to the TV, and plug the card directly into a memory-card slot to view JPEG-format images.
Even if your set lacks such slots, you can still get around hooking up your camera directly to an HDTV to view high-rez photos. Samsung's BD-P1200 Blu-ray Disc player has a Multi Memory Card Interface that supports all current card formats — Microdrives included — while Sony's PlayStation 3 is packed with photo-friendly features, including Compact Flash, SD Card, and Memory Stick slots, as well as inputs for plugging in USB mass-storage devices. Both the Sony and Samsung players read the image files from the removable media and then display them at high-def resolution via your TV's HDMI connection.
ANOTHER VIEW: HOME NETWORKS
Recent efforts by several companies to integrate HDTVs into wired or wireless home networks also aim to simplify home-video and photo viewing — even if that process does entail a number of initial setup headaches. The idea is to outfit TVs with either built-in Wi-Fi capability or a separate digital-media receiver that can access and stream video and music files from a computer. A good example of an HDTV with networking capability is HP's SLC3760N 37-inch MediaSmart LCD model (42- and 47-inch versions are scheduled for release later in 2007). Its built-in media receiver lets it hook into a home network to pluck high-def video clips and photos from a PC's hard drive for display on its 1,366 x 768-pixel screen. And since HP owns the popular photo-sharing Web site Snapfish, the TV's Entertainment Portal not surprisingly provides easy access to that site for expanded photo-viewing opportunities.
If you prefer to use an outboard box to get your TV online, there are a number of options. NetGear's Digital Entertainer HD and D-Link's Media Lounge are Windows PC-oriented receivers that can stream video and digital photos over a home network and display them on your HDTV via an HDMI or component-video hookup. And Mac-heads preferring to dwell in the iTunes universe have their bases covered with the new Apple TV receiver. Although this limits you to viewing videos encoded in the iTunes-friendly MPEG-4 format (Apple's QuickTime Pro software provides the appropriate preset), both home videos and photos can be transferred to Apple TV's 30-gigabyte hard drive, freeing you from having to boot up your computer when you want to view them.
As more and more folks ditch their film cameras and analog standard-def TVs for shiny new digital models, it's just a matter of time before they discover that digital photos look spectacular on their new HDTV's high-rez screen. And the same goes for videos shot with high-def camcorders, a handful of which record at the same 1,920 x 1,080-pixel resolution offered by top-tier HDTVs. Digital technology has finally taken us back full circle to the days of the family slide-show. But this time around, once you finish reliving your summer vacation, you won't have to roll up the screen and stash it in the closet.
HDTV-FRIENDLY CAMCORDERS
Several recent high-def camcorders provide a digital HDMI output. A main benefit of this — aside from razor-sharp high-def picture quality — is that HDMI simplifies hookup to a TV by transmitting both video and multichannel audio over a single cable.
HDV models record high-def video to regular miniDV tapes using tried-and-true MPEG-2 compression. The big plus here is that a wide range of popular computer video-editing programs can easily handle video encoded in that format. New HDV cams featuring an HDMI output include Canon's HV20 ($1,100) and Sony's HDR-HC7 ($1,399) and HDR-HC5 ($1,099).
If you're tired of tape, another HD camcorder option is an HDD model that records video to a built-in hard disk. Two such cams are available: Sony's HDR-SR1 ($1,500) and JVC's GZ-HD7 ($1,800). The upside to these is the speedy random access to clips, which comes from storing video on a hard disk. But a potential downside — at least with the Sony model — is limited compatibility with video-editing programs due to the cam's use of the relatively new MPEG-4 AVCHD compression scheme.
Panasonic offers a few additional options for those seeking a high-def camcorder with an HDMI output. Its HDC-DX1 ($1,000) records high-def images to recordable DVD-R/RL or RAM discs, while its sleek HDC-SD1 ($1,300) uses SDHC cards, which provide more than 2 gigabytes of data storage. (The included 4-GB card can hold around 1 hour of high-def video.)
A pair of enticingly compact new hybrid digital camera/camcorders from Canon and Sanyo provide two more options for high-def video recording on SDHC cards. Canon's PowerShot TX1 ($500) and Sanyo's Xacti VPC-HD2 ($700) combine 7.1-megapixel still-image capture with 720p-format high-def video recording (using Motion JPEG compression on the Canon and MPEG-4 AVC on the Sanyo). Unlike the other models here, these cams require a clunky component-video/stereo-audio connection to hook up to an HDTV. But their ultracool form factor might go a long way toward helping you overlook that. — Al Griffin
HDTV-FRIENDLY CAMERAS
Virtually every digital still camera sold since 2000 has come with a composite A/V cable for connecting the camera to a TV for image playback. You'll find these cables in the back of your junk drawer. (This is, if you haven't thrown them out.)
Photographers have never taken to presenting images on a TV, and for good reason: Photos work better on a computer. After all, that's where the memory-card reader or camera cradle is hooked up, and where applications such as image editors, picture organizers, and slideshow programs reside. On top of that, the picture quality of a computer monitor far surpasses that of a conventional TV.
But HDTV might change that. Camera makers are switching over to HD component-video cables, and Samsung's Digimax L85 has an HDMI interface. Also, most digicams now have an option that lets you shoot in 16:9 to match HDTV screen dimensions. (While the standard format for compact cameras is the squarish 4:3, which gives you pronounced pillarboxing on an HD screen, most digital SLRs use a wider 3:2 format, which fills more of the screen.)
Of current cameras, the Canon Power-Shot TX1 ($500) probably meshes best with HDTV. A hybrid digicam/video palm-corder, the TX1 can capture 7.1-megapixel stills as well as 720p HD video with stereo sound, and it allows in-camera video editing. Slightly larger than a deck of cards when folded up, the camera exploits a pinkie-nail-sized CCD image sensor to achieve a 10x optical zoom range. To keep still or video shots steady, optical image stabilization counteracts hand shake. The TX1 stores to SD or SDHC cards; playback of video and stills is via an HD component cable. The 1.9-inch LCD monitor, though, looks positively minuscule compared with the 2.5-inchers and 3-inchers that have become nearly standard on compacts.
If a 10x zoom isn't quite enough, the Sony Cyber-shot DSC-H9 ($500) gives you a 15x optical zoom with optical stabilization, making it a good choice for sports or wildlife shooting. Like other "superzooms," the H9 has eye-level viewing by way of an electronic viewfinder (much like a camcorder LCD eyepiece) as well as a rear 3-inch LCD monitor that can tilt up for easier low-level or over-the-crowd shots. The H9 leans toward the still-image side of the equation, with 8.1-megapixel capture, a 16:9 framing option, and a slideshow function that lets you add MP3 downloads. Video is limited to 640 x 480 pixels at 30 frames per second (MPEG VX Fine) with stereo sound. Connection is by HD component cable; storage is on Memory Stick Duo or PRO Duo cards.
Of all the models here, the Samsung Digimax L85 ($240) looks most like a conventional still camera, but it's the first digicam with an HDMI interface, which can be connected to a TV with an optional cradle for added convenience. This 8-megapixel camera can shoot stills in 16:9 with voice clips and has a slideshow editor. Curiously, video is limited to 640 x 480 resolution at 30 fps (MPEG 4) with mono sound, but it does allow in-camera editing. There's a 5x zoom, and framing is done with the 2.5-inch LCD monitor. Storage is to SD cards.
Cabling a camera to a TV remains a hassle, since it ties up the camera and runs down the battery unless you connect it to an AC adapter. Panasonic, Hitachi, and Mitsubishi include SD card slots in certain HDTV models for easier still playback. Another alternative is a camera dock or cradle that can be left attached to the HDTV. Sony's CSS-HD1 Cyber-shot Station ($80), for example, accepts Sony T- and W-series pocket cameras for playback. — Dan Richards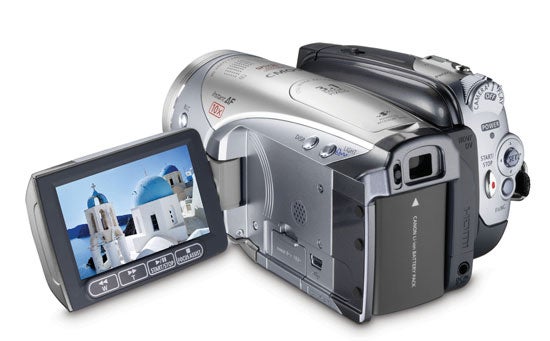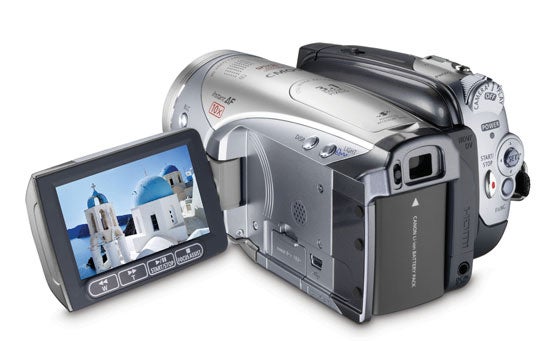 Canon-HV20-HDV-camcorder
Canon HV20 HDV camcorder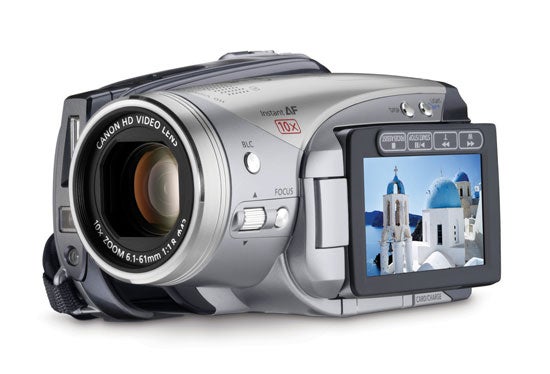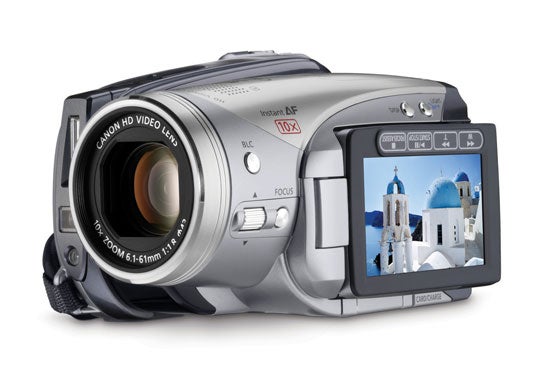 Canon-HV20-HDV-camcorder
Canon HV20 HDV camcorder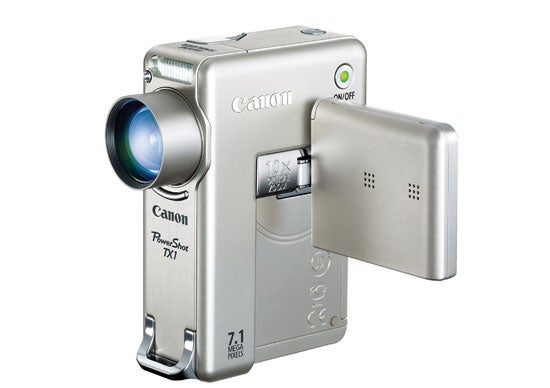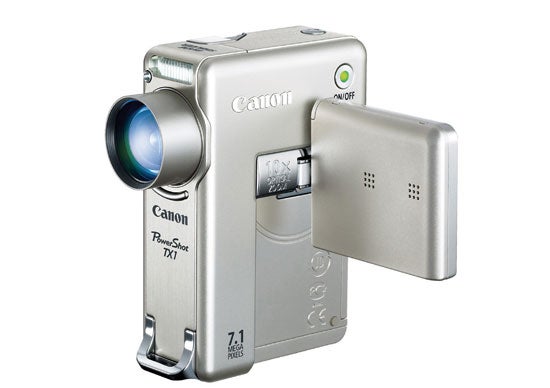 Canon-PowerShot-TX1-digital-camera-with-720p-video
Canon PowerShot TX1 digital camera with 720p video recording capability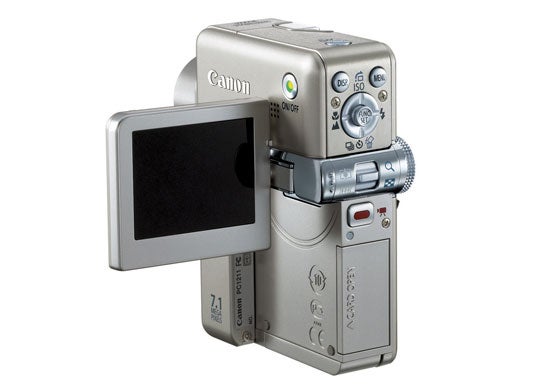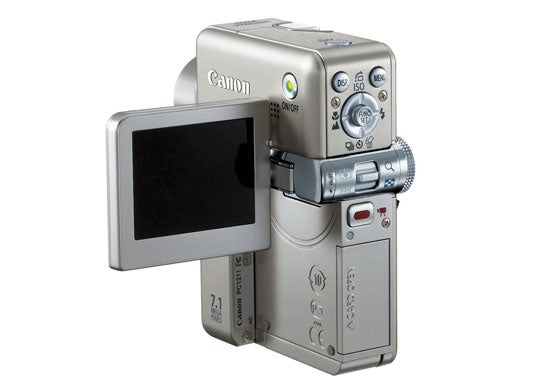 Canon-PowerShot-TX1-digital-camera-with-720p-video
Canon PowerShot TX1 digital camera with 720p video recording capability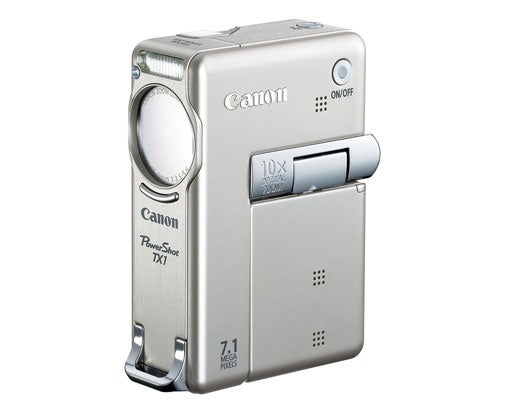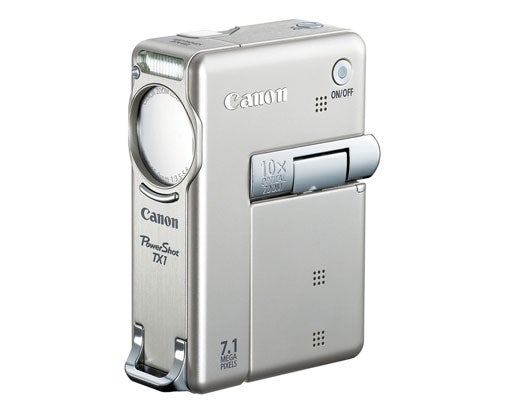 Canon-PowerShot-TX1-digital-camera-with-720p-video
Canon PowerShot TX1 digital camera with 720p video recording capability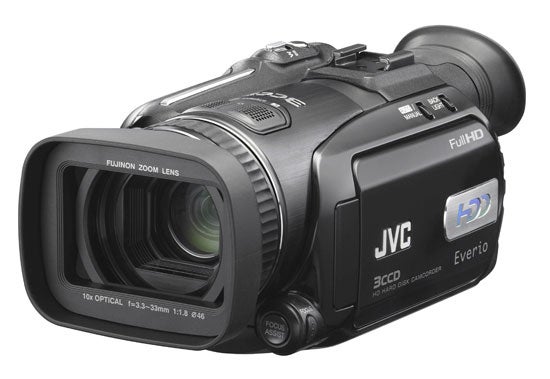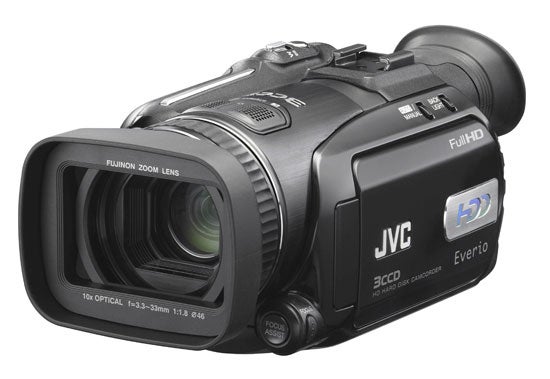 JVC-GZ-HD7-hard-disk-camcorder
JVC GZ-HD7 hard-disk camcorder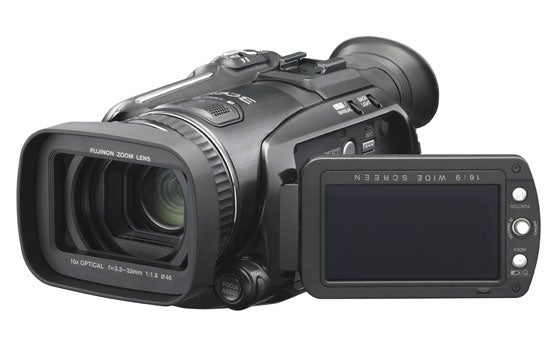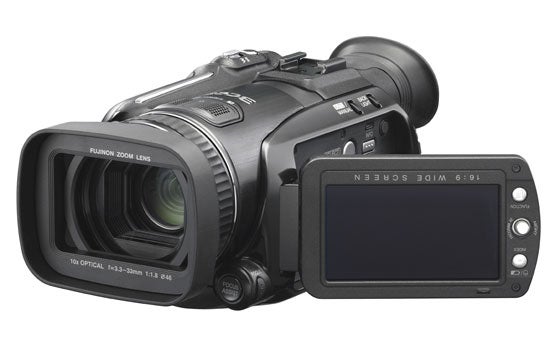 JVC-GZ-HD7-hard-disk-camcorder
JVC GZ-HD7 hard-disk camcorder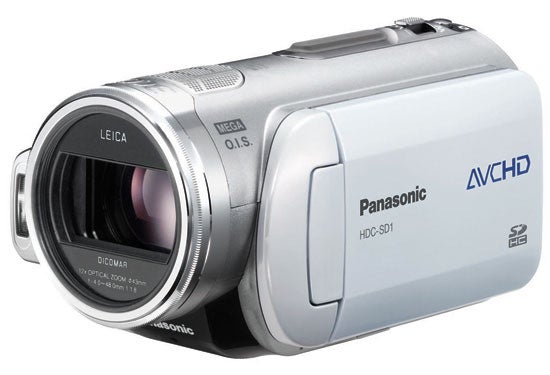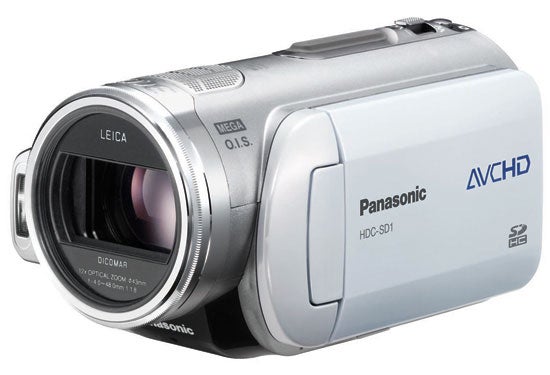 Panasonic-HDC-SD1-AVCHD-memory-card-camcorder
Panasonic HDC-SD1 AVCHD memory-card camcorder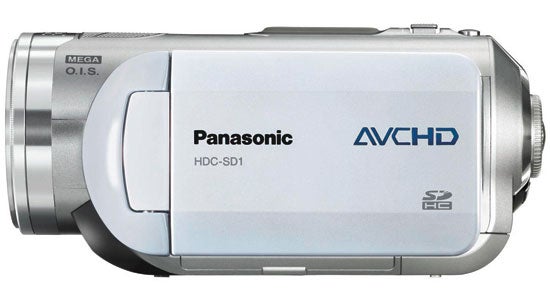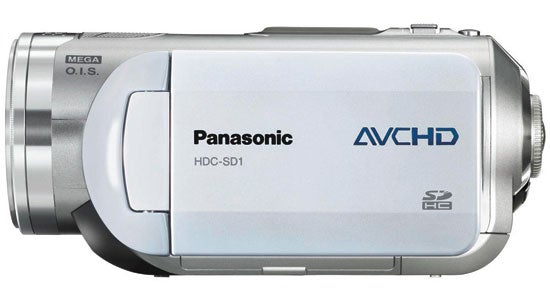 Panasonic-HDC-SD1-AVCHD-memory-card-camcorder
Panasonic HDC-SD1 AVCHD memory-card camcorder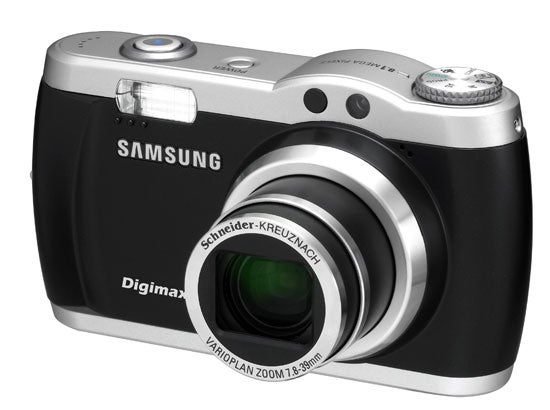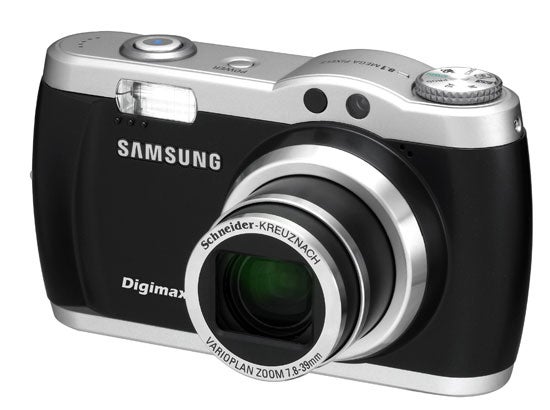 Samsung-Digimax-L85-digital-camera
Samsung Digimax L85 digital camera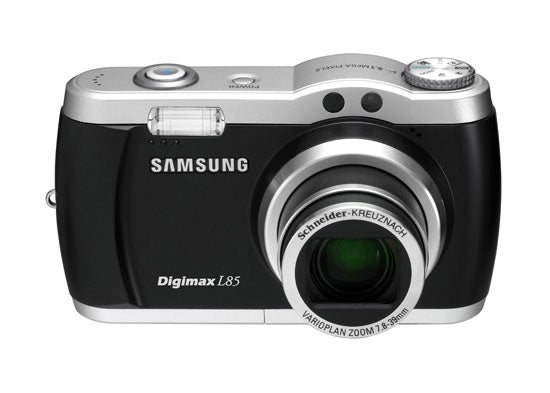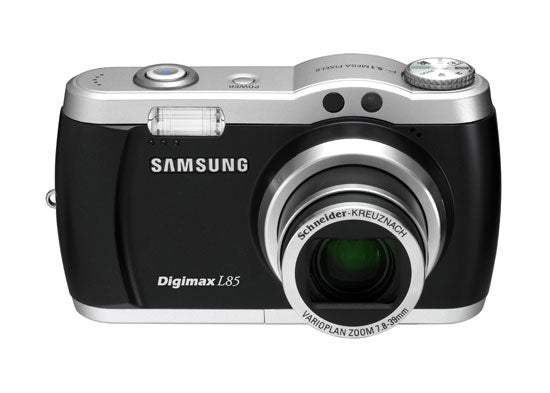 Samsung-Digimax-L85-digital-camera
Samsung Digimax L85 digital camera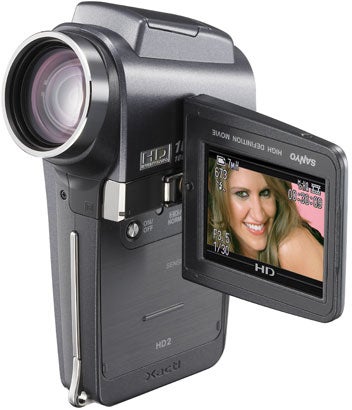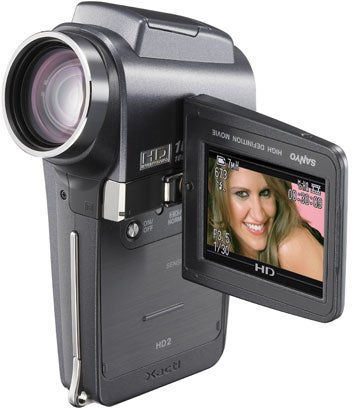 Sanyo-Xacti-VPC-HD2-digital-camera-with-720p-video
Sanyo Xacti VPC-HD2 digital camera with 720p video recording capability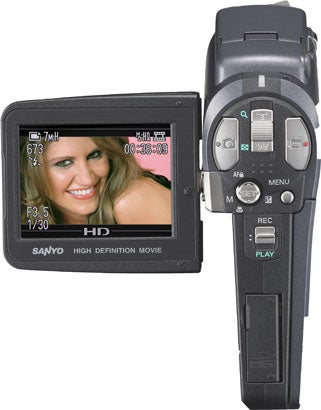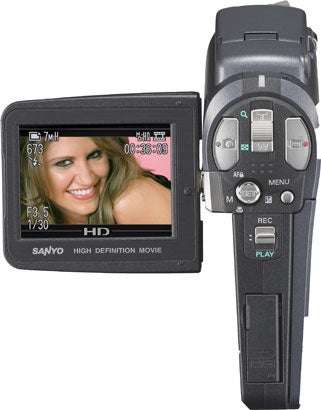 Sanyo-Xacti-VPC-HD2-digital-camera-with-720p-video
Sanyo Xacti VPC-HD2 digital camera with 720p video recording capability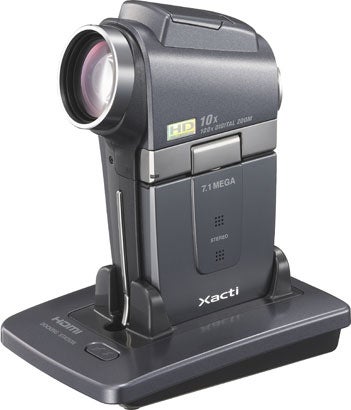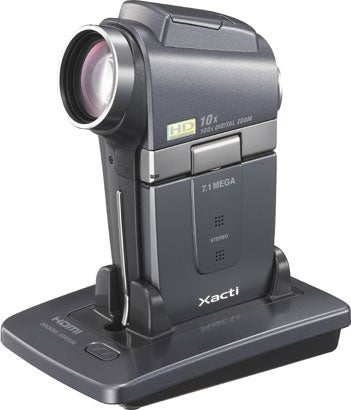 Sanyo-Xacti-VPC-HD2-camera-HD-camcorder-in-docking
Sanyo Xacti VPC-HD2 camera/HD camcorder in docking station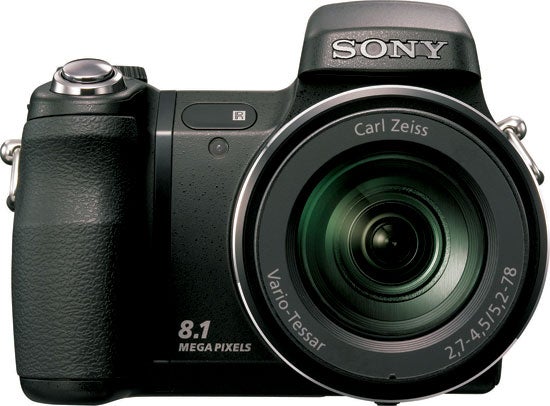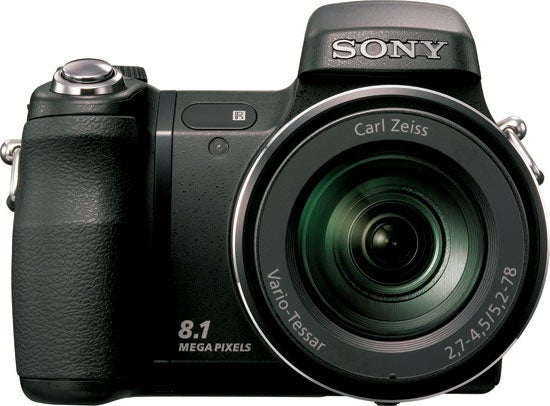 Sony-Cyber-shot-DSC-H9-digital-camera
Sony Cyber-shot DSC-H9 digital camera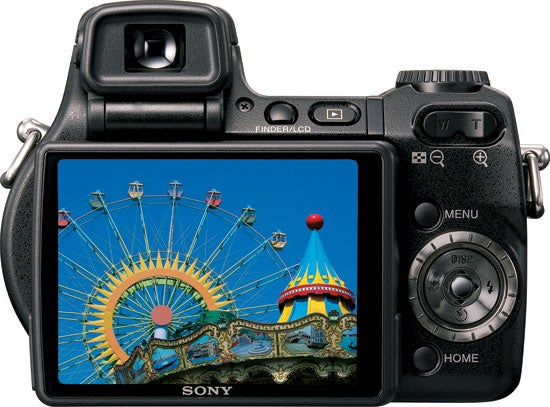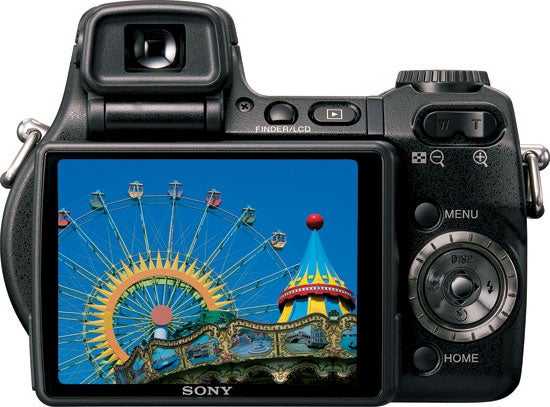 Sony-Cyber-shot-DSC-H9-digital-camera
Sony Cyber-shot DSC-H9 digital camera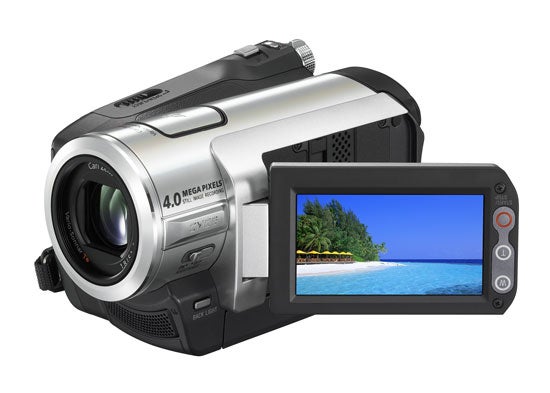 Sony-HDR-HC5-HDV-camcorder
Sony HDR-HC5 HDV camcorder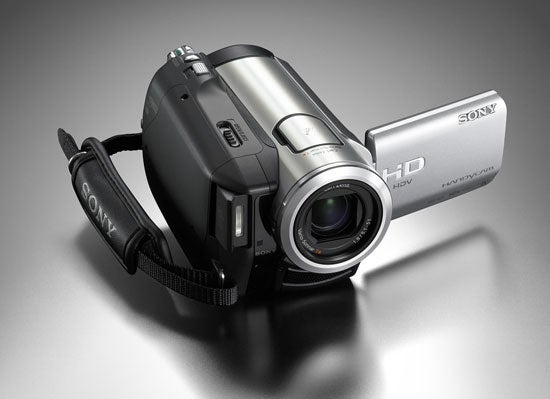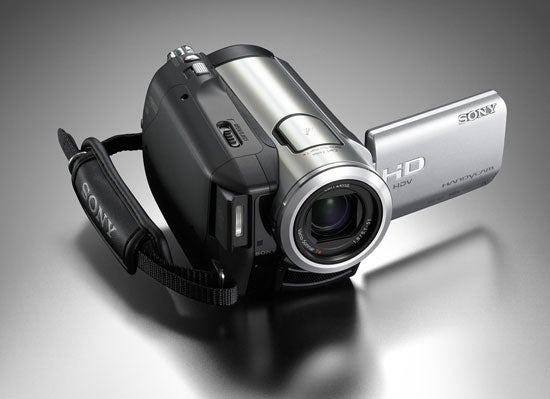 Sony-HDR-HC5-HDV-camcorder
Sony HDR-HC5 HDV camcorder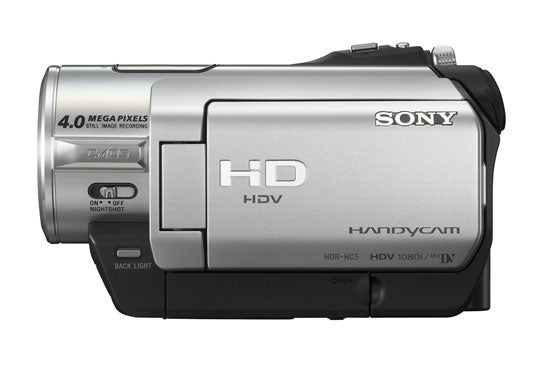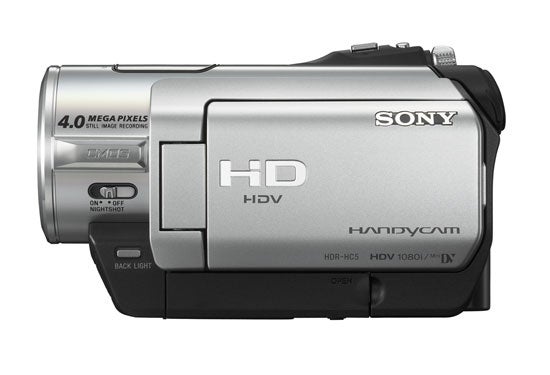 Sony-HDR-HC5-HDV-camcorder
Sony HDR-HC5 HDV camcorder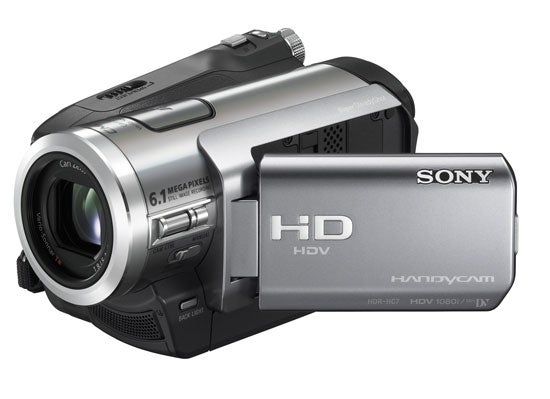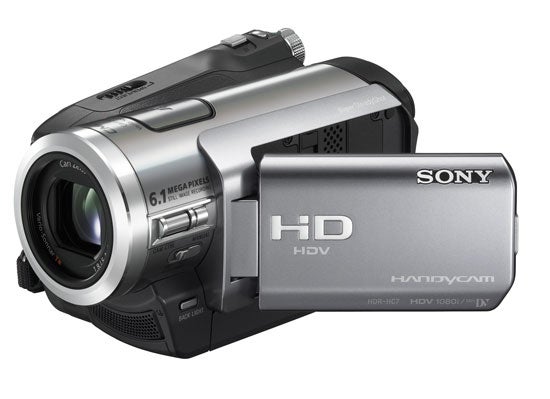 Sony-HDR-HC7-HDV-camcorder
Sony HDR-HC7 HDV camcorder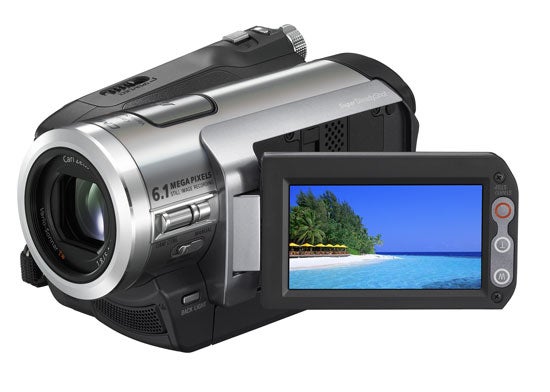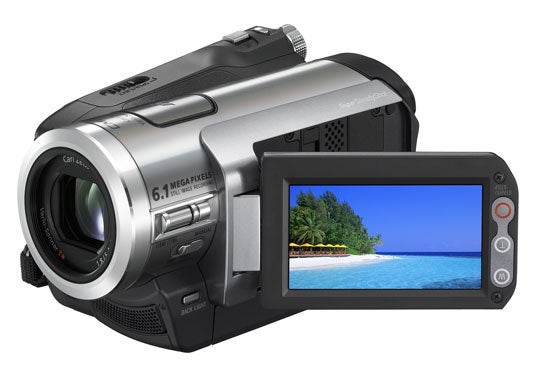 Sony-HDR-HC7-HDV-camcorder
Sony HDR-HC7 HDV camcorder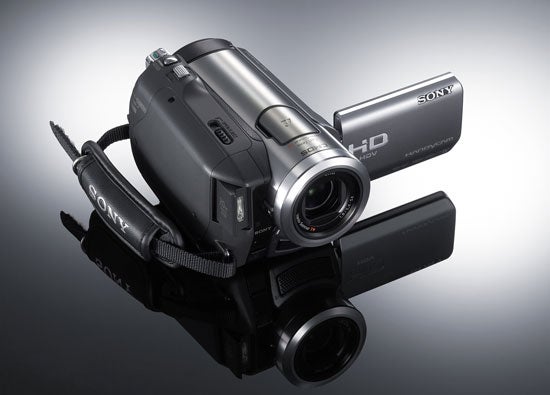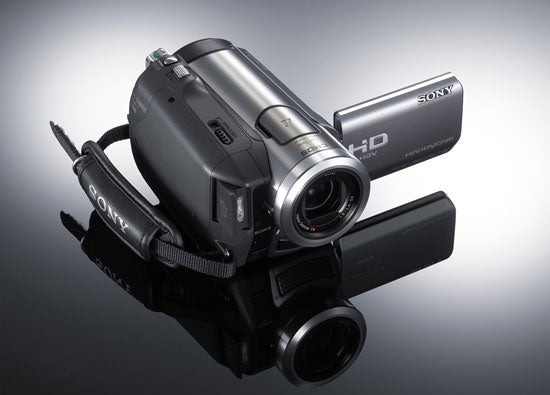 Sony-HDR-HC7-HDV-camcorder
Sony HDR-HC7 HDV camcorder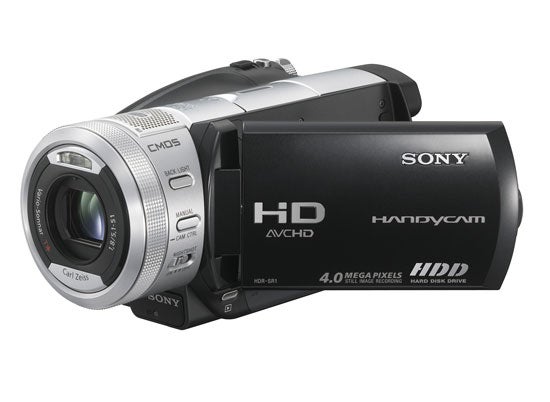 Sony-HDR-SR1-AVCHD-hard-disk-camcorder
Sony HDR-SR1 AVCHD hard-disk camcorder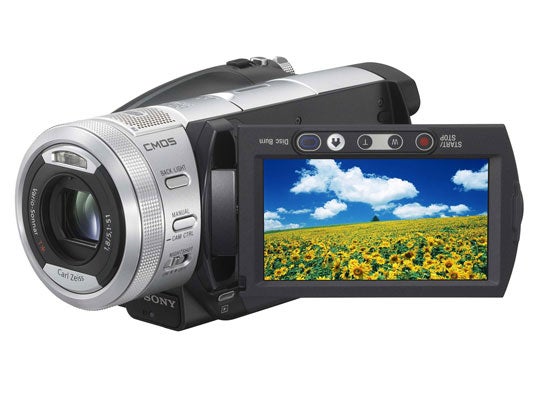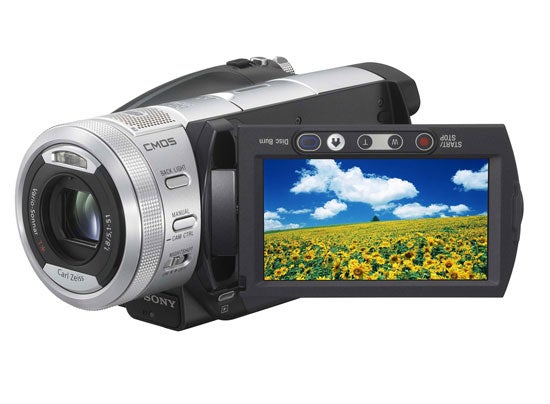 Sony-HDR-SR1-AVCHD-hard-disk-camcorder
Sony HDR-SR1 AVCHD hard-disk camcorder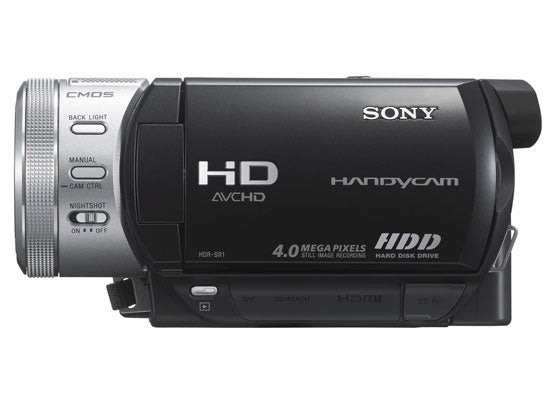 Sony-HDR-SR1-AVCHD-hard-disk-camcorder
Sony HDR-SR1 AVCHD hard-disk camcorder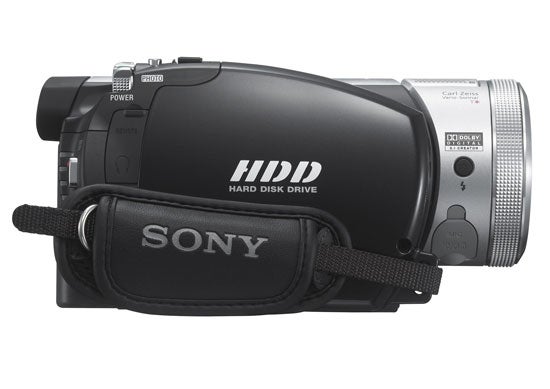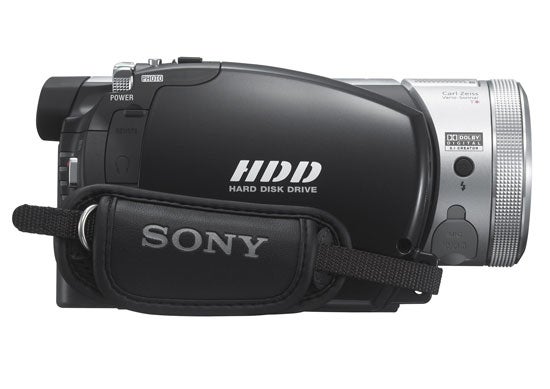 Sony-HDR-SR1-AVCHD-hard-disk-camcorder
Sony HDR-SR1 AVCHD hard-disk camcorder