Hands On: Sigma SD14
Its unique Foveon X3 sensor lets this new DSLR from Sigma bill itself as a 14-megapixel.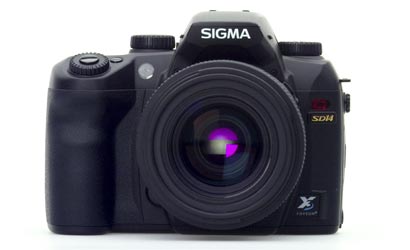 We may earn revenue from the products available on this page and participate in affiliate programs. Learn more ›
It's been three years since Sigma last introduced a digital SLR. That's nearly two generations by digital camera standards. But, just days before the Photokina international trade show in September, Sigma announced the new SD14 ($1,600, estimated street, body only), proving it was still in the game.
Besides the Sigma name on the camera, you'll see the Foveon X3 logo: The SD14 is the first DSLR to include a new and improved Foveon X3 direct image sensor. Foveon and Sigma call it a 14.1-megapixel sensor and will market the camera as a 14.1MP DSLR, just as they billed the earlier SD9 and SD10 as 10MP cameras.
But all megapixels are not created equal. Unlike the CMOS and CCD imaging sensors used in cameras from other makers, which place red, green, and blue filters over different pixels on a monochromatic sensor, the Foveon X3 creates a color image by reading out color data from each of three separate layers sensitive to red, green, and blue. As a result, the sensor acts more like film does when capturing an image, helping to reduce moiré patterns and other artifacts in the very fine details of a typical image. So a more accurate description would be to say that the X3 sensor contains 14.1 million active pixels in three overlapping layers of 4.7 million pixels each. Granted, that would be hard to fit on the box!
Our Certified Lab Tests of the Sigma SD10 (which had 10.2 million active pixels in layers that each contained 3.4 million pixels) found it could resolve image detail on par with a good 6.5MP CMOS or CCD sensor. So, we'll bet that the new SD14 delivers resolution on par with 9.2-10MP DSLRs, but will not be in the same resolution class as the 12.4MP Nikon D2xs, for instance.
Of course, resolution is just one factor we use to determine image quality. And, based on the SD14's heritage, you can expect it to capture extremely accurate colors, fine details in shadow areas, and incredibly low noise. We'll reserve judgment, though, until we've run a production unit through the Pop Photo Lab.
One of our key criticisms of the SD9 and SD10 was that neither captured JPEG files. Instead, all images were saved in RAW format and had to be postprocessed (often taking 20-30 seconds each) on a computer with Sigma's Photo Pro 3.0 software (included). That concern is now gone, since the SD14 captures either JPEGs or RAW files. Although there's no RAW + JPEG mode, the Photo Pro software offers three choices for converting RAW images to JPEG or TIFF files, including an auto-adjust mode.
While the SD14's body is similar in construction to its older siblings, there are several other performance enhancements that will appeal to pros and enthusiasts:
• Sigma claims the SD14 will be faster in burst mode, capturing up to 6 RAW or high-quality JPEGs at 3 frames per second.
• The new AF system has 5 selectable AF points, a center cross-type sensor, and faster and more precise focusing. And it's easier to compose images, thanks to the newly designed pentaprism viewfinder with 98% accuracy and 0.90X magnification.
• Sigma beefed up the focal plane shutter, claiming that it has a life cycle of over 100,000 exposures and that it's less likely to shed any microscopic dust particles onto the sensor during normal wear and tear. That's good, since it's hard to reach the sensor for cleaning, due to the glass dust protector between it and the lens.
• The new camera is compatible with more than 40 Sigma lenses (with a 1.7X 35mm lens factor, due to the smaller-than-APS sensor), as well as several Sigma dedicated flash units.
• On the back, there's now a 2.5-inch LCD monitor with 150,000-pixel resolution, along with several new buttons and controls. A press of one button above the four-way rocker control brings up an extremely useful control screen for changing ISO (ranging from 100 to 1600), image size, white balance, and RAW or JPEG modes.
• Unlike the SD9 and SD10, the SD14 includes a rechargeable Li-ion battery.
Are all of these improvements and performance upgrades worth the price of this camera? We'll let you know as soon as we get a testworthy production model we can put through its paces.
New & Noteworthy
• New Foveon X3 sensor has 14.1 million
active pixels.
• JPEG or RAW capture, but no RAW + JPEG.
• Improved AF system and shutter.
Consider This If…
• You have a bag full of Sigma-mount lenses.
• You want low noise and accurate color.