Hands On: Panasonic Lumix DMC-TZ5
Panasonic's newest top-of-the-line 10x zoomer may be their best yet.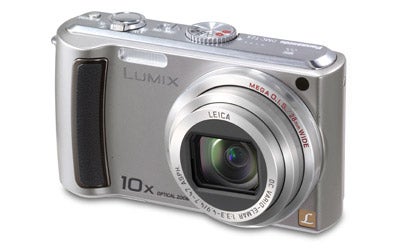 We may earn revenue from the products available on this page and participate in affiliate programs. Learn more ›
One of the most exciting announcements at PMA 2008 wasn't a DSLR, but the next generation of Panasonic's TZ series of pocket-sized high-zoom cameras, the Lumix DMC-TZ5 ($299, estimated street). Panasonic also announced the DMC-TZ4, but because the TZ5 is the more advanced of the two, we'll focus on it here.
The Panasonic TZ5 has the same 10x optically stabilized 28-280mm f/3.3-4.9 Leica DC Vario-Elmarit glass as the TZ3, but it jumps to 9.0 effective megapixels, adds 720p HD video capture (1280×720 pixels at 30fps!), bursts 2.5 fps at full resolution or 10fps at 2MP, can output still photos to an HDTV via an optional component cable, adds a dedicated playback/capture button, a dedicated one-touch wide-to-tele zoom button, upgrades to a 406,000-dot, 3-inch (diagonal) TFT LCD that auto gains, and a host of other upgrades. For the most part, the new Panasonic Lumix DMC-TZ5 represents a very logical and impressive evolution of the TZ lineup.
If you recall in our coverage of both the TZ3 and TZ1, we've been clamoring for RAW capture, and more manual controls on the next generations of TZ cameras. Did Panasonic listen? Absolutely not. Nope, there's no RAW, nor are there full manual controls.
But after a long day of experimentation with an early production version of the new TZ5 we don't begrudge Panasonic one bit for eschewing RAW or manual controls. In many ways, the TZ5 is truly a point-and-shoot camera, in the absolute best sense of that oft-maligned term. We ran the TZ5 through its paces in and around Las Vegas, Nevada and the Grand Canyon, both on the land, and from the sky. And more often than not, we nailed the shots we were after.
One new feature of the camera is the so-called "Intelligent ISO," technology which Panasonic claims analyzes the image in up to 3,000 quadrants and can adjust the ISO in any or all of these areas to optimize the exposure in challenging lighting situations. And all this is powered by the new Venus IV engine, an upgrade to the processor which Panasonic tells us will do pretty much everything except polish our shoes.
We set the camera to highest-quality JPEG capture, and left all other image quality settings to the camera defaults and fired away at just about everything we could see — jet fighters, race cars, rock formations, distant hills, nightclub dancers, towering casinos, among other things. The TZ5 did a very respectable job of capturing the scenes, even when there was extreme contrast, haze, and other scene-destroying elements in the frame (other than those pesky reflections in the helicopter window glass). It seems the TZ5's sensor and firmware are designed to preserve details and colors across a wide dynamic range, and in our first impressions, it does this very respectably. Shadow and highlight detail is good, and we were quite frankly surprised to see toe and shoulder details in some shots we thought would suffer from serious cases of blowout and blockup. Probably due to this attention to detail, we found most shots needed a little bit of post-processing to add contrast. We're totally OK with this! We'd rather have to tweak our shots lightly in post-production for optimization than have overly cooked contrasty shots straight from the camera that are tougher to correct in post.
On the video side, Panasonic has really raised the bar for pocket cameras. Yes, there's 16:9 video at either 720p HD format (1280x720px at up to 30fps) or 848x480px, along with 4:3 VGA video (640x480px at 30fps). You can optically zoom with sound during capture in all video modes. The motor moves slowly during video zoom to minimize the motor sound during capture, but it's great that it moves at all. One thing that's missing from video capture is stereo sound. Unfortunately the only option is single-mike mono. It would've really been over-the-top to have two mikes on this little camera, but I guess that'll have to wait 'til next year's model (please?). At wide angle, Mega Optical Image Stabilization did a very nice job in minimizing shakes from two very challenging moving platforms — a BMW X5 racecar and a helicopter. Zooming all the way to 10x in the helicopter, the video samples showed some big jitters and movement, but we can only imagine how much more shaky the results would have at 280mm without stabilization. Also, the AF system slowed down a bit at full zoom, probably due to the light-cutting f/4.9 aperture. Otherwise, it focused fast in the bright light of the Grand Canyon and at the track.
All in all, we think Panasonic has another winner in the Lumix DMC-TZ5, and we can't wait to get our hands on a full production unit for a full lab test. Stay tuned to PopPhoto.com for more coverage of this cool pocket rocket.