Hands On: Nikon D3
Five reasons why this new pro-level DSLR is without a doubt Nikon's greatest camera ever.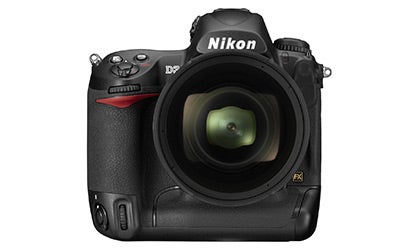 We may earn revenue from the products available on this page and participate in affiliate programs. Learn more ›
The Nikon D3 ($5,000, street, body only) may not be within reach of most photographers' budgets, but that won't stop them from dreaming about this amazing pro camera. We'll find out precisely how amazing it is when we put a production version through the gauntlet of image-quality and performance tests in the Pop Photo Lab. But based on our extensive hands-on experience using a fully operational (but not fully testable) model, we believe this might be the greatest camera Nikon has ever built. The D3 has enough unique features and technology to fill a book — and no doubt several are already in progress. In the meantime, here are five reasons we are so high on it:
1. Rock-solid build and sophisticated design.
Nikon clearly spared no expense in toughening the D3's ergonomic body, comprising magnesium-alloy chassis components and a durable external surface with rubberized panels in all the right places. Water- and dust-resistant seals keep weather out. And a new shutter, made of a Kevlar/carbon-fiber composite, leads the DSLR pack with its 300,000-cycle rating.
The placement of control buttons gives rapid access to nearly all image-quality, AF, metering, and mode options without descending into a maze of menus, and customized setups can be saved by photographer name or style. A separate vertical shutter button and control wheel add to the pro look and functionality. And despite all of the D3's internal mechanical and electronic components, Nikon found room for dual CF slots that can be used to store RAW or JPEG images on separate cards.
2. Super-sensitive, full-frame sensor.
Despite Nikon's years of insisting it was firmly committed to its APS-sized DX sensors, out it comes with the D3's 12.1MP full-frame (23.9x36mm) sensor. Certainly, it can't do battle on the resolution front against Canon's new EOS 1Ds Mark III ($8,000, body only, street), with its 21.1MP full-frame sensor. But Nikon wasn't aiming at that target. Instead, it opted for a sensor with larger pixels and thus greater light sensitivity to appeal to pros who want to shoot without flash, increase the range of their flash units, or use a smaller aperture to extend depth of field.
New & Noteworthy • ISO settings up to 25,600. • Gorgeous 3-inch LCD with live view. • Rapid 9 fps burst mode. • Advanced 51-zone AF system. Consider This if… • You want high performance in low light and wide-angle advantage of a full-frame sensor — and price is no object as long as it ensures that you get the shot.
Because we haven't tested the D3, we can't quantify the incredible quality of images we've seen shot at ISO 3200 and 6400. And we can't tell you how acceptable the noise was in those images — impossible to take otherwise — shot at the D3's maximum ISO of 25,600. All we can say is that this camera lets you take photos that were once unthinkable, such as capturing detail inside a dimly lit Buddist temple at 1/250 sec and f/8, or freezing a ballet dancer in flight without blinding her with flash. Nikon gives some credit for its amazing noise control to the new EXPEED Image Processing Engine and 16-bit image processing.
What to do with all your older DX lenses with their 1.5X lens factors? Keep using them! The D3 automatically recognizes these lenses and applies a cropping mask within the gorgeous pentaprism viewfinder. The resulting images use only the central 5.1MP of the sensor. You can also set the camera to crop to a 5:4 aspect ratio (to mimic medium format) when using either DX or full-frame lenses.
3. Highly advanced 51-zone AF system.
Nikon claims its 51-zone AF system, built around the new Multi-CAM 3500FX module, is its fastest ever. Its 15 cross-type and 36 horizontal sensors can be grouped into zones, and new capabilities include tracking subjects by color or brightness. Using 3D Focus Tracking, it can even group multiple AF zones in a variety of patterns of your choice. Most impressive, in our experience, was how the AF locked onto dimly lit objects (a requirement, given the D3's low-light settings). We also appreciated being able to turn off the indicator lights to reduce distraction.
4. Sharp, tough 3-inch LCD monitor with live view.
A camera body is only as tough as its weakest component — and in most cases that's the LCD on the back. However, Nikon reinforced the D3's 3-inch monitor by adding a permanent tempered-glass cover (you can get additional protection by using a removable plexiglass cover similar to those on other Nikons). Pros will like that protection as they show off images on the incredibly sharp, 920,000-dot (307,000-pixel) screen that looks nearly twice as sharp as the 3-inch monitors on competitive Canon models.
The LCD also can be used in live view, with two types of AF. One, for tracking a moving subject, uses the normal 51-zone AF system, with a very brief blackout as the mirror swings up. The other is better for still subjects or tripod mounting; using the sensor's pixels to detect contrast, it focuses more slowly but allows you to focus on subjects outside the 51 zones, virtually anywhere in the frame.
Or you could simply use the viewfinder. Though we haven't tested it yet, its brightness, eye relief, magnification, and accuracy seem among the best we've ever seen in a DSLR.
5. Rapid-fire performance and unique features.
By combining extraordinary light sensitivity, fast focus, and a burst capability of 9 frames per second (continuous up to card capacity with high-quality JPEGs), the D3 will attract photojournalists and sports shooters alike. Pop a DX lens on the camera, or set it to DX crop, and the burst jumps to 11 fps. All those images take up lots of space in a hurry, and that's where the dual CF card slots come in handy.
A unique virtual horizon indicator appears aircraft-style during live view, and even shows up in the optical viewfinder. While it's useful in some situations, we found other features far more appealing. Among our favorites: HDMI output that allows you to play back images in HDTV resolution, and the remote control and live view on a computer using supplied software. That's something any pro, whether in the studio or on location, will find useful, if not indispensable.