Hands On: Nikon D200
A pro DSLR by any other name is still a pro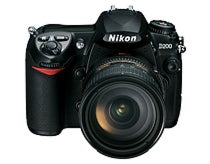 We may earn revenue from the products available on this page and participate in affiliate programs. Learn more ›
Click here for a gallery of images of the Nikon D200
We love to watch the king-of-the-mountain game that Canon and Nikon play with every DSLR they introduce. Usually, Canon starts a round with a model that offers unrivaled image quality and performance for its price. A few months later, a feature-packed Nikon tries to steal the spotlight.
Now, after nearly a year at the top, Canon's 8.3MP EOS 20D ($1,300 street, body only) may have finally met its match in the new Nikon D200 (estimated $1,699 street, body only). It boasts a 10.2MP CCD sensor with potentially higher image quality than the EOS 20D, a super-tough body with moisture and dust seals, a faster burst rate of up to 5 fps, a larger 2.5-inch LCD monitor, and other impressive capabilities. But is the Nikon D200 built well enough to compete against Canon's more expensive, full-frame 12.8MP EOS 5D ($3,200 street, body only) or to be taken seriously by demanding pros?
After handling one of the very first D200s off the assembly line (serial number 0000002), we think it is. Unfortunately, our D200 still had a few firmware revisions to go before we could run it through the Pop Photo lab test gauntlet. (Look for Certified Test Results for image quality, AF speed, and other factors in an up-coming issue and in coming weeks at www.PopPhoto.com.)
Nikon doesn't call the D200 a pro model, but it could pass for one, considering the features it shares with the more expensive pro 12.4MP D2x ($5,000 street, body only). These include a high-strength, two-piece magnesium-alloy chassis, with some durable polycarbonate components. Though its Canon rivals have a similarly rugged construction, they lack the new D200's moisture and dust seals, which should give it the upper hand in the harsh environments that plague news, nature, and sports photographers.
From the front, the D200 looks like the shorter baby brother of the D2x. The height difference is mainly due to the D2x's larger battery compartment, vertical shutter release, and taller prism housing. The size distinction diminishes if you add the optional MB-D200 battery grip (price not available at press time) which accepts two EN-EL3e lithium-ion batteries or six AA cells, and also sports a vertical shutter-release button and control wheel.
On the back, the D200 has a beautiful 2.5-inch LCD with approximately 230,000-pixel resolution and superwide viewing angle. The screen's high resolution makes it easy to read and navigate menus. In playback, it shows crisp image detail, even when set to display multiple thumbnails. You can also set it to view tons of image data or thumbnails plus RGB histograms. The D200 supports CF type I and II cards, and Microdrives. To keep the CompactFlash door closed (and sealed from moisture and dust), Nikon put a handy door-lock lever next to the LCD.
Unlike the D2x, the meter pattern select switch (for 3D-color Matrix II, centerweighted, and spot metering) is now located next to the viewfinder, surrounding the AE lock button, instead of on the prism housing. That was done to accommodate the pop-up flash, which includes the i-TTL Commander Mode functions found in expensive Nikon Speedlights. With this sophisticated multiflash feature, you can now control two remote flash groups from the camera, with the pop-up acting as a third.
On top, the D200 has one of the largest LCD data panels of any DSLR. The main control dial on the left is the same size as on the D2x, but includes three different buttons–ISO, image quality, and white balance. On the left side, the D200 also has a PC-sync connector and rubberized doors over the Hi-Speed USB 2.0 connector and other jacks (including one for attaching a GPS device). But there's no microphone for voice recording.
Inner beauty
The D200's inner features are as impressive as its outer ones. Its bright, clear viewfinder (Nikon claims the optical viewfinder features a 95% accuracy and 0.94X magnification) shows 11 selectable AF zones and a variable centerweighted metering circle, plus a very easy-to-read data display packed with useful indicators. A 2% spot metering mode is also available, and can be linked to the active AF zone or center AF zone. Unlike the D2x, the D200 doesn't allow for optional focusing screens, but the viewfinder can be set to display helpful on-demand grid lines.
The D200's 11-point AF system is all its own, and powered by Nikon's new Multi-CAM 1000 TTL phase detection AF module. With fast speed and low-light sensitivity (down to -1 EV, says Nikon) the 11 AF points can now be combined into a wide-area AF system with seven zonesÑmore useful for tracking motion. Otherwise, the D200 has all of the AF choices found in the D2x, including the Dynamic Area AF with closest-subject priority mode.
Nearly all exposure and metering controls and capabilities are similar to the D2x, including advanced 3D Matrix II metering, multiple exposure control, 45 custom functions, and advanced image-quality controls. Standard flash sync is 1/250 sec and maximum shutter speed is 1/8000, similar to the D2x, but the D200's shutter lifespan is rated at more than 100,000 cycles (compared to over 150,000 cycles on the D2x).
As for image quality, the new 10.2MP (effective) resolution DX-format CCD sensor has the potential to capture images with excellent image quality and low noise, even at higher ISOs. The CCD's smaller APS size gives the D200 a 1.5X 35mm lens factor, but ensures compatibility with all Nikkor lenses (including the new DX series). At its highest-res setting, the D200 creates 3872×2592-pixel files with 12 bits per color (when images are stored in Nikon's RAW-NEF format), and a 2:3 aspect ratio.
The camera will ship with Nikon's PictureProject software and a 30-day trial version of Capture 4.4 RAW conversion software ($99 direct), which also lets you control the camera remotely via the Hi-Speed USB 2.0 connector (included) or from an optional Wi-Fi adapter.
According to Nikon, the D200 also features improved image-processing circuits and a superfast 15-millisecond startup time. In burst mode, the D200 can capture up to 37 high-quality JPEGs or 22 RAW-NEF images at up to 5 fps. ThatÕs faster than the 4 fps of the EOS 20D, but the same as the more expensive D2x.
According to the (CIPA-compliant) Nikon tests, the D200's battery affords 1,800 shots per charge. The EN-EL3e Li-ion is a "smart" battery, giving the D200 constant information on the level of charge remaining. But it's also Nikon's first noninterchangeable battery–it cant be used on other Nikon DSLRs, nor can the D200 operate using a third-party battery. The company claims this feature prevents the use of batteries that lack safety circuits and could cause overheating.
Bottom line? At nearly one-third the price, the D200 will attract pro shooters who don't need all the bells and whistles found on the D2x, and D2x owners will treasure it as a lighterweight backup body. If the D200's image quality and advanced features live up to expectations in our tests, we think the extra $400 this DSLR will cost over the Canon EOS 20D is well worth it. The $3,200 EOS 5D maintains a full-frame advantage over the D200, but wide-angle shooters can choose from several ultrawide-angle DX series lenses available from Nikon at a considerable savings. The game goes on!