Hands On With the Leica M8
The new Leica M8 ($4,800, estimated street, body only) is finally here, and it's a beauty. We've got all the details on this 10MP digital rangefinder.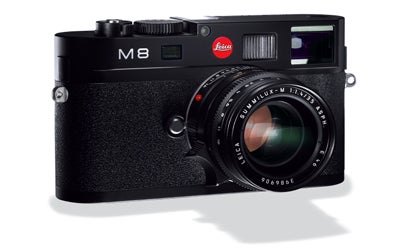 We may earn revenue from the products available on this page and participate in affiliate programs. Learn more ›
Leica fanatics have been arguing over this camera for years…even though it didn't exist until now. Battles raged over which features a digital M-series Leica should sport — or whether these elegantly simple and decidedly Germanic manual-focus rangefinders should be translated into digital at all.
But the new Leica M8 ($4,800, estimated street, body only) could settle these disputes — especially if the production version of this camera lives up to its billing when we run it through the Pop Photo Lab. (We'll post our test results as we get one.) The near-production version our editors tried in a sneak preview was a wow.
First, this is a real M. Virtually the same size and weight as the M7, with a magnesium-alloy body and milled-brass top and bottom. In fact, to get at the SD memory card and lithium-ion battery (550-shot estimate), you have to remove the bottom plate — just like loading film into an M7. The shutter button and dial haven't moved, and, like its 35mm sister, the M8 has 460 parts in the rangefinder mechanism alone. About all that's missing is the film-winding lever. And in typical Leica fashion, the engineers obsessed over the details. Example: making the sound of the shutter not just quiet, but uniform throughout the click.
Of course, the real challenge and — if our tests bear it out — triumph of this camera is what's beneath the skin.
Under Leica's direction, Kodak customized a 10.3-megapixel CCD sensor for the M8. At 18x27mm, the chip is larger than the usual APS-sized sensor. This provides a 35mm lens factor of 1.33, versus 1.5 to 1.6 for a DSLR with an APS-sized chip. So a 21mm lens is effectively a 28mm. And the new 28mm f/2.8 Elmarit-M ($1,500, estimated street) is like a 37mm.
The microlenses atop the imaging sensor had to be rearranged for the M8. Since light from the corners of the image enters a rangefinder camera at a much sharper angle than on an SLR, these had to be offset to prevent vignetting. Then, to beat the refraction that comes with that light angle, an uncommonly thin (0.5mm) layer of glass had to be affixed over the sensor. The result, says Leica, is true color reproduction right into the corners of the picture.
While sensors typically are covered with a filter to cut moiré fringing, this one isn't, since that would mean losing some fine detail. Leica wants all of the resolution of its legendary lenses to shine through; any moiré issues are handled by in-camera processing.
In all, Leica expects resolution and image quality better than usually seen with 10MP. In fact, the camera's promotion material cites "a greater wealth of detail than can be achieved with analog film."
Noise, too, is well under control, according to Leica. The base ISO is 160 (DSLRs often start at 100) and settings run up to 2500, so this is a serious low-light machine. Used to shooting fast film with an M7? You'll feel right at home, Leica says.
Nearly all Leica lenses made since 1954 (except for several Super Angulons, which reach far into the body) will work on the new camera. As for vignetting with wide-angle glass, don't worry, says Leica. The firmware will handle it, especially when the lens is fitted with the new 6-bit coding ring. This digital bayonet ring (which Leica can retrofit to existing lenses) helps the camera recognize the lens, provides more EXIF data, and compensates for vignetting.
To see just how fine the photos are, turn to the 230,000-pixel 2.5-inch LCD. Simple controls give a color histogram not just for the photo, but for an area of it. Also, you can zoom in 8X to see detail at the pixel level.
The M8 stores images in two JPEG quality levels or in 16 bits per color in Adobe's Digital Negative (DNG). Capture One LE software is included as a RAW converter.
Leica claims a burst rate of 2 frames per second, up to 10 photos. Fast, too, is the shutter speed — the new metal blades reach 1/8000 sec — and a flash sync of 1/250 sec. The new M-TTL flash system uses a preflash to more accurately set the output on the Leica SF 24D and Metz flash units.
But amid all of the high-tech, there's no denying the tradition behind this camera. The lenses are still manual-focus. And the viewfinder's frame lines extend only from 24mm to 90mm. What if you buy the new 16-21mm f/4 lens due in December? The $3,500 (estimated street) it costs also gets you a viewfinder to mount atop the camera.
This is, after all, a real Leica M.
New & Noteworthy
• 10MP (effective), 1.33X lens factor.
• Designed for low light — ISO 160 to 2500.
• Looks, feels, sounds like an M.
Consider This If…
You want to be a digital Sebastião Salgado — and you have $6,300 for a camera and lens.