Hands on With the Epson Stylus Pro 4800
Using a third black ink, the Epson Stylus Pro 4800 makes even better prints than its predecessor, whether color or monochrome.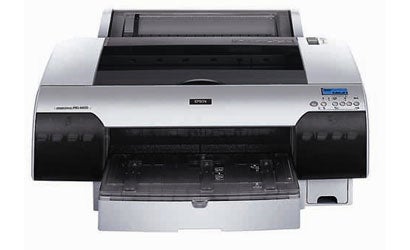 We may earn revenue from the products available on this page and participate in affiliate programs. Learn more ›
Not much more than a year ago we were raving in these pages about the Epson Stylus Pro 4000, convinced that it might be the best fine-art inkjet printer ever made. Here was an eight-ink model that could print a 16×20 or 16×24 image (using 17-inch rolls) and still fit on a desk, albeit a big one. We expressed our admiration for the SP4000's excellent resolution and the color fidelity of its fade-resistant UltraChrome pigment inks.
Why would Epson replace this stellar model so quickly, with the Epson Stylus Pro 4800? We wonder if the move was strategic. Despite the fact that photographers loved the SP4000, and that Epson's pro printers usually have a pretty long shelf life, it seems the company wanted to hit the street with four new models — the other three being the SP7800, SP9800, and Stylus Photo 2400 — that shared the same new technology. This technology is an inkset, UltraChrome K3, that features a third black, dubbed light-light black. Light-light black is a valuable addition, and there's n o doubt that it helps the SP4800 make better-looking prints than its well-regarded predecessor. But there's a down side to the third black, at least with the wide-format models, that might have been addressed had Epson been in less of a hurry. (More about this later.) The company has arguably taken two steps forward and one step back — but that's still one step forward.
Anyone who's looked at a glossy pigment print from an angle other than head-on has observed an ugly, uneven surface sheen known as bronzing. The UltraChrome K3 inks nearly eliminate this, using what Epson calls Microcrystal Encapsulation. In printing with the SP4800, we also found that the new inks greatly reduce metamerism, the shifting of print color — most noticeably in neutral areas and black-and-white prints — under light sources of different color temperature. This improvement is apparently the direct result of the light-light black, which lessens the need to mix cyan, magenta, and yellow inks to achieve tone in very light areas. A related benefit is durability: The SP4800's prints are much more resistant to scratches than before, good news for anyone who's ever scuffed a beautiful matte-surfaced print.
In addition to helping on the high end, the Stylus Pro 4800's new inkset also contributes to its deeper blacks. This is most apparent in glossy prints, but there was a visible difference even in prints made on matte paper. And we saw a big improvement in the tonal smoothness and density of black-and-white prints. With ample help from the SP4800's all-new black-and-white driver, in fact, we were able to make some of the best, most consistent monochrome prints we've ever gotten from an inkjet printer. And we got them faster too, with a 16×24 taking less than nine minutes at 1440 dots-per-inch.
Digital photographers who shoot in color then use Photoshop to convert to black and white know how difficult it can be to get neutral results — or "toned" prints that are consistent in color from shadows to highlights. The temptation is to convert an image to grayscale to achieve this, but that can sacrifice contrast, specifically between colors of equal brightness. Epson's black-and-white print driver is an amazing solution. It lets you choose not just image tone and other parameters, but also the specific tone of shadows and highlights.
There is a price to be paid for Epson's light-light black ink, despite its value. It brings the total number of inks, and cartridges, to nine — but there are still only eight cartridge slots on the SP4800, the same number as on the SP4000. Since the latter had no light-light black, you could leave both the Photo Black (glossy) and Matte Black cartridges installed, and freely switch back and forth from glossy to matte paper on a print-by-print basis. With the Stylus Pro 4800 you have to manually swap out the Photo Black and Matte Black cartridges to switch papers, the way you did with models such as the SP7600 and 9600. That wastes both time and expensive ink. The solution is to switch only when you plan to make a run of prints on a particular glossy or matte surface. We love the Stylus Pro 4800, Epson, but next time we want nine slots!
Pros: UltraChrome K3 inks produce greatly improved maximum density in both color and monochrome prints; third, "light-light" black ink contributes to superb black-and-white prints with extremely smooth tonal scale, les- sens or eliminates bronzing and metamerism; new dedicated black-and-white driver provides more control over black- and-white printing; faster printing
Cons: Photo Black and Matte Black ink cartridges must be manually swapped to switch from glossy to matte-surfaced papers, wasting time and expensive ink
Bottom line: State-of-the-art, pigment-based ink­jet output from a 17-inch printer that permits image sizes up to 16×24 (or longer); ideal for fine-art applications
Some of our SP4800 test images were converted from color to black-and white in Photoshop.
We chose test shots with a full range of tones.