The Great New Step-up Lens
Tired of your kit lens? Here's great advice on what lens to buy next!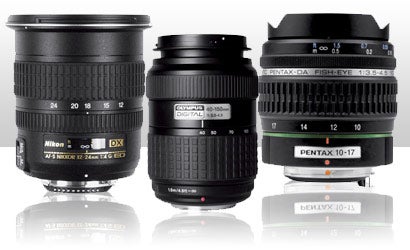 We may earn revenue from the products available on this page and participate in affiliate programs. Learn more ›
It's time to move beyond that kit zoom
Feeling hemmed in by the 18-55mm lens that came with your DSLR? Yearning for something longer to grab sports or wildlife subjects with crisp detail and vibrant color? Or a wider focal length to embrace the entire family around a holiday spread?
You're in luck. A new breed of lens combines high-caliber optics with low-impact prices. The Pop Photo Lab is testing sharper and more distortion-free glass than ever — across the pricing spectrum. Indeed, so many lenses now earn our highest ratings that we will soon need to raise our test standards. Again.
Lens makers are honing their acts in several ways. First, they're refining aspheric lens elements. Unlike most elements, which are round, these taper and then flare out toward the edges. Made of ground or molded glass, or glass-and-plastic hybrids, they improve sharpness, especially at the image edges and at wider apertures, while allowing for smaller, lighter lenses.
Control of chromatic aberration is also improving, thanks to dropping prices of low- and super-low-dispersion apochromatic glass. These purer forms of glass focus all wavelengths to the same plane, reducing color fringing and increasing sharpness.
Finally, image-stabilized lenses are becoming more refined and less expensive. Canon and Nikon, which use lens-based stabilization, have been forced to keep a lid on pricing to compete with camera systems that have sensor-based, in-camera IS.
To reach out and put distant wildlife and sports action smack in your face, put a tele zoom on that DSLR. Each profiled lens offers something phenomenal, including a few kit zooms that are kit zooms in price only.
Olympus Zuiko Digital 40-150mm f/3.5-4.5 AF
• WHY IT MATTERS: Four Thirds shooters will like its reach (an 80-300mm equivalent), smooth handling, and easy-on-the-wallet price.
• HOW IT TESTED: Like virtually all Olympus lenses, it's sharp. Many longer zooms at this price level typically dip into the Very Good or even Good ranges at longer focal lengths, but this Zuiko produced Excellent SQF numbers across the board. Distortion control is phenomenal — within or very close to the Imperceptible range at all tested focal lengths.
• STREET PRICE: $260.
Click here to see our full review
Pentax SMCP-DA 55-300mm f/4-5.8 ED
• WHY IT MATTERS: It stands out from other kit teles for its extra reach (82.5-450mm equivalent, while most max out at 300mm or so) and light weight (under a pound). Pentax says smudge-resistant SP (Super Protective) coating makes the glass easy to clean.
• HOW IT TESTED: Very strongly, with sharpness and contrast in the Excellent range, even out to 300mm. Maximum magnification is a satisfying 1:3.3, and distortion was extremely well controlled, earning our lowest rating (Imperceptible) at 55mm.
• STREET PRICE: $400.
Click here to see our full review
Sigma APO 120-400mm f/4.5-5.6 DG OS HSM
• WHY IT MATTERS: One of the longest image-stabilized zooms (at least 180-600mm equivalent, depending on the camera), this full-framer sports Sigma's quiet HSM focusing motor, plus APO glass to suppress color fringing. Available in Canon, Nikon, and Sigma mounts (Pentax and Sony coming soon).
• HOW IT TESTED: With Imperceptible barrel distortion at 120mm, and almost Imperceptible (i.e., low-range Slight) at the other tested focal lengths, this lens is virtually without linear distortion. It's an order of magnitude above Sigma's 135-400mm of the 1990s, which showed Visible distortion at almost all focal lengths.
• STREET PRICE: $850.
Click here to see our full review
Canon EF 70-300mm f/4-5.6 IS USM AF
• WHY IT MATTERS: With a 112-480mm (equivalent) focal length on Canon's APS-C sensors, this big gun delivers more reach than most amateur tele zooms. And, though priced for Rebel owners, it's a full-frame lens. Digital shooters who ultimately move up to a full-frame sensor won't have to leave this sharp, moderately fast-focusing zoom behind.
• HOW IT TESTED: Strongly. Sharpness and contrast dipped from Excellent down into the Very Good range at longer focal lengths, which is common. The 1:4.1 maximum magnification ratio should attract close-up shooters, and the built-in image stabilization, everyone else.
• STREET PRICE: $550.
Click here to see our full review
If you continually find yourself stepping backward while shooting, you need wider glass. These four wide-angle lenses, each a proven winner in Pop Photo tests, will open up the most cramped room or capture vast vistas of Big Sky Country. All will do it with remarkably little linear distortion.
Nikon 12-24mm f/4G DX AF-S IF-ED
• WHY IT MATTERS: Nikon's very first DX lens and still one of its most useful, this ultrawide debuted more than 3 years ago at $974 (street) and the price recently dropped by nearly $100. An 18-36mm equivalent, it's one of the few digital-only ultrawides to offer the convenience of a constant aperture.
• HOW IT TESTED: Very strongly. Sharpness and contrast in the Excellent range at all apertures and focal lengths. Well-controlled distortion, especially at 18mm and 24mm.
• STREET PRICE: $895.
Click here to see our full review
Canon EF-S 10-22mm f/3.5-4.5 USM AF
• WHY IT MATTERS: Weighing just 13.6 ounces, Canon's widest digital zoom is also one of this category's lightest. Its widest setting of 10mm (16mm equivalent) gives you a significantly broader view than the 12mm maximum typical of the competition.
• HOW IT TESTED: Excellent sharpness and contrast, plus extremely well-controlled distortion, even at 10mm. Its tight 9.4-inch close-focusing distance provides great subject magnification — 1:6 at 22mm, among the top-performing wides.
• Street price: $710.
Olympus Zuiko Digital ED 7-14mm f/4 AF
• WHY IT MATTERS: This is the widest non-fisheye zoom for DSLRs with less-than-full-frame sensors. A 14-28mm equivalent, it could form the base from which to build a grand, pro-grade Olympus or Panasonic system.
• HOW IT TESTED: Extremely well. Sharpness and contrast were uniformly Excellent; distortion was amazingly well controlled, even by non-ultrawide standards; and at two of three tested focal lengths, it showed no discernible light falloff at the edges.
• STREET PRICE: $1,595.
Click here to see our full review
Sony 11-18mm f/4.5-5.6 DT AF
• WHY IT MATTERS: The widest lens Sony makes for its Alpha-series DSLRs, it's unofficially mated with a 18-200mm for a versatile, broad-ranging optical system.
• HOW IT TESTED: Superbly. Sharpness and contrast, both in
the Excellent range. Barrel distortion at 11mm was surprisingly well controlled — and at the longer focal lengths, even better. It also provided one of the more powerful maximum magnification ratios in the category, 1:7.13 at 18mm.
• STREET PRICE: $650.
Click here to see our full review
Are you excited by extremely wide-angle, low-light, or close-up photography? Stellar lenses for each have run the gauntlet of Pop Photo's optical bench tests. Here are three to consider:
Pentax SMCP-DA 10-17mm f/3.5-4.5 AF Fisheye
• WHY IT MATTERS: A rare fisheye zoom, it combines the mind-blowing visual excitement of a traditional full-frame (non-circular) fisheye with the convenience of a zoom. Canon and Nikon shooters can get the same effect with Tokina's 10-17mm, essentially the same lens with different mounts.
• HOW IT TESTED: Magnification is nothing short of astonishing — 1:2.6 at 17mm with a 5.25-inch close-focus distance. Yes, there's distortion, but as with all fisheyes, it's so over the top that you gotta love it!
• STREET PRICE: $430.
Click here to see our full review
Tamron 70-200mm f/2.8 Di LD Macro AF
• WHY IT MATTERS: A full-frame macro that's bright, well built, and sharp, it could be a pro's bread and butter. Especially suited to portraiture, close-ups, and event and wedding photography, its true forte is financial: There's no full-frame, constant-aperture f/2.8 in the pro class that's close to its price. Available in Canon and Nikon mounts (Pentax and Sony coming soon).
• HOW IT TESTED: Extremely well on DSLRs with APS-sized sensors. Sharpness was in the Excellent range at all tested focal lengths and apertures. Distortion and corner vignetting were very well controlled, and the 1:2.8 magnification ratio (at 200mm) bodes well for macro maniacs. Not the fastest-focusing or quietest lens, but it's very attractive nonetheless.
• STREET PRICE: $700.
Click here to see our full review
Tokina 100mm f/2.8 AT-X Pro D Macro AF
• WHY IT MATTERS: Irresistible to almost any close-up photographer, this lens magnifies to 1:1, offers a bright and constant aperture, covers the full frame so it can be used with any Canon or Nikon SLR or DSLR, and is among the least expensive lenses with all these gifts. It's also well-suited to portraits and low-light work.
• HOW IT TESTED: A true flat-field macro, it shines with all close-up subjects, such as maps, photos, and paper money. Our tests found Excellent edge sharpness at close focus, even out to f/2.8. With three focusing ranges (close-up, non-close-up, and full) and flare-suppressing multicoatings, this affordable full-framer would be hard to resist, even if you're not into conventional close-ups.
• STREET PRICE: $400.
Click here to see our full review