The Goods: Cool Gear You're Going to Want
A smarter lightmeter, spiffier camera bag, stronger tripod, and other cool new stuff.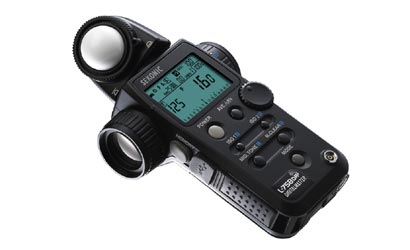 We may earn revenue from the products available on this page and participate in affiliate programs. Learn more ›
Smarter Meter
Sekonic's latest flash and ambient lightmeter lets you program in the dynamic ranges of multiple DSLR sensors. Called exposure profiling, this feature is similar in concept to monitor profiling. You first meter a special target with the L-758DR Digital Master ($499, street), then shoot it at several ISOs. Software analyzes the uploaded images, and via a USB 2.0 cable, programs the L-758DR's firmware. If a subsequent meter reading falls outside the sensor's recording ability, the meter shows where (shadows or highlights) and by how many stops. Useful, no? (www.sekonic.com)
Bag Shot
If you insist on bringing five or six lenses and a zoom-equipped SLR everywhere you go (and well you should), carrying it on your back is probably the best bet. But if you've got to switch lenses fast, you may find yourself squatting on the ground with your bag by your feet, fumbling for a quick change. LowePro's SlingShot bags, which rotate around front on a single strap for easy access, solve that problem, and they just got bigger. The SlingShot 300 AW ($100, street) should hold everything you need, and the included all-weather cover will protect your stuff in case it rains. You can even use the bag, closed-up and flipped around front, as an ad-hoc elbow rest for low-light shooting. (www.lowepro.com)
Keep Your Flash Relevant
That fancy flash is just dandy until you get a new DSLR that renders it obsolete. Metz's innovative Mecablitz 58 AF-1 ($350, street) changes that. Not only does it have most of the features you'd want in a serious flash, it also plugs into your PC for firmware updates. (www.bogenimaging.us)
Strong, Light, and New
Topping out at $655 (estimated street), the new line of Induro tripods may be the answer for the photographer who wants quality but doesn't want to break the bank. The first new brand of high-quality tripods we've seen in a while, the Italian-sounding Induro is actually manufactured in China. The line's highest-level 'pods, the Carbonflex 8X CX series, are made of 8-ply carbon fiber (purportedly stronger than the typical 6-ply). They have a center column that converts from the standard vertical to a horizontal cross bar, letting you hover over those macro subjects with unusual ease. The tripods also come with both rubber and spiked feet. Check out the whole line at www.indurogear.com.
Puzzle Your Peeps
The Rubik's cube was hard enough when it was just a bunch of mixed-up colors, but the ultimate challenge comes when you have to reassemble your family and friends. PersonalizationMall.com will apply six images of yours to a puzzle cube for $26 (direct), but unless you're a prodigy, don't expect to see the pictures made whole again.