Going Ultrawide with the Olympus E-3
The Olympus Zuiko 7-14mm f/4.0 lens takes it all in!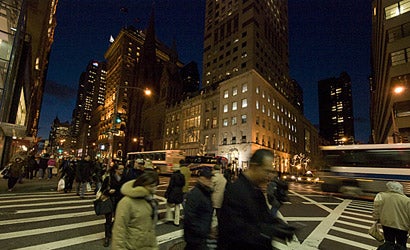 We may earn revenue from the products available on this page and participate in affiliate programs. Learn more ›
We weren't content to get our hands on the Olympus Zuiko 300mm f/2.8 and EC-20 2x tele converter along with the new Olympus E-3 (see related story). We also wanted to go to the opposite extreme and check out one of the widest rectilinear Four Thirds lenses, the Olympus Zuiko 7-14mm f/4.0. Remember, there's a 2x factor with Four Thirds cameras, so this is equivalent to a 14-28mm f/4 on a full-frame SLR. At the wide end, that's a 14mm equivalency, which covers an exceptionally wide 113 degrees. It's an f/4, which is a little slower than some of its competitor's 14mm offerings, but due to the in-camera stabilization, you won't really miss that stop all that often.
We'll be running this nearly 28-ounce ultrawide zoom through our full lab test soon, but we couldn't resist taking it out for a spin first. We like what we see in our test slides, and we're excited to run this through our full battery of lab tests. Stay tuned to PopPhoto.com for test results, but for now enjoy this slideshow of sample photos from the widest rectilinear Olympus Zuiko lens.