Fujifilm FinePix S3 Pro
Power Hitter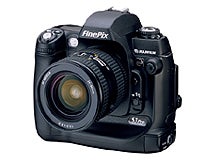 We may earn revenue from the products available on this page and participate in affiliate programs. Learn more ›
12.3MP SLR comes out swinging
Fujifilm may not be the first brand that comes to mind when you think of digital SLRs. But among pros who shoot weddings and portraits, the $2,000 Fuji FinePix S2 Pro digital SLR (see Pop Photo, November 2002) has gained a cult status. Two years after its introduction, the S2 Pro still provides the highest resolution of any sub-$4,000 DSLR, plus excellent color accuracy, low noise, and compatibility with Nikon lenses and accessories. Now, hoping to expand its loyal digital SLR following, Fuji has introduced the new 12.3MP FinePix S3 Pro (we're guessing $3,000 street), which it claims has even higher resolution and image quality. But will it outgun the more affordable 6- or 8MP SLRs from Canon, Nikon, Olympus, and Pentax?
To find out, we wrestled an early working sample from Fuji and fired away. Unfortunately, we weren't able to run this preproduction camera through the Pop Photo Lab for the barrage of image quality, focusing speed, and other tests. Those test results will be available online at www.PopPhoto.com as soon as we receive a production unit.
At first glance, the S3 Pro looks similar to the S2 Pro, but it's slightly smaller, features a vertical shutter release on the lower right side, and now has a PC-sync connector to the left of the lens. From the top, there's very little difference between the two cameras, and Nikon N80 owners will feel right at home with the pop-up flash, dials, and settings located there. Both the S3 and S2 Pro have much in common with Nikon's film-based N80 and digital D100 SLRs when it comes to AF speed and metering options. The AF system gives five selectable AF zones, and metering choices include 10-zone 3D Matrix metering, 1.8-percent spot, and centerweighted average.
In response to feedback from photographers on the S2 Pro, Fuji added a higher-performance shutter (albeit with the same 30-1/4000-sec range) and a greater-magnification viewfinder similar to those found on the higher-end Nikon F100. The flash-sync speed has also been increased to 1/180 from 1/125 sec, and the S3 Pro hot-shoe is now fully compatible with Nikon D-TTL flash units (but not the new i-TTL SB-600 and 800 Speedlights).
On the back of the camera, there are several modifications, including a larger 2-inch TFT LCD monitor with 235,000-pixel resolution, and a taller backlit info display. The same menu, back, play, and function buttons are there, only they've been separated to prevent hitting the wrong controls. Fuji also added a 10-pin jack on the camera's left side, compatible with Nikon's optional electronic remote control. And, behind a rubber door, there's a Hi-Speed USB 2.0 connector and a FireWire connector (which can be used to control the camera from a computer).
As we handled the camera, we noticed several ergonomic improvements, and found the S3 Pro to be a more compact, well-balanced body. In addition, rubberized surfaces surround the less obtrusive camera grip on the right side and in the back, making it much easier to hold safely with one hand. Fuji claims that the camera's single-form (monocoque) polycarbonate body is more rugged than the S2 Pro body-and it appears to be a solid casing. Internally, there's a similar carbon-fiber chassis plus a stainless-steel lensmount for Nikon F-mount lenses. Compatible lenses now include D/G-type AF Nikkor lenses and even the digitally optimized DX-series lenses (with a 1.5X 35mm lens factor). Instead of the S2 Pro's wacky four AA plus two CR123 batteries, the S3 Pro uses four AAs (four NiMH cells are included with charger). Fuji claims no loss of shooting capacity, thanks to more efficient image-processing circuitry. New electronics are also responsible for its fast 0.5-sec start-up time. Yet despite its fewer batteries and smaller size, the S3 Pro is actually a few ounces heavier than the S2 Pro (29.5 vs. 25 ounces without batteries).
The S3 Pro has also rid itself of the fairly obsolete SmartMedia card format. Instead, it now features dual media-storage slots for CF Type II cards (Microdrive is recommended) and xD-Picture cards up to 512 MB. You can store JPEG and CCD-RAW images in a variety of resolutions (including variable-sized RAW) and JPEGs at two compression levels.
Heart of the matter
The biggest improvement to this camera is its new 12.3MP (effective) Super CCD SR sensor, which captures a 4256×2848-pixel (12.1MP) image using 6.17 million S sensors and 6.17 million smaller R sensors (see explanation above).
According to Fuji, this arrangement gives the S3 Pro higher resolution, better color reproduction, and a 400-percent greater dynamic range than the S2 Pro. The dynamic range can also be adjusted by changing the ratio between S and R pixels (four settings in-camera, or fine-tuning in the supplied RAW conversion software).
Other imaging features include 14 bits per color, a new digital signal processor that should improve signal-to-noise ratio, and two built-in film simulation modes. The first of these mimics a saturated chrome film, such as Fujifilm Astia, and the second mimics a medium-contrast color-negative portrait film. Two other custom "film" settings can be applied using the supplied RAW file-conversion software. The camera also features an ISO range from 100 to 1600, as well as extensive custom and preset white balance settings (Kelvin temperature adjustments are only available in RAW converter software). Let's hope the low noise levels of the S2 Pro at higher ISO settings will migrate to the S3 Pro. Color accuracy will certainly benefit from the color space choices that now include sRGB and Adobe RGB.
A unique feature of this camera should thrill still-life and low-light shooters: When the camera is set to mirror lockup to prevent vibration at slow shutter speeds (often necessary for increased depth of field), a black-and-white image is output through the S3 Pro's video connector. (This signal lasts for 30 seconds to prevent CCD damage.) With the camera attached to a TV monitor, you can then fine-tune the focus or adjust composition prior to capture.
For action sequences, the S3 Pro captures up to six frames at 1.5 fps in JPEG mode, or up to three frames in RAW mode (12.1MP setting). Not so hot, but faster frame rates of up to 3 fps and 12 images are achievable at 6.1MP (R pixels only) settings. In playback mode, you can now zoom in and scroll around images, which appear much sharper due to the larger 2-inch LCD. You can also tag images for printing via DPOF standard, and the S3 Pro is now compatible with PictBridge printers.
Bottom line
While it's too early to make a call on the S3 Pro's image quality, the AF system and metering controls are fairly well-known entities and similar to those on the S2 Pro and Nikon N80. It would have been nice if the S3 Pro packed a faster, more sensitive AF system similar to the one on the new Nikon D70, and we wish Fuji hadn't removed the voice annotation feature. However, the sheer number of improvements and advanced features we already found in the S3 Pro, including its size and balance, its potentially wide dynamic range, expanded flash compatibility, image quality choices and settings, and better power system, should excite any photographer looking for the ultimate image quality and a very good price.
What's Hot: High-resolution 12.3MP Super CCD SR sensor with wide dynamic range. CF and xD-Picture card slots. Accepts F-mount Nikkor lenses, D-TTL flash units, and Nikon accessories.
What's Not: 1.5X 35mm lens factor limits ultra-wide fields of view. Maximum 1/4000 shutter speed and 1/180 flash sync a bit slow for action shots. No voice-annotation. Sluggish burst mode in 12.1MP setting.
VITAL STATISTICS: Fujifilm FinePix S3 Pro
Imaging: New 12.3MP (effective) Super CCD SR sensor captures 12.1MP (4256×2848-pixel) image with 14 bits per color. Also features adjustable resolution and adjustable dynamic range.
Storage: Dual memory slots for CF Type II cards (Microdrive is recommended) and xD-Picture cards. Stores CCD-RAW or JPEG images with two compression levels (fine or normal). Burst mode captures up to six JPEG or three RAW images at 1.5 fps in highest resolution mode.
Lens compatibility: Accepts Nikon F-mount lenses including D/G-type Nikkor and DX Nikkor. 1.5X 35mm lens factor.
AF system: Selectable 5-point AF with single servo and continuous servo (both with focus tracking), plus manual focus. Bright AF assist light.
Shutter/exposure controls: 30-1/4000-sec shutter speeds plus Bulb. Max. 1/180-sec flash sync.
Metering: 10-zone 3D Matrix metering, centerweighted average, or 1.8% spot. Selectable ISO 100-1600. Advanced color space, white-balance, and film-simulation mode settings.
Output: FireWire, Hi-Speed USB 2.0, remote control, and video out.
Power: Includes four rechargeable NiMH AA cells and power adapter.
Size/weight: 5.9×5.3×3.2 in., 1.84 lb without battery or cards.
Street price: $3,000 (estimate).
Info: www.fujifilm.com ; 800-800-3854.
New SUPER CCD SR sensor mimics film!
Click to see diagram
Since the introduction of its first Super CCD-equipped FinePix camera in 2000, Fujifilm's motto has been "all imaging sensors are not created equal." In fact, our lab tests of the FinePix S1 and S2 Pro in 2001 and 2002 confirmed that Super CCD sensors actually deliver higher resolution and overall image quality than similar-megapixel CCD sensors found in competitive SLRs. According to Fujifilm, the new 4th Generation 12.3MP Super CCD SR sensor found in the S3 Pro may take digital image quality even further. Its radical design owes much to color negative film, which uses silver-halide crystals of various sizes and sensitivities to capture details in shadows and highlights. It's this mix of different sizes and layers that gives color negative film such a wide dynamic range. In similar fashion, the Super CCD SR sensor has large S pixels and small R pixels working in close proximity, while CCD and CMOS sensors found in other digital cameras use uniform-sized pixels. The higher-sensitivity S pixels are optimized for recording detail in shadow areas, while the smaller R pixels-which require more light to activate-are optimized for recording detail in highlight areas. Together, Fuji claims the dynamic range of the S3 Pro is increased by 400 percent over the 3rd Generation sensor in the S2 Pro, and even approaches the wide dynamic range of color negative film! Why does this matter? Anyone who's shot a typical, high-contrast outdoor scene with a digital camera (or accidentally over/underexposed an image) should be familiar with blown-out highlights or blocked-up shadows. The S3 Pro's sensor could save the day.