Fujifilm FinePix S3 Pro UVIR and FinePix IS-1
If you want to expand your creative horizons beyond the visible spectrum, Fujifilm has a digital camera for you.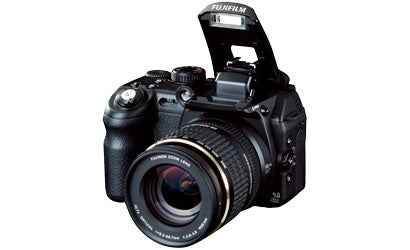 We may earn revenue from the products available on this page and participate in affiliate programs. Learn more ›
Q: I'd like to try infrared (IR) black-and-white digital photography. I know that people modify all sorts of digital cameras for IR photography, but is there one that I can use for shooting infrared right out of the box?
A: Digital imaging sensors are sensitive to infrared radiation, which can degrade photographs. This is why digital cameras have an IR cutoff filter in front of the sensor. But if you remove this filter, then add an IR passing filter, you can shoot IR. You can preview how the picture will look on the LCD, and adjust exposure accordingly.
Fujifilm's FinePix S3 Pro UVIR does this switcheroo. Both IR and ultraviolet (UV) cutoff filters have been removed from the sensor, so you can use a black, IR passing filter over the lens to block almost all visible wavelengths, and shoot by IR alone.
Unfortunately, you can't autofocus or see the image in the viewfinder with the IR passing filter in place. You can view the image and focus manually with the LCD, but live preview is limited to 30 seconds. And $1,750 (street, body only) is expensive, even if you already have lenses. (It accepts Nikon optics.)
Fuji itself is coming to the rescue with the FinePix IS-1 ($800, street, camera only; $1,000 in kit with two filters), essentially a FinePix S9100 without the IR cutoff filter. It has all the virtues of the S9100, notably a 28-300mm equivalent f/2.8-4.9 zoom and 9MP capture. There's unlimited live viewing of the image from the sensor, on the LCD and through an electronic viewfinder.
AF won't work with an IR-passing filter in place, but you can focus the lens manually or magnify the image 10X in the EVF. Switch to an IR cutoff filter to take conventional photos, with autofocusing. See our full lab report on the Fujifilm FinePix IS-1.