Five Must-Have Software Programs
These programs do everything from eradicate noise to mask backgrounds to recover the files you thought you'd lost.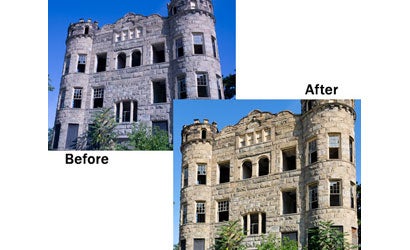 We may earn revenue from the products available on this page and participate in affiliate programs. Learn more ›
SEE OUR HIGH 5 ARCHIVE OF OVER 40 MUST-HAVE PRODUCTS!
1. DxO Optics Pro 4.5
Most serious photographers scorn automatic corrections, but this program is different: It fixes problems inherent to your specific lens/camera combination, lets you do quick and accurate color correction, optimizes dynamic range, and helps zap noise. DxO's latest update ($80-$300, direct, depending on version; free upgrade from versions 4.0, 4.1, and 4.2) can be integrated with Adobe's Lightroom software and includes a library of pro-designed presets. (www.dxo.com)
2. Lexar Image Rescue 3
Few error messages are worse than the ones telling you that your memory card is unreadable. But Lexar's Image Rescue 3 ($30, direct) might bring your pictures back from the grave, and the new version can recover lost video and audio files, too. You can even maintain the health (and improve performance) of your cards by using the Secure Erase function to wipe out your cards' memory regularly. (www.lexar.com)
3. Nik Dfine 2.0
We love the freedom of shooting at high ISOs, but we hate the noise that comes along with it. It's been years since Nik revamped its noise reducer, Dfine, but version 2.0 ($100 new, $70 upgrade, direct) was worth the wait. Fans of Nikon Capture NX's U Point technology will be glad to see it integrated here — its quick, accurate selections are great for targeting the noisiest areas. (www.niksoftware.com)
4. onOne Genuine Fractals 5
When you have to resize a picture up from small, medium, or large to big, huge, or ginormous, the task is best left to a program like Genuine Fractals 5 ($160 new, $70 upgrade, direct). The master upsizer will likely do a much better job of image enlargement than your favorite editing software, and the new version gives you far more control than ever before. (www.ononesoftware.com)
5. Vertus Fluid Mask 3
The new, faster go-round of Fluid Mask ($239, direct) makes separating difficult objects from the background even simpler. Vertus' method is all its own: It automatically creates jigsaw-puzzle-like fragments of your image and lets you decide which to keep and which to toss. You can further isolate your subject by color or analyze difficult areas all on their own. (www.vertustech.com)