Five Memory Card Innovations
How to find an innovative memory card with something extra.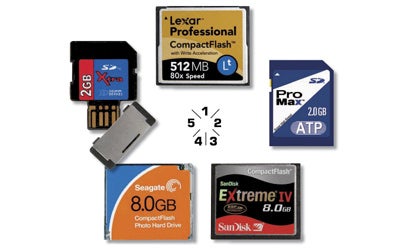 We may earn revenue from the products available on this page and participate in affiliate programs. Learn more ›
1.****Lexar Professional LockTight CompactFlash
For photographers in law enforcement-or watch CSI too much-data security is crucial. Lexar's LockTight CompactFlash Type I cards can be accessed only by designated cameras and computer users. They work only with some Nikon models (for now) and let you set up an unlimited number of users. They also come with Image Rescue and Corel PaintShop Pro 9 software. Prices (street): 512MB, $100; 2GB, $300. Info: www.lexar.com; 800-789-9418.
2. ATP ProMax SD
Mariners, extreme sports fans, and parents of small children will appreciate this SD card: An interior cover protecting its components makes it resistant to water, dust, shock, and static electricity. It can operate in temperatures from -40° to 185°F and has fast transfer speeds of 22.5MB per second (read) and 15MB per second (write). Prices (street): 128MB, $15; 256MB, $20; 512MB, $35; 1GB, $55; 2GB, $100. Info: www.atpinc.com; 408-732-5000.
3. Sandisk Extreme IV
This CompactFlash Type I card has no exotic features; it's just very, very fast. Its minimum transfer speed of 40MB per second will keep a medium-format camera from choking on a series of shots and enables top performance from other DSLRs and card readers. It handles temperatures from 13° to 185° and ships with RescuePRO software. Prices (estimated street): 2GB, $160; 4GB, $320; 8GB, $640; 4GB with Extreme FireWire reader, $380. Info: www.sandisk.com; 866-726-3475.
4. Seagate CompactFlash Photo Hard Drive
If you want the highest capacity for your money in a CompactFlash Type II card, a CF-sized hard drive (a.k.a. microdrive) is your best bet. Seagate's new 3,600 rpm drives are low-priced and compatible with FAT32-formatted cameras (i.e., those that support memory card capacities larger than 2GB). Check Seagate's online compatibility list for your camera or card reader. Prices (street): 4GB, $100; 8GB, $200. Info: www.seagate.com; 800-732-4283.
5. Delkin SD Xtra
Want to avoid card readers and USB cables? Check out the Xtra, an SD card with a built-in USB 2.0 connector. Just take it from your camera, remove the cover and plug the card into a USB slot to transfer photos. (You may also want to consider Sandisk's Ultra II SD Plus cards, whose hinged USB 2.0 connectors fold out.) Prices (direct): 128MB, $40; 256MB, $60; 512MB, $80; 1GB, $120; 2GB, $200. Info: www.delkin.com; 800-637-8087.