First Look: Sony Alpha 200
The 10MP trendsetter gets a new look and stays a bargain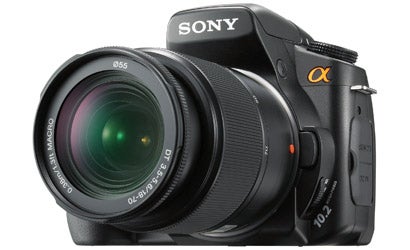 We may earn revenue from the products available on this page and participate in affiliate programs. Learn more ›
In its new Alpha 200, Sony has given its original DSLR (and our 2006 Camera of the Year), the Alpha 100, a makeover. Although it bears a slight outward resemblance to Sony's higher-end A700, inside, not much has changed. The camera does get new firmware, a boost in ISO sensitivity to 3200 from the previous 1600, and a tweak of the sensor-based Super SteadyShot image stabilization that Sony says will allow a half-stop more handholding leeway than the A100. While the nine-point autofocus array remains, AF speeds are said to be improved 70 percent, and with better tracking. Otherwise, it uses the same 10.2MP CCD imager of the A100, and metering, flash, viewfinder, and image adjustments are all carried over from the A100 with little alteration.
Most noticeable external changes are a modestly bigger LCD monitor — now 2.7 inches, up from 2.5 on the A100 — and the elimination of the Function dial on top, which gave access to settings for ISO, white balance, Dynamic Range Optimizer (DRO), color profiles, flash modes, focus modes, and meter pattern. Instead, the A200 has an A700-style Function (Fn) button within easy reach of the thumb on the back of the camera. This provides quick access to camera controls via the rear LCD panel, whose interface more closely resembles that of the A700. The new camera can also accept a vertical grip, VG-B30AM ($250, street) that can use one or two rechargeable batteries.
In spite of the bigger screen and a few tweaks, isn't this camera a little less than the old A100? Well, yes. Sony is clearly positioning the A200 as the entry-level DSLR in its lineup, and its projected street price ($699 with 18-70mm f/3.5-4.5 Sony DT lens) reflects that. Moreover, the A200 will be available only with the kit lens, not body-only.
It's still quite a deal. You get a camera capable of Excellent image quality (with resolution right around 2,000 lines), useful image controls such as DRO, a fine-performing lens, and image stabilization that will work with virtually any lens that fits on the camera.
And for those who were hoping for yet another slam-bang Sony introduction, we can only say: Keep checking PopPhoto.com.
Editor's Note: This story was originally published on January 6, 2008, and updated to include more information on January 7, 2008.