First Look: Olympus E-400
If you live in Asia or the U.S., the world's smallest, lightest D-SLR is not coming to a store near you, and that's a pity.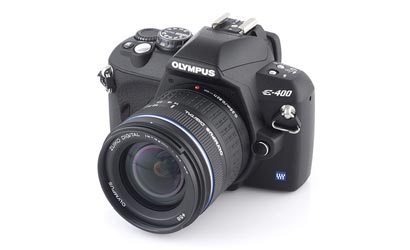 We may earn revenue from the products available on this page and participate in affiliate programs. Learn more ›
The world's smallest, lightest D-SLR is NOT coming to a store near you. The recently-unveiled Olympus E-400, an instant hit among those visiting the company's Photokina booth, is available exclusively in Europe — but not in the U.S. or Asia — and unlikely to cross the Atlantic in its present form. That's a pity, because we found it beautiful to behold, a pleasure to handle, and a delight to stuff in our jacket pocket.
How small is the E-400? How about 5.1×3.6×2.1 inches and 13 ounces? For comparison, that's a half-inch thinner than Canon's EOS Digital Rebel XTi and 25 percent lighter. Nevertheless, the E-400 is astonishingly full-featured for its size, with a 10 megapixel CCD (a first for Olympus), a SuperSonic Wave Filter for automatic dust removal, a 2.5-inch HyperCrystal LCD, 3fps shooting, fast AF, decent burst rate (5 continuous RAW frames, 10 JPEG), 31 shooting modes, and even a CompactFlash memory card slot. (One downside, a very small viewfinder.) Plus there are two new matching lenses that give you a 35mm equivalent range of 28-300mm yet weigh only slightly more than the body itself.
In short, it's the perfect D-SLR for anyone who hates carrying a D-SLR. The Olympus America representatives we spoke with were coy about the E-400's Europe-only status, although they speculated that a different camera of similar size MIGHT arrive on our shores in the future. The only clue we could find of a technical issue was in the E-400's official specs: "Warning message at ISO 800-1600." Translation: "Cramming 10 megapixels into a Four Thirds size sensor could cause high-sensitivity noise." But the test pictures we shot were pretty good: ISO 400 was very nice; 800 grainer but usable; 1600, mean shadows but OK in a pinch. Is that a small price to pay for something this cool? We think so!