First Look: Fujifilm FinePix S5 Pro
The latest DSLR from Fujifilm packs 12.3 megapixels, wide dynamic range, and full compatibility with Nikon lenses and flashes.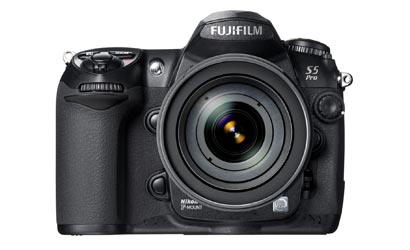 We may earn revenue from the products available on this page and participate in affiliate programs. Learn more ›
In Fujifilm's new math, the successor to the FinePix S3 Pro digital SLR is not the S4 but the S5 Pro, a camera that's essentially a moderate tweak in a new body.
The 12.3-megapixel S5's magnesium-alloy body, based closely on the Nikon D200, will accept all current Nikon lenses, including the digital-only DX lenses, and is compatible with Nikon's i-TTL flash system, including wireless multiflash with the built-in unit acting as a trigger. Fuji says the new camera will have increased durability over the N80-based S3 Pro, including a shutter that's rated for 100,000 cycles and a long-life rechargeable Li-ion battery.
The S3 Pro has gained a dedicated following among portrait and wedding photographers for its ability to produce good skin tones and to capture a wide dynamic range (think white gowns and black tuxedoes), so Fujifilm decided to not mess too much with the formula. Inside, the S5 has essentially the same CCD as its predecessor, combining 6.17 large megapixels for low light and shadows with 6.17 smaller megapixels optimized for recording highlight detail. Called the Super CCD SR Pro, the updated sensor has a new moiré filter, and Fuji claims it has improved its suppression of dark noise in long exposures.
Upgrades to the image processor and buffer promise faster startup, as well as a quantum improvement over the S3 Pro's rather stately burst rate. The new camera will be able to capture up to 40 highest-quality JPEGs at full dynamic range, or 11 RAW images, up from 6 and 3, respectively, on the S3 — and at 3 frames per second rather than 2.5 fps.
Moreover, when set to a dynamic range limited to highlight pixels, the S5 will be able to gobble even more JPEGs at a clip, although how many has not yet been determined. Other specs on the new camera:
• Autofocusing is the Nikon D200's fast and sensitive 11-point array.
• LCD is a larger 2.5-inch, 235,000-pixel unit with a wide viewing angle.
• The image processor will apply two cycles of noise reduction. ISO speeds can be set up to ISO 3200; the S3 topped out at 1600.
• As on the S3 Pro, the mix of big and small pixels can be adjusted to control the dynamic range, but the S5 Pro will have six preset ranges instead of four.
• The 30-second live preview of the S3 Pro is maintained, but can now display in color as well as monochrome.
• The S5 Pro adds a face detection feature, albeit in playback only: The camera will detect up to 10 faces in a scene and will circle them on the LCD. The idea is that photographers can then zoom in to check for "blinkers."
• The film simulation modes (chrome or negative) have three added color-negative settings that correspond to "geographic preferences" in skin tone rendition.
• Exposures can now be set in either 1/3- or 1/2-EV increments. (The 1/2-EV settings of the S3 Pro were one of our gripes.) Shutter speeds range from 30 to 1/8000 sec, with flash sync up to 1/250 sec.
• The proprietary Li-ion rechargeable battery from the D200 is used rather than the four AAs of the S3 Pro.
• The S5 Pro can capture simultaneous RAW (14-bit) and JPEG files. New Hyper Utility software (sold separately, price to be determined) will offer extensive editing controls for RAW files and will allow tethered operation from a Mac or Windows computer, via Hi-Speed USB 2.0.
• A password-protected lockout function will freeze selected controls to prevent you from inadvertently changing the settings.
• A LAN adapter will be available for high-speed wireless image transfer. Information can be appended to an image file by way of an optional barcode reader plugged into the USB port. The S5 also has a 10-pin serial port for Nikon remote switches. The FireWire port has been eliminated.
The S5 Pro may be available by mid-January 2007, although Fuji had not set either a firm release date or price by our press time. (Our guess for the street price: over $2,000, body only.) We'll test the camera as soon as units become available. Check www.PopPhoto.com for updates.
New & Noteworthy
• Faster high-speed capture for more frames.
• ISOs now to 3200, with improved noise reduction.
• Accepts all Nikon lenses and i-TTL flash units.
Consider This If…
You're a studio, wedding, or nature shooter who wants wide dynamic range, plus compatibility with the Nikon system.