First Look: Canon EOS 5D
12.8MP, and no 35mm "lens factor." Amen!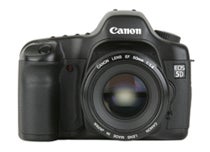 We may earn revenue from the products available on this page and participate in affiliate programs. Learn more ›
What do you get when you cross a semi-pro 8.2MP DSLR with a pro 16.7MP DSLR? Only Canon could answer that riddle, and has with the new 12.8MP EOS 5D ($3,299, body only).
Built like the 8.2MP EOS 20D ($1,300 street), but sporting a 12.8MP (effective) CMOS sensor that's the same physical size as the one in the EOS 1Ds Mark II ($7,500), the EOS 5D is in a class of its own. (Once it might have shared the space with the $3,200, 13.8MP Kodak Pro SLR/c, but Kodak recently threw in the DSLR towel.) Still, at more than twice the price of the 20D, is the 5D's extra resolution and full-frame advantage really worth it?
The preproduction model 5D we examined sure left a great first impression. According to Canon, its chief feature–the single-plate, 12.8MP, full-frame CMOS sensor–shares most of its design features, including 8.2-micron pixels, with the slightly smaller sensor found in the EOS 1D Mark II (soon to be replaced by the $4,000 EOS 1D Mark II N, which adds a larger 2.5-inch LCD and other improvements). That should translate into images with similarly low noise and excellent color accuracy. We'll know for sure once we run a production version through the POP PHOTO Lab.
Basically, the EOS 5D is a 20D on sensor steroids. Just slightly larger and 4.5 ounces heavier, it shares the 20D's rugged internal construction, including a stainless steel sub-frame and top, and front and rear casings made of molded magnesium alloy. The battery compartment and grip are slightly modified in shape, though they're also made of magnesium alloy. The pentaprism also has a new shape, and the internal mirror and housing had to be completely redesigned to accommodate the full-frame sensor. The 5D accepts all Canon EF lenses with no 35mm factor, a bonus for wide-angle shooters. But it doesn't work with the less-expensive EF-S lenses designed for the 20D, Digital Rebel, and XT.
In addition, Canon had to chop a bigger hole in the back of the 20D body in order to fit the 5D's outstanding 2.5-inch TFT LCD monitor. This sharp LCD rivals the gorgeous screen on Nikon's $5,000 12.4MP D2X, and features nearly 230,000-pixel resolution with a wide 170-degree viewing angle.
Other body differences from the 20D: no pop-up flash, a modified mode dial, new direct-print button, and a very different viewfinder. Will 5D buyers miss the pop-up flash? Perhaps. Many 20D owners use the pop-up to trigger studio strobes and multiflash setups, but most serious shooters and pros will rely on the 5D's ETTL II support and low-light fl ash assist from dedicated units such as the new Canon 430EX Speedlite ($299 street).
As for the new viewfinder, there's good news and bad news. First, the good news: Canon claims it has an excellent 96% accuracy, is fairly bright, and features user-changeable viewfinder screens. When the camera is turned on, the viewfinder shows similar exposure and shooting data as found on the 20D, as well as a view of nine illuminating AF zones. The bad news: the 5D's viewfinder has a relatively low magnification of only 0.71X, unlike the excellent 0.94X on the EOS 20D, and closer to the 1D Mark II's 0.75X.
What's under the hood
Far more is new inside the 5D. In addition to improved image processing, noise reduction, white-balance controls, and expanded ISO range, there are new picture-style controls that let you modify a variety of preset shooting modes. Mechanically, the shutter mechanism has been beefed up to handle up to 100,000 shots, more than the 20D, but half the life expectancy of an EOS 1D-series shutter. Maximum shutter speed is still 1/8000 sec, but the 5D features an improved 35-zone SPC metering system and a real spotmeter with 3.5% coverage (compared to the 20D's 9% partial). The 5D's 3-fps burst rate is slightly slower than the 20D's 4.5 fps, but Canon claims it can capture up to 60 JPEGs at a time using a high-speed CF card instead of the 20D's 30 images. The AF system is also better. In addition to the nine selectable AF zones, there are six invisible zones that function in the Predictive AI Servo AF mode, and added sensitivity when using lenses with f/2.8 or brighter apertures.
Playback and PictBridge functions show major improvements as well. The large 2.5-inch LCD lets you view sharper thumbnail photos, and the Jump button can leap past 100 images at a time (great when searching through an 8GB card). The new PictBridge controls even let you output a film-like contact sheet (with film sprockets around each file) to the latest Canon Pixma printers. The 5D ships with Canon's powerful Digital Photo Professional 2.0 RAW converter, plus EOS Capture 1.5 and PhotoStitch 3.1.
Professional appeal?
Will the EOS 5D attract pros? It's missing some features found on the EOS 1D series, such as an eyepiece shutter, vertical shutter release, supertough build with water-resistant seals, mega-capacity battery, 8.5fps burst rate, and high viewfinder magnification. But for the price, how can even the most finicky pro resist the 5D for a lighter-weight backup body? Also, putting aside the new features and photographic firepower, it's great that Canon gave the EOS 5D a simple name, instead of a tongue-twisting moniker like the EOS 20Ds Mark II.
Vital Statistics
Imaging: 12.8MP (effective) CMOS sensor captures 12.72MP images (4368×2912 pixels) with 12 bits/color in RAW mode. Storage: CF Type I/II cards including Microdrives. Stores RAW, JPEG, and RAW + JPEG. Burst rate: At 3 fps, up to 60 JPEG, 17 RAW, or 12 RAW+JPEG. AF system: Nine selectable and visible AF zones (plus six invisible AF zones). One-Shot AF, Predictive AI Servo AF, and AI Focus AF (autoselects One-shot or Predictive AF modes). Sensitive down to EV -0.5 (at ISO 100). Shutter Speeds: 1/8000 to 30 sec. (1Ú3-stop increments). Metering: TTL metering with 35-zone SPC. Evaluative metering (link to all AF points), partial metering (approx. 8% of viewfinder), spotmetering (approx. 3.5% of viewfinder), and center-weighted average metering. EV 1-20 (at ISO 100). ISO range: 100-1600 (in 1/3-stop increments), custom expansion to ISO 50 and 3200. Flash: supports E-TTL II autoflash with EX-series Speedlite. X-sync at 1/200 sec. Viewfinder: Eye-level, fixed pentaprism with estimated 96% accuracy and 0.71X magnification. LCD: 2.5 in. TFT with approx. 230,000-pixel resolution. Output: Hi-Speed USB 2.0 and video. Battery: Ships with rechargeable Lithium ion BP-511A. CIPA battery life rating: Approx. 800. Size/weight: 6.0 x 4.4 x 3.0 in., 1.9 lb with battery. For info: www.canon.com; 800-652-2666