Field Test: Think Tank Urban Disguise 50
This surprisingly spacious camera and laptop bag looks more like an oversized briefcase than a camera bag, which is perfect for keeping a low profile while hauling gear through cities, subways and airports.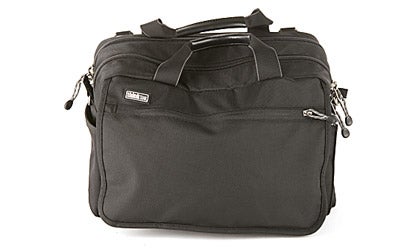 We may earn revenue from the products available on this page and participate in affiliate programs. Learn more ›
There are times when it's OK, even cool, to look the part of a professional photographer, but other times, keeping a low profile is a much smarter course of action. Let's face it, an obvious camera bag can make you a target for a soft or hard theft, and nothing ruins a vacation or business trip like losing all your gear.
That's the thinking behind the Think Tank Urban Disguise series of camera bags. This scaled line starts small and finishes quite large, all in a subtle, non-overtly camera-bag styling. At a glance, the bags look just like ballistic nylon briefcases and laptop bags, but, really, they're built to haul camera gear.
We've run the Urban Disguise 50 (Street: $170) bag through airports, train stations, metro stops, and all over Paris, Burgundy, Rome, Venice, and New York City, and we're very impressed with this bag. Popular Photography & Imaging Managing Editor Miriam Leuchter hit Italy for a mix of business and pleasure while my French adventure was all relaxation, and, PopPhoto's HQ is in Manhattan, so we've both covered this city in business.
The Urban Disguise 50 does take a bit of getting used to. The bag features a big front flap in the style of the classic photojournalist bag, with clips and Velcro securing two pockets big enough to hold a pro-line DSLR body each. But in less-than-secure situations these pockets are best used for less valuable items. On the front of the flap are a zipped compartment with internal organizers for pens and small gadgets, and a small "secret" zippered compartment. Behind the front pockets is another, more secure zippered organizer compartment, big enough for business cards, a PeeWee Pixel Pocket Rocket (included with the bag), CF Card reader, 77mm filters, mini voice recorder, and other small gadgets.
Then there are the main compartments, which zip across the top of the bag between the hand-carry handles. The rear compartment is flat, and built for a 15 inch laptop. The middle compartment is bigger, for hauling your camera gear incognito. It's surprisingly spacious — it won't fit a 400mm f/2.8, but we were easily able to fit a Sigma 120-300mm f/2.8 zoom, Canon 17-40 f/4 and a Canon 1DMarkIIN in the main compartment. That's a lot of serious gear in a deceptively small space!
Tucked away inside the main compartment is an all-weather rain cover (more on this later). On either side of the bag are flexible pockets that will hold a shoe-mount flash, or a water bottle, some gum, and mints. On the back of the pack is a flat top, bottom-zipped compartment that will hold a few pages of a photo assignment, reporter's notebook, and not much else. This is actually designed for marrying the UD50 to a rolling bag such as the Think Tank Airport International, and it does both tasks well. There's also another slim magazine pocket on the back face of the bag. And being a Think Tank bag, there's also the signature business card pocket on the back of the bag — and although it is on the body-facing side of the bag, utilizing this pocket may blow your incognito cover!
Even loaded to the gills, the UD50 fits upright in the overhead compartment of a 757 jet, and based on our previous adventures in puddle jumpers, we're confident that the UD50 will squeeze into the on-board stowage compartments of just about every commercial aircraft out there. This is of utmost importance because you never, ever, want to check your camera bag. If you value your equipment in one piece, that is.
The bag ships with a nicely padded shoulder strap; but we opted up for the add-on Think Tank Shoulder Harness. This quickly and simply converts the UD50 to a backpack with just a couple of clicks and clips. And when you're touring a city all day, a backpack will almost always be more comfortable in the long haul over a single-shoulder bag — even though the Shoulder Harness is of a slim design without cushy padding
First and foremost, the Urban Disguise bag is meant to blend in — which means it is also perfect for high-profile photo assignments where a subdued, professional presentation is in order. In these situations, the single-shoulder strap will present a more polished appearance at a wedding, black-tie affair, or other high-end assignment.
It's Think Tank through and through, meaning that the build quality is first-rate, the zips feel solid, the main compartment ships with enough dividers to suit just about any and every photographer's needs, and, of course, it's got an integrated hideaway rain cover.
But as Miriam discovered while being caught in a rainstorm in downtown Rome, once you throw the rain cover over the bag, your only carrying choice is running-back style — clutching it around in the crook of your arm and bracing against the torso! If Think Tank's got a better suggestion, we'd be glad to hear it, although it's a little late for when Miriam needed it…
The Bottom Line
Aside from Miriam's rain-soaked misadventure, we're both very impressed with the design, build, and layout of this subtle, stylish camera bag. As with other Think Tank bags, you'd be wise to spend more than a passing moment studying the information about the Urban Disguise 50 available on their Website, because this bag manages to pack a ton of obvious and subtle storage options into a surprisingly small space.
If the UD50 sounds too big, or too small, for your specific gear-hauling needs, there's enough capacity range in the Urban Disguise lineup to make even Goldilocks satisfied.
About our Product Shots: If you look closely at our product shots gallery, you may notice a bit of scuffing, some airport grime, or other subtle indications that would make these shots less than catalogue-perfect. Why's this? Simple: We test bags.
We really test bags, the way that photographers will actually use them. We load them up with gear and take them traveling through airports and while commuting via mass transit to and from PopPhoto headquarters. We log miles and hours in transit with the bags we test. We overstuff them — just as almost every working photographer will, to see if the zippers strain or fail. We hike the urban wilderness of Manhattan and wherever our travels take us to get a feel for how a bag feels not after five minutes, but after two hours on the shoulders, so when you see a scuff or dirt spot on the product sample shots it's your proof that we've put a camera bag through its paces.
INTERNAL DIMENSIONS
14.25″ L x 10.25″ H x 4.25″ D
36 x 26 x 10.5 cm
EXTERNAL DIMENSIONS
15″ L x 11″ H x 6″ D
38 x 28 x 15 cm
LAPTOP COMPARTMENT DIMENSIONS
14.25″ L x 10.25″ H x 1.5″ D
36 x 26 x 4 cm
WEIGHT
(Varies based on which accessories are used)
2 lbs 10 oz – 3lbs 10 oz
1191 – 1644 grams
Also see our Tamrac Adventure 9 field test.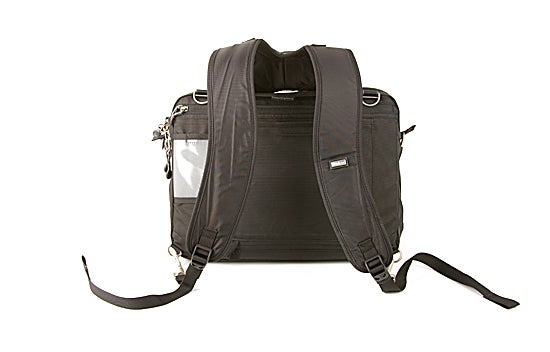 Think-Tank-Urban-Disguise-50-We-opted-for-the-Thi
We opted for the Think Tank Shoulder Harness, which quickly converts the UD50 to a backpack-style bag.