Field Test: Think Tank Rotation 360º Camera Bag
We may earn revenue from the products available on this page and participate in affiliate programs. Learn more › I...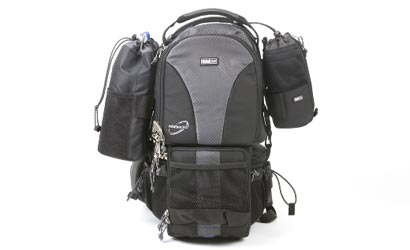 We may earn revenue from the products available on this page and participate in affiliate programs. Learn more ›
I look at new camera bag concepts suspiciously. Isn't it simply reinventing the wheel? Aren't all these supposed innovations simply bells and whistles? Why would anyone want such a strange-looking backpack bag as the Think Tank Rotation 360º (Street: $280)? Isn't it too much fabric and padding without enough storage? Why in the heck would I want to study an instruction manual for a camera bag?
Because it works. That's why.
And the Think Tank Rotation 360º, not only works, it works amazingly well. Like the LowePro Slingshot AW bags, there is a learning curve, but once you get the hang of it, you'll be hard-pressed to go back to a simple shoulder bag ever again.
Even if you're not the sort to read a camera manual, spend a few moments reading the instructions that come with the 360. Otherwise you might miss some of the more thoughtful features. And what a set of features! PDF instructions.
(And if we can't convince you to read the instructions, there are 15 (!) instructional videos on their website explaining this bag.)
There are small dog-leash clips hidden in the shoulder straps that can clip into the supplied Think Tank camera strap, so that your shoulders (not your neck) are supporting the camera you've got at the ready. There's a mesh pouch near the base of the bag that will keep a tripod snug. But what if you've got an oversized tripod? There's another fold-out, drop-down tripod cup hidden in the base of the bag. Rain cover? Yup, got it. Modular accessory pouches that clip onto the waist belt or side of backpack? Of course!
At first glance, the bag doesn't look like it holds a lot, but here's what it held for my trip:• Canon EOS 5D, with vertical grip • Canon EF 17-35 f/2.8L • Canon EF 70-200 f/4L IS • Canon EF 50mm f/2.5 compact macro • Kenko 1.5x teleconverter • Canon compact BP-511 series battery charger • 5 BP-511A batteries • Canon 550 EX strobe • Canon off-shoe camera cord • Canon 400 f/5.6L (in a Lens Changer 75 modulus on the waist belt) • ThinkTank Pixel Pocket Rocket CF card wallet packed with CF cards• Apple iPod 5G 30GB • iPod Charger • Pentax K10D • SMC Pentax 10-17 f/3.5-4.5 Fisheye • Pentax K10D Battery Charger • Lensbaby 3G • 0.6 wide angle converter for Lensbaby • 1.6 Teleconverter for Lensbaby • LB3G aperture ring kit • Fujifilm FinePix F31fd • Charger for F31fd • 77mm Polarizer• Lenspen • 2 reporter's notebooks • Handful of pens • medical tape • Couple packs of gum, mints • Microfiber cloth • 8 AA batteries • 6 AAA batteries See also****Review: Think Tank Pixel Pocket Rocket Giveaway: Think Tank Rotation 360º Camera Bag
And that waist belt is part of the coolest thing about the Rotation 360º. The bottom half of the bag unclips and un-sticks itself from the backpack frame, and can be spun around front to swap out a lens, filter, or camera body on the fly in a matter of seconds.
The rotating waist bag also completely detaches from the bag and can be used as a standalone waist pouch for a day trip, as I did on several occasions during my adventures in Miami during Super Bowl XLI — bringing just the gear I needed for that shoot, leaving the top of the bag at the hotel.
Once in Miami, the expensive gear was loaded into the safe (it's interesting to note that amount of gear that fits in a camera bag that meets airline carry-on requirements will also fit tightly into a hotel safe) and packed into the Think Tank Rotation 360º as needed, depending on that day's shooting conditions.
This really is an amazing system, in whole, and in its parts. One afternoon I took just the waist pack, with the Canon 5D around my neck. Another day I needed all the gear, and brought the whole bag, with the Lenschanger 75 modulus on the side. I attached the Canon 5D to the front of the bag on the shoulder straps, but not to the back of my neck, which is a welcome change.
And one day, traveling light, all I needed was a little bit of gear inside a smaller Lens Changer 50 modulus, which will also attach to a regular belt, and I was all set. The modular functionality of this system is amazing.
The build is impressive too. The bag feels sturdy, the zippers strong, and overall the bag feels very well made. In fact, the 360 will even stand up when the rotating waist bag is removed. Everywhere you look, there's some small detail: a hook, a clip, a rain cover, a grab handle that suggests that a whole lot of thought went into this bag.
It's a heavy bag, even empty, due to the construction — stiffeners, lumbar padding, thick shoulder straps and so on all add up to a base weight of 5.5 pounds, which will grow exponentially when loaded with pro-level gear. But the bag doesn't feel cumbersome, unwieldy or uncomfortable even after a long walk.
It is difficult to find complaints with this bag, and the complaints we can come up with are a stretch: It's tough to understand without reading the instructions or watching the videos. It's only available in one color scheme of silver and black. And it is more costly than most camera bags with similar storage capacity from its competitors.
But, really, the first complaint is addressed thoroughly by the company, the second can be explained away that function is fashion for the serious photographer, and after feeling the construction and field testing the Rotation 360º, the price, while a bit dear for some budget-minded shooters, is not actually that steep for all that this bag system offers.
Who is the Think Tank Rotation 360º for?
The photographer who is serious about comfort, quality, and quick access to gear and who is willing to invest a little bit more money in a bag system that will ease the creative process, not impede it.
Specifications
Street: $280.00
Website: www.rotation360.com
Dimensions:
Backpack: 11″ W x 19.5″ H x 9.5″ D (28 x 50 x 24 cm)
Upper Interior Compartment: 9.5″ W x 9.5″ H x 6.5″ D (24 x 24 x 16.5 cm)
Beltpack: 11″ W x 7.5″ H x 6″ D (28 x 19 x 15 cm)
Interior of Beltpack: 9.75″ W x 6.5″ H x 5″ D (25 x 16.5 x 13 cm)
Weight:
Backpack with beltpack: 5.5 – 7.5 lbs (2.5 3.4 kg) (weight varies depending on accessories used)
Beltpack separately: 1.5 – 2.2 lbs ( 0.7- 1 kg ) (weight varies depending on accessories used)