Field Test: Think Tank Airport International
This rolling carry-on incorporates security features for the photographer on the go.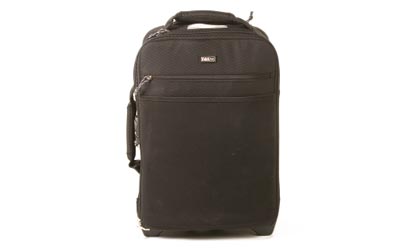 There are times when the order of the day is to carry as much gear as possible, comfortably, and with quick access. On these days, a bag like the Think Tank Rotation 360°, LowePro Slingshot AW300 or Tamrac Velocity 9x is just what the doctor ordered.
Other times, transporting gear on planes, buses and trains with limited stowage space is of utmost importance. And then there are hotels, photo assignments, and semi-secure media rooms where it is not always practical or possible to keep a watchful eye to make sure your laptop, spare camera body and telephoto lens doesn't "accidentally" walk away while you're deep in the weeds of a major assignment (or simply out sightseeing with a smaller day bag).
If you think you'll be in any of the above situations any time soon, you'd be wise to give the Think Tank Airport International ($319, street) rolling bag serious consideration. It meets international airline carry-on regulations, features a TSA-approved 3-digit combination lock for the main compartment, and a built-in steel cable beneath the retractable roller handles which, with the lock of your choice, should keep the bag from "accidentally" rolling away during your photo adventures.
Think Tank doesn't just sell bags to help you get to far-flung assignments with your gear safely packed. Check out their website for travel tips, first-person accounts of their products in action, and other helpful advice from road warrior photographers.
As with the other Think Tank products we've reviewed, the build quality is first-rate. The zippers and pulls are satisfyingly chunky. The inside of the bottom-stitched main compartment flap has a number of large flat pockets for holding small accessories, business cards, or a Pixel Pocket Rocket. The outside of the zippered main panel has a single large pocket that stretches and takes up pretty much the entire front of the bag. It is big enough and flexes enough to carry a 17-inch laptop in a standard carrying case, such as the Think Tank Artificial Intelligence 15″ or 17″ computer case. The 'blade style nylon wheels roll smoothly, even over chunky pavement. The telescoping pull handle locks smoothly in place once extended, but does have a little play in it — Think Tank recommends against lifting the bag with the roller handle, and we have to agree with their suggestion. Use the top or side strap to hoist the bag instead.
The main compartment is wide-open, about 18 percent gray, with no stitched-in dividers, to allow for complete customization of the hook and loop dividers depending on your specific gear-hauling needs. And if you want total security and peace of mind, it's possible to purchase an auxiliary set of low dividers ($49) that feature several rigid pieces, which creates an interior space to accommodate a 15-inch laptop. Think Tank recommends their Artificial Intelligence 15″ computer bag, but I opted for the Think Tank Cable Management 50 bag to keep the computer padded during transit. This slim, clear-topped bag perfectly fit my Dell Latitude D620 computer, although probably not with as much padding as the computer manufacturers would recommend.
Employing the low dividers to securely haul a computer inside the main compartment will cut down on the dedicated camera gear space a bit, but even so, the bag was able to hold a very respectable amount of equipment for my trip to PMA 2007:
Main Compartment:
Canon EOS 5D with Vertical Grip (no lens attached)
Canon 17-35mm f/2.8L
Canon 70-200mm f/2.8L
Canon 50mm macro attached to Kenko 1.5 TX
Canon TC-03 cable release
Canon 5D compact charger
Sigma 8mm f/2.8 circular Fisheye
Kiev Horizon S3 Pro
Canon EOS Rebel XTi (no lens attached)
Canon 18-55mm f/3.5-5.6 lens
Canon EOS Rebel XTi compact charger
Olympus DS-50 Voice Recorder, plus USB cord
iPod charger brick
3 rolls Fujichrome Provia 400x slide film
Olympus 770SW, plus charger and cord
Sandisk 12-in-1 card reader, plus USB cord
Dell Latitude D620 inside Think Tank Cable Management 50 case
Front Pocket:
Blue Planet DVD inside DVD case
4 packs Eclipse peppermint gum
2 packs Eclipse Peppermint mints
Hardcover book: Marley and Me (300 pages)
Car and Driver 2007 Buyer's Guide issue
3 reporter's notebooks
iPod 5G 30GB
Morning newspaper
PMA 2007 info packet
Travel documents in travel wallet
My hotel room featured a nice large safe, big enough to accommodate all the gear listed above, including the computer, so it wasn't necessary to employ the lock and security cable inside my room. But the show was another story. I needed my computer and some of the camera gear for filing stories and making candid show photos. It was a madhouse at the show — tons of people everywhere. It wasn't practical to haul a rolling cart with me all day in between meetings with camera manufacturers, so I was happy to know that I could lock up the bag and then secure it with the integrated cable to a section of wall in the Popular Photography & Imaging/American Photo booth at the show, knowing that the odds of anything happening to my gear were seriously diminished due to the security features. It brought a peace of mind that I hadn't felt on other occasions when I've had to leave gear unattended, even for short periods of time. That in itself is worth the asking price.
The bag is built tough, and has some great built-in security features. It would take a determined thief to escape with this bag; although it's possible with the right tools to crack the locks or snap the cable, it will certainly deter the opportunistic or even accidental theft.
The Bottom Line: The Think Tank Airport International is a solidly built rolling bag built to international air travel carry-on regulations. It has built-in security features that help keep gear secure while on assignment or in transit. It is solidly built with attention to detail in the construction and feature set. For the photographer on the go, for whom security is an issue, this is one of the best products on the market. For getting a good amount of gear there and back again safely and securely and within international airline carry-on regulations, there aren't too many other bags that can deliver as much.
But what the Airport International isn't, is a day-bag. This is not the bag to take on a walking tour of Paris, any more than you'd haul your other rolling luggage along with you. It is a transporter, not a day-hiker. It isn't meant to be. It does what it does, and does it well.
If you are interested in the features of this bag for transit and security, we highly recommend it. But what if you want both the security and carry-on features to get you there, but also want a day bag for touring the bistros of the Latin Quarter? Pack the day bag, empty, in your checked luggage, and load up the gear you need for the day while on your travels. If your hotel does not feature an in-room safe, you've got a slightly more secure area for holding your valuables in your room, and you've got the day bag for comfortably carrying the gear for that day's shooting opportunities.
And if you pick up souvenirs, wine, olive oil, or other local products while on your adventure, you can always load up your day bag and check it separately on your return — filled not with your valuable camera gear, but with dirty laundry wrapped around that lovely little vintage you discovered out in the rolling hills of Burgundy.
Tech Specs:
Rolling bag designed to international carry-on regulations with TSA-approved locks, and security cable.
Street: $319
Product Includes:
Seam-sealed raincover
Internal Dimensions:
13″ W x 6.5″ – 7.5″ D x 18.5″ H
(33 x 16.5-19 x 47 cm)
External Dimensions:
14″ W x 8″ D x 21″ H
(36 x 20 x 53 cm)
Base Weight:
8.6-11 lbs; 4-5 kg
(Depends on number of dividers used, raincover, straps, etc.)
Website: thinktankphoto.com/ttp_product_ArprtInl2.php