Field Test: Tamrac Velocity 7x and 9x Camera Bags
A couple of small upgrades make for an even more functional series of sling-type bags from Tamrac.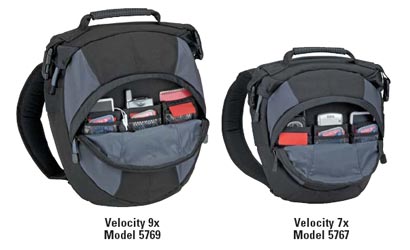 We may earn revenue from the products available on this page and participate in affiliate programs. Learn more ›
Sometimes it really is the little things that can make a big difference. That's the case with the just-announced Tamrac Velocity 7x and 9x bags. From a distance, it's tough to tell the older Velocity series bags from the new, but it's a couple of little things that make these single-shoulder sling-type bags even more functional for the photographer on the go. The 9x is the biggest of the bunch, and the 7x is a bit smaller. There's even a couple that are smaller still, since, with camera bags, once size doesn't always fit all.
So why upgrade an extremely popular line of bags? Simple: even easier access to your gear. How'd they do this? Simple: the top flap for reaching the main compartment is now zipped on the outside seam of the bag, meaning that when it is unzipped, it isn't pressed against you, and it isn't in the way when you're swapping out a lens or camera for that once-in-a-lifetime photo opportunity.
Don't miss our complete PMA 2007 Show Report!
We loaded up an original Tamrac Velocity 9 and a new 9x with the same camera and lens, an Olympus E-1 with Olympus 35-100mm f/2 lens to see for ourselves if this simple switching of the zipper really was an advantage. And it is. It's not that the older Velocity bags were challenging to the point of frustration, but it's just a little easier with the x series — and when a split second counts, you'll be happy for that.
All the bags in the series — from the littlest 5x to the biggest 9x — share the distinctive circular wedge styling, and all have an accessory pocket on the front face of the bag, which obviously holds more gear as the bags get bigger. And reflecting the fact that digital is far and away king of photography and marketing, all the accessory pockets feature Tamrac's Memory & Battery Management system — simply pop out the red flag to indicate that a card is written, but not backed up, to avoid accidentally overwriting your photos for the day (or to indicate which batteries are charged, and which are depleted).
The Velocity 9x holds a deceptive amount of gear in its main compartment. We were able to fit an Olympus E-1, with a big Olympus telephoto zoom, a Canon 70-200mm f/4, an older Canon 80-200mm f/2.8, a Canon 60mm f/2.8 Macro, and an SMC Pentax 14mm lens comfortably, without feeling like we were going to burst the seams. We tossed an iPod, Olympus Stylus 770SW, Olympus DS-50 voice recorder, and a Think Tank Pixel Pocket Rocket into the front pouch and still had plenty of room for more gadgets and goodies. It was a hodgepodge, to be sure, but it gives an indication of what to expect in terms of capacity.
I tossed the bag over my shoulder and attached the slim stow-away waist belt and went wandering around New York City for an hour or so. With the 9x fully loaded, it is wise to use the waist belt if the bag is being worn for an extended amount of time to keep the load steady. The shoulder strap is padded, but not bulky, to reduce pressure hot spots. Still, fully loaded, it can feel heavy after a while. Would I hike up Machu Picchu with this bag? Probably not, but for a day of photo touring around Paris, I'd be quite comfortable with a couple of big SLRs, a strobe, an assortment of f/2.8 wide and telephoto zoom lens and a point and shoot, along with a city map. Add the fact that it doesn't scream "camera bag," and the 9x's slim profile, and this is beginning to look like a great day bag with a deceptive amount of storage.
The 7x is smaller, although we were able to squeeze a Canon EOS 5D with vertical grip and Canon 70-200 f/4L IS attached to the main compartment. But this was pushing it. The zipper was straining to close, and this isn't the right camera and bag combo. But the same lens attached to a Canon EOS Rebel XTi fit much easier. If you've got a smaller DLSR, a couple of compact zooms, and maybe one medium telephoto lens, this is the bag for you. Again, the front compartment will easier haul an iPod, a point and shoot, and a couple of small gadgets and gizmos.
Of course, every member of the new Velocity tribe has a Tamrac M.A.S. (Modular Accessory System) rail on both side panels, which can be attached to add even more storage space to the bag.
Bottom line: A handful of thoughtful upgrades have made a popular and very functional bag line even better. Whether you're carrying a small entry-level DSLR with a kit zoom, or a big pro-level DSLR with a long fast tele attached, along with more big glass, Tamrac probably has a Velocity (x) bag for you.