Field Test: Sony Alpha 100 DSLR
Glaciers, bears, and 10.2 megapixels, oh my!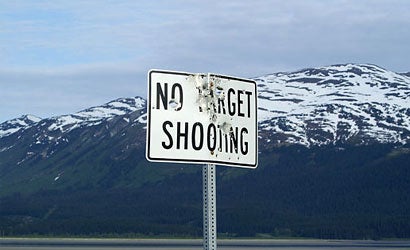 We may earn revenue from the products available on this page and participate in affiliate programs. Learn more ›
Most photographers shooting from a boat rolling on the waters off Alaska's Kenai Peninsula might wish for image-stabilized lenses. But I didn't need them. I was shooting with the shake-beating camera body of Sony's new Alpha 100 DSLR. This meant that every lens I put on was, in effect, a stabilized lens. Whether it was the 300mm tele (450mm equivalent with the camera's 1.5x 35mm lens factor) I used to scope out sea lions on a boulder-strewn glacier-carved island or the 18mm wide-angle that made the comical little puffins look even funnier, I didn't have to worry about blur. In fact, even when enlarged, the shots were tack sharp thanks to 10.2 megapixels of resolving power. Click on gallery icon above to view photos.
A close look at the details of this new camera is posted here in Michael J. McNamara's Hands-On report as well as in the August issue of Popular Photography & Imaging. A full test in the Pop Photo Lab will be performed as soon as production models are available. But with a near-production version in hand, I got an extensive field test of the camera during a two-day Alaskan adventure that Sony put together in early June to introduce the Alpha 100 to the press. Shooting in these wild, varied, and sometimes extreme conditions clearly demonstrated this camera's mettle.
I came away especially impressed with seven aspects of the Alpha:
–Blur-busting
–10.2MP sensor and fast processing
–LCD
–Easy operation
–Battery life
–Lens variety
–Wireless flash
And found two features to be a disappointment:
–The pop-up flash
–The Eye-Start function
Here's what I found:
1. Blur-Busting. The Alpha packs what's called Super SteadyShot. This is Sony's name for the anti-shake technology pioneered by Konica Minolta on its Maxxum 7D and 5D. This system, which Sony acquired last year as KM left the camera business, counteracts camera shake by moving the image sensor. (Image-stabilized lenses move the optical elements.) Super SteadyShot is billed as providing a 3.5-stop advantage over a non-stabilized system. While in the field, it was difficult to gauge how many stops were gained, I found that high shutter speeds and wide apertures weren't required as I cruised and shot on the Kenai's waters. And neither were they needed as I soared over the glaciers at the foot of Mount McKinley in a 1950s-vintage DeHavilland Beaver float plane.
2. Sensor and Processor. Get in close on an image, and the power of 10.2MP is jaw-dropping. I caught a killer whale blasting into the air, and the tiny droplets of water falling from its body are bear-claw sharp. A shot of an eagle on a far-off tree top could be cropped and enlarged to an 11×17 print without softness. Yet all of this resolution didn't slow the picture-taking or picture-reviewing. While shooting RAW and Fine JPEG files, I fired bursts that caught whales and birds in action, and there never was a delay (the camera is rated for continuous 3.5-frames-per-second bursts). And scrolling through the images on the LCD couldn't have been faster. I leave it for the Pop Photo Lab to rate the Alpha's levels of digital noise. But after reviewing dozens of photos-both my own and other photographers'-printed on both inkjets and dye-subs, I couldn't find patterns of noise. I didn't push my ISO beyond 400 (and I should have in a search for noise), but at that level, the shadows were clean.
3. LCD Screen. The 2.5-inch screen has obvious advantages for reviewing your shots. But it also makes it a lot easier to operate the camera. Unlike many other DSLRs, the Alpha doesn't have a monochrome LCD on the top of the camera that shows your settings. The LCD is Control Central. And that's okay with me. This screen is easier to see, especially when one press of a button enlarges the default type to a huge font that means no squinting to read the settings and menus.
4. Easy Operation. Manuals? We didn't even have them on the Alaska trip-the camera is that new. While it would have been great to delve into the deepest regions of the Alpha's functions with a manual in hand, I didn't miss it a whole lot. Operation is quite intuitive. The button array is much like you see on other DSLRs, but one nice difference is the control dial on top that lets you quickly access the menus for-and set-ISO, white balance, flash, and more. It didn't take me long to get comfortable with the camera, and even in the heat of shooting, I never faced menu fumbling. Considering that the Alpha lists for $999 with the kit lens, a lot of DSLR newbies will be buying it. They won't be frustrated.
5. Battery Life. Sony rates the battery to 750 shots with 50 percent using the flash. Let me put that into perspective. On Day One, I started shooting before 7 a.m. By 11 p.m., I had 247 images on the 2GB Memory Stick PRO Duo card, and the battery indicator had gone down just one notch. This was with a lot of chimping and zooming in on the shots on the camera's LCD. Granted, I didn't use the flash much that day, but the Eye-Start system was on until 5 p.m. And this would seem to be a major amp-eater.
6. Eye-Start. Another KM legacy, Eye-Start snaps on the autofocus as soon as anything comes close to a tiny sensor just under the viewfinder. The idea is to give you a split-second advantage over breaking action. You don't have to wait for the AF. No sooner do you have your eye to the viewfinder than the camera is ready to fire. Nice in theory. And maybe in action for some. But not for me. I found that with Alpha around my neck, every time the Eye-Start sensor bumped up against a piece of clothing, the lens was turning as it hunted for a target. With a 300mm lens onboard, it was like having a living creature squirming on my chest. I went into the menu and shut it off.
7. Lens Variety. Sony also took on KM's lens mount, which means the Alpha can handle the millions of KM lenses in photographers' camera bags. This represents glass going back to the mid 1980s. And it includes a full range of optics. Working from the KM portfolio, Sony plans to soon have 19 lenses and two teleconverters to market under the Alpha brand. About all that will change are cosmetics. More are expected to follow, some totally new and carrying the upscale Carl Zeiss label. But on this Alaska adventure, just the 18-70mm f/3.5-5.6 kit lens and a 75-300mm carried the Sony marque. Other lenses were KM models rounded up from a variety of sources-including eBay-and the lenses worked very well. While there may be exceptions to this backwards compatibility, I didn't see any.
8. Wireless flash. The Alpha's wireless flash system is another KM legacy. Born in the Maxxum 7 35mm SLR, this system mates the camera to compatible flashes (now called the HVL-F56AM and HVL-F36AM by Sony), and lets you place the strobe just about anywhere you need a burst of light. The free-standing flash is triggered by the camera's built-in flash. The system is simple in its setup (it takes under a minute) and the results are far above anything you can achieve with an on-camera strobe. If you want to take a shortcut to becoming a Master of Flash, this is your ticket. I used an F56AM flash wirelessly with the Alpha to light the interior of the Beaver float plane as well as dancers at the Alaska Native Culture Center. Simple, simple, simple. About the only flaw in the system is that it's easy to forget to raise the Alpha's pop-up flash. It doesn't pop itself up in this use, or under any circumstance. You must place a fingernail under it and lift the flash manually. A button, or at least a lifting tab, would be a welcome addition.
In a longer evaluation, more of the camera's features and flaws would surface. And our Test Team is eager to put everything to the test–from the sensor's anti-dust system to the D-Range Optimizer, which is billed as beating backlighting. In the meantime, however, from my perspective, the Alpha 100 emerged from this field test as a very strong performer.
Links:
Hands On: Sony Alpha 100 DSLR
Inside Story: Testing Sony's Alpha 100 DSLR