Field Test: Sigma 300-800 f/5.6 EX APO HSM AF
This massive super-telephoto lens is great for wildlife photography or daylight sports, just make sure you have a sturdy tripod.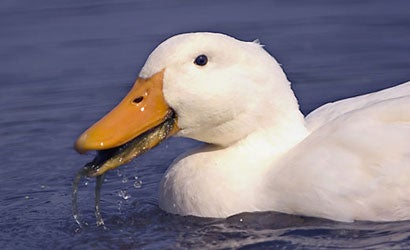 We may earn revenue from the products available on this page and participate in affiliate programs. Learn more ›
Get used to talking in superlatives with the Sigma 300-800 f/5.6 EX APO HSM AF (Street: $6,200), affectionately called the "Sigmonster" by photo enthusiasts.
The Sigmonster is the longest zoom lens for 35mm-based cameras. At 12.9 pounds, it is also the heaviest production lens for 35mm-based photography. At 26 inches long, with lens hood, and a maximum diameter of 6.5 inches, it's not so much big as it is gigantic.
For all of its hugeness, it handles quite well on a sturdy tripod. The tripod collar mounts are well-balanced, and even without a gimbal tripod head, it was easy to pan and maneuver.
* Product Shots * Image Quality Shots
This lens is solidly built and focusing and zooming are both internal, so the lens stays constant in length as you zoom in and out. The zoom collar provides good resistance, but lets you zoom effortlessly from 300mm to 800mm. There is no "zoom slippage" to be seen, even when the lens is pointed at severe angle. The manual focusing collar, closer to the front element, has a big radius, but it is easy to turn in either dedicated manual mode or AF mode for fine-tuning focus.
As expected with a lens of this size, there is a lens strap that attaches to mounting hardware on the tripod collar handle, and to a small dedicated strap collar nearer to the lensmount. Again, as is standard with super-telephoto lenses, there's no giant lens cap to be found. Instead, the lens ships in a well-constructed soft-sided rectangular carrying case with a wide strap for slinging over your shoulder. The included lens hood is just over four inches deep, and, in addition to helping reduce flare, offers a layer of protection to that huge front element.
Even with a camera attached, and the lens hood mounted outwardly, it is not ridiculous to hike a few miles with this Sigmonster. Slung over the shoulder, it actually hangs quite well for such a big piece of machinery.
At 300mm, the f/5.6 maximum aperture and close-focusing distance of just under 20 feet is nothing to write home about. There are plenty of smaller and faster 300mm lenses on the market, but really, no one is buying this lens for its 300mm characteristics. The real selling point is the portability of this 300-800mm f/5.6 zoom monster.
A 300mm f/5.6 that close focuses to just about 20 feet? Nothing special…
An 800mm f/5.6 that close focuses to just about 20 feet? Now that's something else!
And throw in all those other millimeters between 300 and 800, and you've got yourself a pretty amazing piece of optical engineering.
In testing the lens under good sunlit conditions and on scenes with good contrast, we found the focus to be surprisingly fast for such a big lens. But the AF was sluggish when encountering scenes lacking dramatic contrast. Thankfully, you can easily take control of focusing with the always-on manual focusing ring option.
Strangely, there is no focus limiter, which would help to speed AF when it searches if engaged. Such a limiter would be a nice touch on a lens that focuses from 20 feet to 200 feet before infinity. I was trying to track turkey vultures against a solid blue sky, and on more than a few occasions, the Sigmonster would search all the way through these 180 focusing feet before I disengaged AF and manual focused to very close to the subject distance before re-engaging AF.
It is a challenge to shoot with such a long lens. As the focal length increases, you'll want a faster shutter speed to minimize image blur due to camera and lens movement and vibration, which is amplified at longer focal lengths. With such a narrow field of view, tracking moving subjects can be tough. Fully zoomed to 800mm, on an APS-C sensor camera, such as the Canon EOS 20D, you're dealing with just under 2º angle of view at an effective focal length of 1280mm, so you've got very little wiggle room when tracking.
Due to the slow maximum aperture of f/5.6, this lens presents challenges in low-light. It is what I call a "mostly sunny" telephoto lens. You'd be over-lensed and under-f/stopped at many night sporting events, but for daylight sports, it could be useful to pull in distant action on a ski jump, racecourse, or to zoom in on a batter from over the center field wall.
Wildlife shooters will love the reach of the Sigmonster, too. It is not just about making a shot of a distant animal on the Serengeti. The short minimal focal distance also allows you to capture amazing detail of small animals, without invading their comfort zone. I would not have been able to make the tight photo of a juvenile rabbit blissfully unaware of the camera with a shorter lens from the same distance, given the same frame coverage and detail.
My overall impressions after a couple of days with the Sigmonster? It's huge, heavy, and has its quirks, but the impressive optics and solid construction outweigh any negatives.
When I do take that trip to the Serengeti I've been dreaming of, I'd love to have the Sigmonster in my arsenal.
Key Specifications
Street Price: $6,200
Filter Size: 46mm (rear)
Available Mounts: Canon EF, Nikon AF-D, Sigma SA
f/Stop Range: 5.6-32
Effective focal length on 1.6x APS-C sensor Camera:
480mm-1280mm
Effective angle of view on 1.6x APS-C sensor camera:
480mm: 5.125º
1280mm: 1.9375º
Minimum Focus Distance: 19.6′ (6 m)
Magnification: 1:6.5
Zoom/Focus Control: Two-touch
Angle of View: 8.2 to 3.1 degrees
Groups/Elements: 16/18
Tripod Collar: Yes (removable)
Length: 21.3″ (541.5mm)
Maximum Diameter: 6.5″ (165.5mm)
Weight: 12.9 lb (5.870 kg)
Angle of view on full-frame 35mm camera:
300mm: 8.2º
800mm: 3.1º
Editor's Note:
Due to the size of the Sigma 300-800 f/5.6 EX, we were unable to run our normal battery of lens tests.