Exclusive Hands-On Preview: Pentax K10D
After three years of six-megapixel flyweights, Pentax goes to the mat with this head-turning 10-megapixel knockout.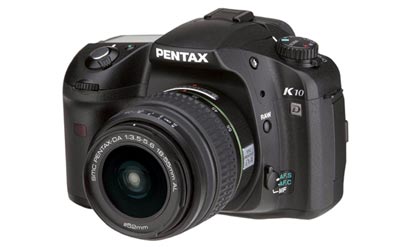 We may earn revenue from the products available on this page and participate in affiliate programs. Learn more ›
Based on our test drive of a late-stage K10D prototype, we'd say Pentax has graduated from D-SLR underdog to serious contender.
Priced at $899 to compete with other mid-level 10MP models, the K10D is more advanced in many ways and debuts technology found nowhere else.
This all-new camera is bigger, heavier and stronger than previous Pentax models, as well as comfortably shaped and clad in ample grippy rubber. It feels even better with its new (optional) vertical grip; both it and the camera use a single Li-Ion rechargeable instead of AAs; combined, they give you twice the juice. Impressively, unlike any competing D-SLR — and several others that cost hundreds more — the K10D is weather-proofed with 72 rubber seals. (The same number as in Canon pro models, according to our Pentax host.)
|| |—| | Podcast: Pentax Product Manager John Carlson discusses the features found on the K10D.| It also has an incredibly large and bright viewfinder — much bigger than the one on the (more expensive) Canon EOS 30D we used for comparison. We found its manual focusing super — a good thing, since the K10D is compatible with dozens of older Pentax K mount optics. And no matter what lens you use, body integral SR (Shake Reduction) gives you up to four shutter speeds more hand-holding. (The Pentax rep told us it's better than the one in the older K100D and trumps Sony's similar Anti Shake system.)
We also challenged the wide-area 11-point AF system with some off-center subjects and found its focus-tracking super-fast and accurate. (Three recently announced wide-aperture DA* zooms — the first lenses from Pentax with ultrasonic motors — promise even better AF.) The camera also shoots fast — at 3fps — and can capture unlimited continuous JPEGs or up to nine consecutive RAW frames — in either the Pentax PEF format or Adobe's DNG.
Though we weren't shown samples, Pentax says that the K10D's exclusive 22-bit analog-to-digital converter, along with a powerful new image processing engine, will deliver superior color and detail. This technology also makes possible some amazing in-camera tricks we were able to see. Number one: an on-screen color temperature control that shows actual hue changes on a preview image. Number two: the ability to save individual RAW files (after shooting) to JPEG, complete with any combination of image parameters you choose. There are numerous other nice touches, like the dedicated button for instantly switching to RAW mode that show the effort Pentax has invested in this camera.
We'll see how it all adds up when we get a full production model.