Exclusive Hands On With the Canon PowerShot G7
Our reporter gets an early look at the new 10-megapixel digicam at Photokina.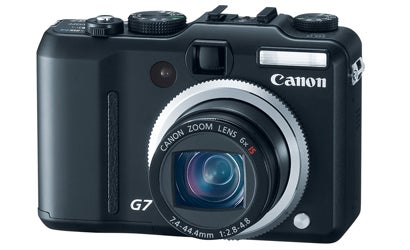 We may earn revenue from the products available on this page and participate in affiliate programs. Learn more ›
Serious shooters have prized Canon's compact G series digicams for their pro-grade features and ability to pinch-hit for their big D-SLRs. The all-new G7, which we tried at Photokina prior to the public opening, reflects that dynamic yet changes it too.
We really liked the G7's stylish makeover, with its stealthy black finish and retro control dials. The body is very solid and has great "hand feel." We also found it much lighter and more pocketable than the G6 thanks to its smaller grip and more fully retracting zoom. The latter offers more range (6x versus 4x) but a slower maximum aperture, though it gains a very useful optical IS (image stabilization) system.
Resolution has been boosted modestly from the G6's seven megapixels to the G7's ten. More significant is its all-new DIGIC III image processor, which speeds startup (by our measure, just over one second), maintains burst shooting even with larger files (we got 10 consecutive frames at full resolution), and boosts ISO sensitivity.
However, based on viewing zoomed image details, we'd recommend against ISO 3200 (which also reduces output size), but judge 1600 as just usable and 800, pretty decent.
The two biggest changes Canon made: replacing the G6's flip-out, swiveling LCD (which we prized for street shooting and funny angles) with a fixed screen, and dropping RAW mode altogether. The latter is something many of us can't live without, but the new display wins points for being bigger, sharper, and viewable from oblique angles.
We'll have a full field test once Canon sends us a review unit.